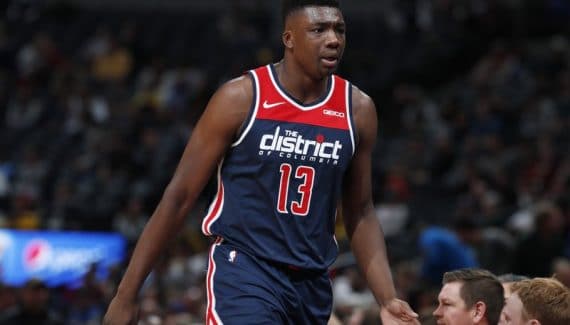 Almost a year to the day after his injury, Thomas Bryant is finally back. The pivot of the Wizards had actually ruptured the cruciate ligament of the left knee on January 9, 2021, against Miami.
While his return was expected at the end of 2021, The Athletic finally tells us that Bryant should return this Wednesday evening, when receiving the Magic.
The 24-year-old, who is at the end of his contract, will have to claw back minutes behind Daniel Gafford, who replaced him in the five majors this year and found his place very well in Washington, and Montrezl Harrell, who arrived there. last summer in the trade with the Lakers around Russell Westbrook.
It will therefore be a smooth recovery with limited playing time, but the most important thing is to find the land.
Thomas Bryant, out for almost one year following an ACL tear, is on track to be available tomorrow when the Wizards host the Magic, Wes Unseld Jr. said.

— Josh Robbins (@JoshuaBRobbins) January 11, 2022
Shots
Rebounds
Players
MJ
Min
Shots
3pts
LF
Off
Def
Early
Pd
Bp
Int
Ct
Fte
Pts
Bradley Beal
34
36.0
45.5
29.8
84.0
1.0
3.7
4.7
6.4
3.4
0.9
0.4
2.4
24.0
Kyle kuzma
39
33.3
45.2
32.3
68.1
1.0
7.6
8.6
2.8
2.0
0.6
0.7
2.0
15.6
Montrezl Harrell
34
25.4
64.5
30.0
73.6
2.2
5.1
7.3
2.2
1.1
0.5
0.6
1.9
14.4
Spencer dinwiddie
32
30.3
39.6
32.5
79.6
0.8
4.0
4.8
5.8
1.6
0.6
0.2
2.4
13.4
Kentavious Caldwell-Pope
38
29.7
42.0
38.9
88.2
0.5
3.1
3.6
1.7
1.3
1.2
0.4
1.8
11.6
Daniel Gafford
38
22.9
69.3
0.0
73.2
2.4
4.4
6.8
1.1
1.0
0.4
1.8
2.5
9.7
Raulzinho Neto
35
20.4
44.1
24.1
74.5
0.2
2.0
2.2
2.7
1.2
0.7
0.0
1.6
7.5
Deni Avdija
41
23.0
43.0
30.2
72.1
0.7
4.2
4.9
1.5
0.9
0.8
0.7
2.3
7.2
Brad Wanamaker
1
27.1
40.0
0.0
100.0
0.0
4.0
4.0
7.0
0.0
2.0
0.0
3.0
7.0
Davis Bertans
28
15.8
36.8
34.6
93.1
0.2
1.8
2.0
0.5
0.5
0.4
0.2
1.7
6.6
Rui Hachimura
2
14.4
38.5
0.0
50.0
0.5
2.0
2.5
1.0
0.5
0.0
0.0
1.0
6.5
Aaron Holiday
33
16.7
47.2
36.5
79.2
0.1
1.5
1.6
1.9
0.9
0.6
0.2
1.5
6.2
Corey kispert
36
17.3
42.1
29.2
84.8
0.5
1.5
2.0
0.8
0.5
0.3
0.3
0.8
5.6
Greg monroe
2
8.8
50.0
0.0
0.0
3.5
1.5
5.0
0.5
1.0
0.5
0.5
1.0
4.0
Anthony gill
16
6.7
66.7
71.4
83.3
0.5
1.1
1.6
0.5
0.2
0.1
0.1
1.1
3.2
Craig sword
3
6.3
75.0
0.0
0.0
0.0
0.0
0.0
0.3
0.3
1.3
0.0
2.3
2.0
Tremont Waters
1
8.4
50.0
0.0
0.0
0.0
0.0
0.0
0.0
0.0
1.0
0.0
2.0
2.0
Isaiah todd
9
3.9
33.3
40.0
50.0
0.2
0.8
1.0
0.1
0.1
0.2
0.2
0.1
1.8
Alize johnson
3
6.1
33.3
0.0
0.0
1.7
2.3
4.0
0.0
1.0
0.0
0.0
0.0
1.3
Cassius winston
2
3.4
0.0
0.0
100.0
0.0
0.0
0.0
1.0
0.5
0.0
0.0
0.0
1.0
Joel Ayayi
7
2.9
16.7
0.0
0.0
0.1
0.3
0.4
0.6
0.0
0.0
0.0
0.0
0.3
Jaime Echenique
1
3.1
0.0
0.0
0.0
0.0
0.0
0.0
0.0
0.0
0.0
0.0
0.0
0.0
Jordan Schakel
2
7.1
0.0
0.0
0.0
1.0
0.5
1.5
0.0
0.0
0.0
0.0
0.0
0.0
Jordan goodwin
2
3.0
0.0
0.0
0.0
0.0
0.5
0.5
0.0
0.0
0.0
0.0
0.5
0.0