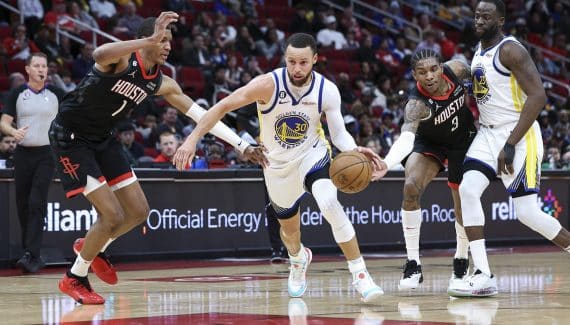 The defeats were so numerous that Steve Kerr had forgotten the last victory outside his troops. A reporter reminded him that it was January 30, with a hit in Oklahoma City.
"Thank you, but I don't feel any better for it"replied the Warriors coach for ESPNpretty much summing up the state of mind of the defending champions after this victory in Houston.
There's bound to be some relief when you've been suffering so much away from home since the start of the season and coming out of such a bad streak (eleven defeats in a row). But, at the same time, winning against the Rockets, one of the league's worst records, shouldn't be a feat for the Warriors…
Eleven straight away defeats
"We did what we were supposed to do. We just want to leave the field with a few smiles. We know we have to play better." confirms Stephen Curry. "It feels good to win" continues Draymond Green. "That doesn't solve all the problems: we only won one game. We have to take the next one. »
Already not very enthusiastic about the content – the victory -, Kerr was even less excited about the form. He believes that the last matches, lost in Los Angeles, Atlanta and Memphis, were stronger than the one in Houston.
"We were playing teams of another caliber, who are fighting for the playoffs", reminds the coach. "Houston is having a complicated season, even if it's been playing well lately. I think we approached the match without concentration, that was the problem in the first half. But we get by. »
Faced with 20 balls lost by him and his teammates, Green does not hesitate to go in the direction of his coach. "Our level of concentration in the first half was catastrophic. The coach jostled us at the break. »
The Warriors will quickly have the opportunity to confirm this success away from California as they end their "road trip" Wednesday night in Dallas.
Shots
Bounces
Players
GM
Minimum
Shots
3 points
LF
Off
Def
Early
pd
bp
Int
CT
party
Points
Stephen Curry
46
34.7
49.9
43.5
91.3
0.7
5.5
6.2
6.2
3.3
0.9
0.3
2.2
29.8
Klay Thompson
60
32.9
43.5
40.6
87.7
0.6
3.5
4.1
2.5
1.8
0.7
0.4
1.9
21.9
Jordan Poole
72
30.5
42.8
33.2
87.3
0.4
2.3
2.7
4.6
3.2
0.8
0.2
2.7
20.4
Andrew Wiggins
37
32.2
47.3
39.6
61.1
1.6
3.4
5.0
2.3
1.3
1.2
0.8
2.9
17.1
Jonathan Kuminga
57
20.4
50.4
35.2
65.5
1.0
2.4
3.4
1.8
1.5
0.6
0.5
2.4
9.5
Donte Divincenzo
62
26.7
42.8
40.3
83.6
1.0
3.4
4.4
3.5
1.5
1.3
0.2
1.9
9.4
Draymond Green
63
31.4
52.4
32.7
70.4
0.9
6.5
7.3
6.7
2.6
1.0
0.8
3.1
8.4
Kevon Looney
72
23.6
64.4
0.0
59.8
3.2
5.9
9.1
2.4
0.5
0.6
0.6
2.8
7.2
Anthony Lamb
52
20.1
47.3
36.9
75.5
0.9
2.6
3.5
1.7
0.9
0.5
0.3
2.3
7.1
Ty Jerome
44
18.5
48.8
38.9
92.7
0.2
1.6
1.8
3.1
0.7
0.5
0.1
1.5
7.0
James Wiseman
21
12.5
62.8
50.0
68.4
0.9
2.6
3.5
0.7
0.7
0.1
0.3
1.9
6.9
Jamychal Green
52
14.4
53.4
38.1
76.6
1.3
2.4
3.7
0.9
1.0
0.4
0.4
2.0
6.5
Moses Moody
55
13.2
44.4
33.6
69.2
0.5
1.2
1.6
0.8
0.6
0.3
0.1
0.8
4.5
Patrick Baldwin, Jr.
26
8.1
40.0
39.0
66.7
0.0
1.3
1.4
0.3
0.4
0.2
0.2
0.5
4.4
Andre Iguodala
8
14.1
46.7
11.1
66.7
0.4
1.8
2.1
2.4
1.1
0.5
0.4
1.4
2.1
ryan rollins
12
5.2
35.0
33.3
100.0
0.3
0.8
1.0
0.5
1.3
0.1
0.1
0.8
1.9