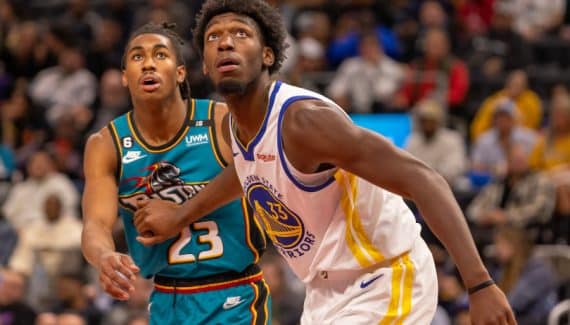 The future of Golden State is them. The Warriors have therefore logically activated the options of James Wiseman, Jonathan Kuminga and Moses Moody for the 2023/2024 season, ESPN announcement.
A clarification: the first city is eligible for a contract extension next summer, because he will be free (but protected) in 2024. It is also him, after a white season, who shows himself the most this season.
The interior plays almost 15 minutes per game and averages 8.7 points and 4.4 rebounds. Moses Moody also has his short quarter of game time (17 minutes even), during which he scores 6.4 points.
For Jonathan Kuminga on the other hand, as we know, it is more difficult to set foot on the floor. Steve Kerr has a very dense group and the young winger is struggling to make his mark. He averages 2.7 points in six minutes and shows his frustration, like after the game against Miami where he stayed the entire game on the bench.
"He's not happy, and I don't want him to be. Progress is daily, and that's what counts. He gives his all, he stays ready and his time will come." had then explained his coach.
Shots
Bounces
Players
GM
Minimum
Shots
3 points
LF
Off
Def
Early
pd
bp
Int
CT
party
Points
Stephen Curry
7
34.4
47.0
39.5
93.2
0.4
6.3
6.7
5.6
2.3
1.4
0.1
1.9
31.0
Jordan Poole
7
29.1
45.7
34.7
84.6
0.1
1.4
1.6
5.4
2.6
1.6
0.1
2.7
17.9
Andrew Wiggins
7
33.2
43.8
35.7
82.4
2.0
4.3
6.3
2.6
0.6
1.6
1.0
3.0
17.3
Klay Thompson
6
24.9
34.6
28.6
85.7
0.2
2.5
2.7
2.5
1.3
0.2
0.2
1.5
12.3
Draymond Green
7
28.6
59.2
25.0
63.6
1.0
5.0
6.0
5.7
3.0
0.9
0.9
3.4
9.6
James Wiseman
7
14.6
62.5
0.0
64.7
1.1
3.3
4.4
0.9
0.7
0.0
0.4
2.4
8.7
Moses Moody
7
16.9
39.5
36.0
75.0
0.6
1.9
2.4
0.3
1.3
0.4
0.7
1.0
6.4
Kevon Looney
7
22.9
60.0
0.0
54.5
2.6
3.9
6.4
3.6
0.3
0.1
0.3
2.6
6.0
Donte Divincenzo
3
14.0
45.5
33.3
75.0
0.0
0.7
0.7
1.0
2.0
0.3
0.0
1.3
5.0
Ty Jerome
4
12.5
60.0
50.0
100.0
0.0
0.3
0.3
1.3
0.3
0.3
0.3
1.0
4.5
Jamychal Green
7
18.2
42.3
23.1
75.0
1.9
2.6
4.4
0.7
1.0
1.3
0.4
1.9
4.0
Jonathan Kuminga
6
10.9
33.3
0.0
100.0
0.7
1.2
1.8
0.5
1.2
0.2
0.2
1.7
2.7
Anthony Lamb
1
8.6
100.0
0.0
0.0
0.0
2.0
2.0
1.0
0.0
0.0
0.0
2.0
2.0
Patrick Baldwin, Jr.
1
0.8
0.0
0.0
0.0
0.0
0.0
0.0
0.0
0.0
0.0
0.0
0.0
0.0
ryan rollins
3
1.2
0.0
0.0
0.0
0.0
0.3
0.3
0.3
0.3
0.0
0.0
0.7
0.0