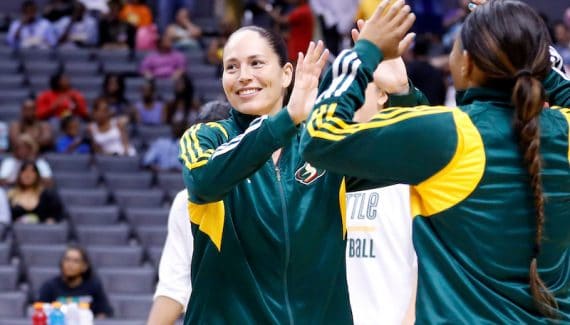 " I won't pay for a seasonal dinner, it's for young people now! laughs Sue Bird. The latter has just confirmed that she will be back for another season, possibly her last, with the Seattle Storm. This will be the 19th WNBA season for the point guard who has only had one franchise in her huge career. Particularity of this re-signing, she will receive the veteran minimum wage of 72,000 dollars.
" For me, winning titles and being a member of a team that goes far is the main thing. It's the reason why I play, it's what motivates me, always. Money is a great thing and we all want to be in a workplace that rewards us. But I find that in winning there are other rewards, some monetary, some not. I prefer to be part of a team that has a chance of winning, even if that means the money has to be distributed in a different way", displays the player with 12 All-Star selections.
While she still received $ 221,000 last season, her approach comes as the amount of the maximum salary was increased, in 2020, after negotiations between the women's league and the players' union, of which Sue Bird is vice- president. Arike Ogunbowale thus extended to Dallas for three seasons for 725,000 dollars, including nearly 250,000 dollars for the 2025/26 season.
Currently, Diana Taurasi, along with two Sue Bird teammates, Jewell Loyd and Breanna Stewart, are the highest paid players in the WNBA at $228,000 per season. For comparison, we recall that the minimum salary in the NBA for the classic contract of a player with no experience amounts to 925,000 dollars.
With Seattle, the future member of the Hall of Fame goes in search of a new trophy. The 41-year-old leader, who was still averaging 10 points last season, won four titles (2004, 2010, 2018 and 2020).