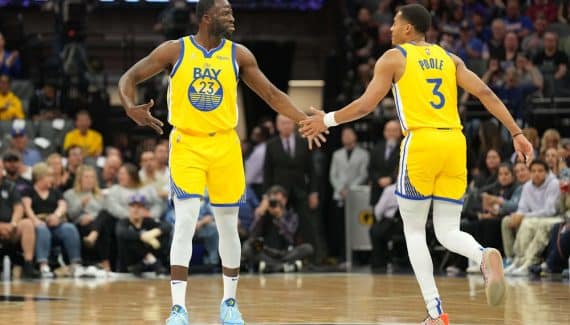 The NBA microcosm finally very quickly forgot the exploits of Victor Wembanyama… This afternoon, TMZ uploaded video of Draymond Green punching Jordan Poole. A video which shows the violence of the blow, and which contrasts clearly with the reactions of the Warriors since the revelation of the incident.
On the side of the leaders, ESPN announces that we have decided to use " all legal means to find out the name of the person who passed on, and presumably sold, this video to TMZ. There have been fights in practice in the past, and perhaps the most famous of these is the one between Michael Jordan and Steve Kerr during the Bulls days. Lately, we remember that Bobby Portis had received an eight-match suspension for hitting Nikola Mirotic in training. But there was no picture…
Golden State apparently decided not to suspend Draymond Green, and the maximum fine for such a skirmish is $50,000. But the revelation of the images, and the violence of the punch, could force the leaders to reconsider their position. Even though Green apologized to Poole and his teammates on Thursday, it will be very complicated to put the pieces back together, and the San Francisco Chronicle echoes a movement " Justice for Poole on social media.
On the side of the NBA players, the reactions are very numerous, and we will retain that of Evan Fournier. For him, it is impossible that two teammates can continue to play together after such a gesture.
There is no way you can get back to being teammates after a punch like that.

— Evan Fournier (@EvanFourmizz) October 7, 2022