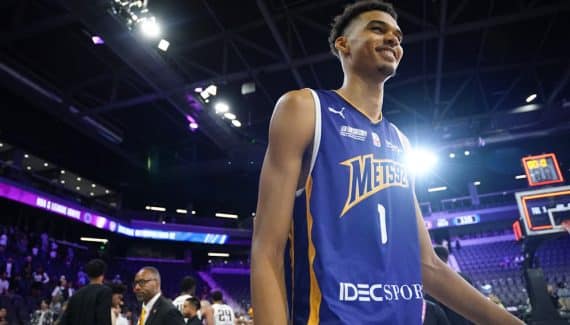 In a packed room, Victor Wembanyama was again at the heart of the attention last night in the Betclic Elite meeting between Boulogne-Levallois and Blois. The nugget of the Metropolitans 92 has once again chained brilliant actions to finish with a nice line of stats: 17 points at 7/10 shooting, 7 rebounds, 6 assists and 5 blocks.
If he has always had this ability to be productive, even when he played in Nanterre in his debut, he seems to be playing with more confidence and more liberated since his two exhibition matches in Las Vegas where he particularly shone in front of the whole world.
His coach, Vincent Collet also noted this development, which benefits his entire team. " It is indisputable that our stay in Las Vegas has built a progression », he confided before evaluating the performance of his protege. " Tonight he was patient, especially compared to his previous game. He only scored 7 points in the first half. He was patient and didn't force things. On arrival, his percentage of success testifies to the quality of his match. He ends with his best rating since the start of the season. So it was a complete performance".
Note that Hugo Besson, drafted by the Bucks, also shone against ADA Blois by scoring 20 points at 7/11 shooting in 19 minutes. On arrival, the Ile-de-France club won 113-88 for a 4th victory in a row. They are 2nd in the championship after six days, with one game less.
Victor Wembanyama helped Metropolitans 92 to a fourth straight win in France, over second place Blois, posting 17 points, 7 rebounds, 6 assists, 5 blocks in yet another dominant two-way performance showing why he'll be the No. 1 pick in the draft this June. pic.twitter.com/0Ru53E1bM3

—Jonathan Givony (@DraftExpress) October 21, 2022