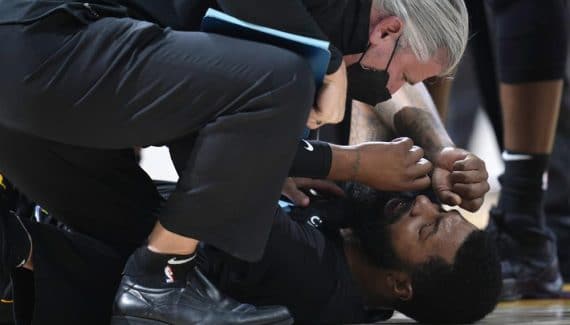 For a few weeks now, the Heat have been squatting the tops of the Eastern Conference while two important players are still stuck in the infirmary. These are obviously Victor Oladipo and Markieff Morris.
The first was operated on the right quadriceps tendon in May 2021 and there was talk of a possible return for the last days of February. The second is still suffering from his clash with Nikola Jokic in November.
Good news: the two players traveled with the group this Thursday. But when it comes to talking about getting out of the infirmary to join the floors, the Heat remain very cautious.
"There is nothing imminent at the moment"announces Erik Spoelstra at Sun Sentinel. "It's part of the process. It's nice to have the whole group in training. "
A little more patience then. Even for the back, who had joined the G-League in mid-February precisely in order to train and accelerate his preparation?
"Everyone is encouraged by this"explains the Heat coach, referring to the five-against-five sessions performed by the former Pacers. "There was a workload and that's the most important thing. We don't assess his level or his style, it's mainly physical condition, five-on-five movements. We must continue like this and, finally, the day will come when they can return. "
Shots
Bounces
Players
GM
Minimum
Shots
3 points
LF
Off
Def
Early
pd
bp
Int
CT
party
Points
Jimmy Butler
33
34.3
48.3
21.9
88.7
1.8
4.4
6.3
6.4
2.1
1.9
0.5
1.4
21.8
Tyler Herro
43
33.0
42.3
37.8
87.1
0.6
4.2
4.8
4.0
2.8
0.6
0.2
1.6
20.0
Bam Adebayo
27
33.4
52.4
0.0
76.7
2.7
7.2
10.0
3.6
3.0
1.4
0.6
3.3
18.1
Kyle Lowry
39
34.2
41.2
32.7
84.7
0.6
3.8
4.5
8.3
3.1
1.0
0.4
2.8
13.4
Duncan Robinson
49
27.2
39.7
36.1
81.0
0.4
2.7
3.1
1.4
0.8
0.7
0.2
2.7
11.7
Max Strus
41
24.3
44.3
40.7
77.5
0.5
3.0
3.4
1.3
0.7
0.3
0.2
1.7
11.4
Caleb Martin
42
22.9
50.7
37.3
73.1
1.3
2.6
3.9
1.0
0.8
1.0
0.5
1.6
9.4
Gabe Vincent
43
23.8
42.9
39.0
78.9
0.4
1.6
2.0
3.3
1.6
1.0
0.2
2.4
9.3
pj tucker
45
28.6
50.0
46.8
72.3
1.5
3.9
5.4
2.2
1.0
0.8
0.2
2.4
8.7
Markieff Morris
10
18.7
45.7
36.4
100.0
1.3
1.5
2.8
1.4
1.2
0.3
0.1
2.2
7.7
Dewayne Dedmon
45
16.5
59.0
50.0
77.6
1.8
4.4
6.2
0.8
1.1
0.4
0.5
2.3
6.4
Omer Yurtseven
37
14.8
52.4
14.3
64.0
1.8
4.5
6.2
1.1
0.9
0.4
0.5
1.8
6.2
Kyle Guy
11
14.3
45.3
40.6
71.4
0.1
0.9
1.0
1.4
1.0
0.4
0.1
1.0
6.0
Nik Stauskas
2
11.8
37.5
50.0
75.0
0.5
1.0
1.5
0.5
0.0
0.0
0.0
0.5
5.5
Kz Okpala
21
11.6
43.5
34.6
72.7
0.5
1.4
2.0
0.7
0.2
0.2
0.3
1.2
3.7
Chris Silva
8
10.2
57.1
0.0
83.3
1.6
2.8
4.4
0.8
1.0
0.0
0.1
2.1
3.2
Haywood Highsmith
4
10.4
50.0
57.1
0.0
0.5
0.8
1.2
0.0
0.0
0.0
0.2
0.8
3.0
Udonis Haslem
9
6.3
50.0
50.0
100.0
0.4
1.6
2.0
0.3
0.3
0.1
0.1
1.2
2.9
Marcus Garrett
12
10.7
23.8
25.0
40.0
0.8
1.2
1.9
0.6
0.2
0.4
0.2
1.3
1.1