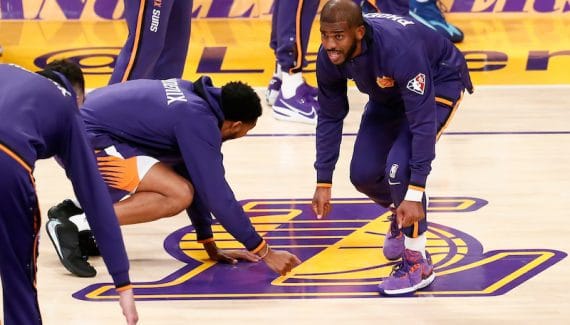 Transfer rumor buffs must be bored with the Suns this season. Almost no hallway noise has emerged from the Arizona franchise for months.
What could be more logical for this team which prances at the top of the NBA with 39 victories, including a current series of 8 in a row, and 9 defeats. And who could, keeping the current pace, easily surpass his franchise record set in 1993 and 2005 (62-20).
Two weeks before the transfer deadline, Phoenix should therefore not be a big market driver. " I've always liked this question. I get asked all the time, 'How aggressive will you be at the trade deadline?' And I'm still the same: I like my team, I like what we have", assures James Jones.
Last season, the manager, who has just been extended, had already done no madness at this time of the year, contenting himself with recovering the useful Torrey Craig from the Bucks for cash. This year, the main acquisition along the way is none other than Bismack Biyombo, who has come to bring real added value to the interior and compensate for the absence of Deandre Ayton.
" If opportunities arise to improve the team, I will look at them", nevertheless admits the decision maker. "But all the teams are trying to do the same thing at the transfer deadline. So unless you come across someone who really doesn't want to be competitive (a team that is launching its reconstruction, therefore), we are really talking about secondary movements. I trust our continuity and our dynamics. I'm focused on our guys and how we can improve internally."
It will also go through the exit of the infirmary of some important players, including Deandre Ayton, frequently embarrassed by his ankle. The returns of Dario Saric and Frank Kaminsky, affected in the knee, will be more distant but not impossible for next spring.
For the rest, Phoenix relies on exactly the same player base that carried the Suns to the NBA Finals, and all positions seem to be doubled.
" I will always say that the team I put together in the summer is the one I believe in, and the more we play together, the better we get. Guess that's another way of saying I like where we are ", ends James Jones, sure of his forces in presence.
Shots
Bounces
Players
GM
Minimum
Shots
3 points
LF
Off
Def
Early
pd
bp
Int
CT
party
Points
Devin Booker
39
33.3
43.8
37.8
86.3
0.9
4.5
5.4
4.4
2.5
1.0
0.4
2.5
24.5
Deandre Ayton
28
29.9
63.7
25.0
71.3
2.8
7.8
10.6
1.5
1.7
0.8
0.8
2.2
16.8
Chris Paul
46
32.6
48.7
32.9
84.2
0.3
4.1
4.4
10.2
2.4
2.0
0.3
2.1
14.4
Mikal Bridges
46
34.1
50.6
37.5
85.7
1.0
3.1
4.1
2.0
0.8
1.3
0.4
1.8
12.1
Cameron Johnson
43
25.7
45.5
43.0
84.4
0.7
3.6
4.3
1.2
0.7
0.9
0.2
1.7
11.8
Bismack Biyombo
9
21.4
70.2
0.0
56.7
3.2
4.3
7.6
1.3
0.9
0.8
1.2
2.2
10.8
Frank Kaminsky
9
20.1
54.5
33.3
90.0
1.2
3.3
4.6
1.4
0.6
0.9
0.8
1.6
10.6
Cameron Payne
40
20.4
40.4
33.6
86.4
0.4
2.4
2.8
3.6
1.8
0.6
0.3
1.9
10.4
Javale Mcgee
42
16.3
65.1
25.0
67.4
2.4
4.7
7.1
0.6
1.5
0.3
0.9
2.7
10.0
Jae Crowder
39
28.1
40.8
36.1
80.4
0.3
4.5
4.9
1.4
0.9
1.3
0.5
2.4
9.3
Landry Shamet
42
20.0
37.1
35.1
84.3
0.2
1.7
1.9
1.5
0.5
0.5
0.1
1.2
7.4
Jalen Smith
22
13.9
46.0
23.3
82.9
2.2
3.3
5.5
0.2
0.8
0.2
0.6
1.7
6.6
justin jackson
3
7.8
71.4
60.0
0.0
0.3
1.7
2.0
0.0
0.3
0.0
0.0
0.7
4.3
Elfrid Payton
26
10.9
40.6
14.3
50.0
0.5
1.4
1.9
1.7
0.9
0.5
0.1
0.9
3.3
Paris Bass
2
3.7
33.3
0.0
100.0
1.0
1.0
2.0
0.0
1.0
0.5
0.0
1.0
3.0
Abdel Nader
14
10.4
34.3
28.6
60.0
0.3
1.6
1.9
0.5
0.8
0.6
0.3
1.4
2.4
Ishmail Wainright
20
6.6
33.3
22.7
50.0
0.7
0.6
1.3
0.4
0.4
0.3
0.1
1.2
1.6
Chandler Hutchison
6
3.7
50.0
0.0
100.0
0.0
0.8
0.8
0.3
0.7
0.0
0.0
0.2
0.7
Emmanuel Terry
3
6.1
0.0
0.0
0.0
2.7
2.3
5.0
0.7
1.7
0.3
0.0
1.3
0.0
MJ Walker
2
4.2
0.0
0.0
0.0
0.0
0.5
0.5
0.5
0.0
1.0
0.0
0.5
0.0