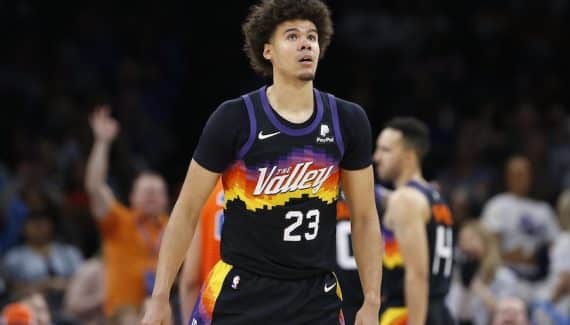 Deandre Ayton, Cam Johnson, same fight ! A year after the pivot of the Suns, who had not obtained his contract extension, his young teammate has just experienced the same fate. " Cam is a smart guy, a guy who trusts his team. I'm sure he's in good hands. He's strong, he likes to be in the 'Valley' », reacts Deandre Aytonwho finally got his big contract this summer, after an offer from the Pacers.
While he could extend this fall at an annual salary of between 15 and 18 million dollars to be quiet, the winger will have to wait another year before landing a nice contract.
" Either way, I'm looking forward to playing this year. It doesn't change anything about what's happening today, it doesn't change my approach. I was looking forward to this season for many reasons and the contract doesn't necessarily fit into that in terms of change. ", wants to relativize the 11th choice of the Draft 2019, which comes out of its best exercise in career at 12.5 points per game.
" I would have liked to come to a conclusion. I love being here, I'm here for this year and that's what I'm focusing on. We have a good group and we want to win a title ", Continues the future post 4 holder of the team. Before adding: Negotiations are interesting, especially when it's not clear on the owners' side. Extremely interesting. »
Not a bad thing for Monty Williams
An obvious allusion to the situation of Robert Sarver who, after being investigated for racist and sexist behavior, announced the sale of the franchise. Suns vice-chairman and minority owner Sam Garvin has since served as the club's interim manager.
Not ideal therefore to negotiate while Deandre Ayton obtained his new contract in mid-July, weeks before the league sanctions against Robert Sarver.
Monty Williams says he understands what his players are going through in such a situation. He himself lived through contract negotiations as a player and coach. " There's a level of emotion that goes with it, but in the end, these are all business decisions. You try to separate the two, but it's hard, especially when you're emotionally attached to a team. »
The Suns coach considers part of his job to be " to help these guys get nice contracts.
"I try to do my best to develop the guys within our system so that they can get the salaries they are aiming for. I didn't see it as a bad thing that he didn't come to an agreement. I just thought, 'Well, I hope he plays so he gets the money. I see it that way and I think he's more than capable of doing it. he concludes.
Cameron Johnson
Percentage
Bounces
Season
Crew
GM
Minimum
Shots
3 points
LF
Off
Def
Early
pd
party
Int
bp
CT
Points
2019-20
PHX
57
22
43.5
39.0
80.7
0.9
2.4
3.3
1.2
1.5
0.6
0.6
0.4
8.8
2020-21
PHX
60
24
42.0
34.9
84.7
0.6
2.8
3.3
1.4
1.4
0.6
0.7
0.3
9.6
2021-22
PHX
66
26
46.0
42.5
86.0
0.6
3.5
4.1
1.5
1.7
0.9
0.7
0.2
12.5
2022-23
PHX
1
27
46.2
50.0
0.0
0.0
3.0
3.0
0.0
2.0
0.0
0.0
2.0
15.0
Total
184
24
44.0
39.0
84.3
0.7
2.9
3.6
1.4
1.6
0.7
0.7
0.3
10.4