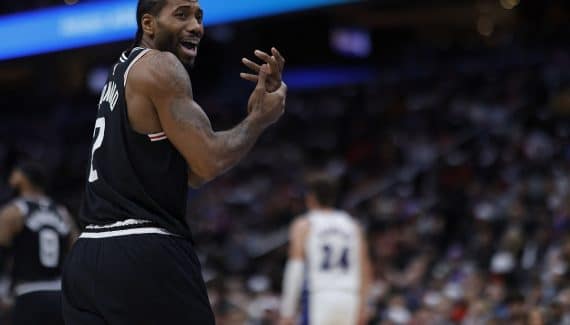 At the Clippers, there is only one player who has not passed the doors of the infirmary this season. It's Nicolas Batum, who has played all 31 games for the franchise so far.
The Frenchman is an exception to the 21 matches already missed by Kawhi Leonard, the 12 by Luke Kennard, the 9 by Paul George and Norman Powell or even the 7 missed matches by John Wall.
For Tyronn Lue, these absences are always handicapping because he can never field the same team or have his best players available at the same time.
"We can't stay healthy and it's disappointing," explains the coach for ESPN. "We never want that to happen, but if it does, I'd rather it be now than later. But as soon as we are well, that we are in the rhythm, that we win three matches in a row, something happens. It's frustrating. »
Tyronne Lue asks for "two or three weeks"
Especially when you know that when Leonard and George were lined up together, the Clippers posted a record of 7 wins in 9 games. In 195 minutes spent on the court, the duo dominated their opponents by 71 points. But injuries have plagued both All-Stars, when Lue must also spare them and avoid back-to-backs.
"I played two matches to start the season, then I got hit. I replayed three matches before being injured again," recalls the MVP of the 2014 and 2019 Finals. "I have only played ten matches this season, after a white season. I can't rush. I would have liked to play more, but I'm focused on the end of the season, on the playoffs. »
Still, spring has to spare Los Angeles, with an empty infirmary at that time. Moreover, if all the players are available but they have not managed to play together before, the chemistry and the agreement will not be optimal.
"When guys are absent, or when you don't know if they will be there or not, you have to adapt a lot", Lue insists. "We are not at our level, especially in attack. We will be better offensively when we can have this continuity, with players in good shape. »
How long does the Californians coach put behind this word "continuity"? "Two or three weeks. Let's say fifteen matches (note: more like a month). Let's see if we can do that: straight matches! Fifteen matches, not one, two or three. No, fifteen. »
Shots
Bounces
Players
GM
Minimum
Shots
3 points
LF
Off
Def
Early
pd
bp
Int
CT
party
Points
Paul George
22
34.1
44.8
38.0
87.4
0.7
5.5
6.3
4.9
3.5
1.4
0.5
2.6
23.5
Norman Powell
22
25.3
45.9
37.9
78.0
0.4
2.5
2.9
1.5
1.8
0.8
0.3
1.8
14.8
Kawhi Leonard
10
26.0
44.1
21.1
75.8
0.9
4.9
5.8
3.5
1.3
0.7
0.2
1.6
13.7
Marcus Morris
28
30.1
44.6
37.3
79.5
0.5
4.4
4.9
1.8
0.9
0.8
0.3
2.2
13.6
Reggie Jackson
29
29.3
40.9
35.6
90.2
0.4
2.2
2.6
4.0
2.3
0.7
0.1
2.0
12.4
John Wall
24
22.4
41.5
27.2
67.4
0.4
2.3
2.7
5.5
2.3
0.9
0.3
1.5
12.3
Ivica Zubac
30
29.5
61.7
0.0
66.7
3.3
7.5
10.8
1.1
2.1
0.4
1.6
3.1
10.1
Terance Mann
30
21.9
53.7
36.5
74.4
1.2
2.8
4.0
1.8
1.0
0.5
0.3
1.9
8.6
Luke Kennard
19
21.8
51.7
47.3
100.0
0.2
2.4
2.6
0.9
1.0
0.6
0.1
1.4
8.5
Nicholas Batum
31
20.5
44.2
40.2
59.1
0.9
3.3
4.2
1.4
0.7
0.6
0.7
2.0
5.7
Bj Boston, Jr.
12
9.8
36.7
44.4
83.3
0.3
0.8
1.0
0.8
0.4
0.2
0.0
0.6
5.6
Robert Covington
19
16.2
37.9
31.7
82.4
0.4
3.2
3.6
1.2
0.8
0.5
0.7
2.1
5.5
Moussa Diabate
7
10.4
54.5
0.0
77.8
2.6
1.7
4.3
0.3
0.7
0.4
0.1
1.3
4.4
Amir Coffey
25
15.1
37.5
29.2
79.5
0.4
0.7
1.1
1.2
0.5
0.2
0.1
1.3
3.9
Moses Brown
23
6.8
61.8
0.0
47.8
1.3
1.8
3.1
0.1
0.3
0.0
0.4
0.9
3.9
Jason Preston
5
8.7
37.5
25.0
0.0
0.2
0.8
1.0
1.6
0.8
0.0
0.0
0.8
2.8