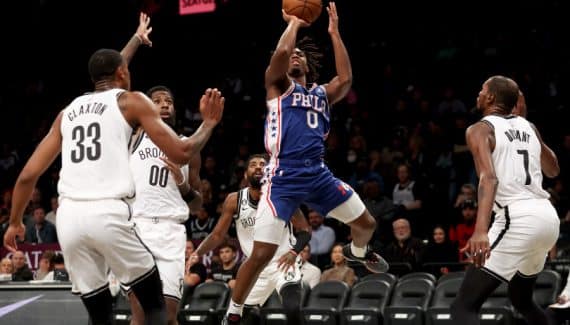 The preseason meeting between Brooklyn and Philadelphia was expected, and for good reason, the two teams made a "blockbuster deal" which caused a lot of talk last February.
It was also an opportunity to see the first steps of Ben Simmons in his new formation… facing his former teammates! What offer a historical aspect to this meeting whose result will remain anecdotal.
We will therefore remember that it was on a dunk in transition that Ben Simmons scored his first basket with Brooklyn. For the rest of the first act, it was above all Philadelphia who shone by slamming 42 points, in particular thanks to a good introduction from Tyrese Maxey and the precious relays of his teammates at 3-points (26-42).
An interesting second quarter for the Nets
The Nets quickly reacted by passing a 24-13 launched by Joe Harris and punctuated by the 3 + 1 of Patty Mills and the dunks of Nic Claxton (50-55). The brilliant shots of Kyrie Irving and Kevin Durant allowed Brooklyn to stay in the game until the break (62-65).
It was finally after having briefly managed to come back in front of the score towards the middle of the third quarter, without their stars, that the locals completely cracked. The Sixers have indeed passed a 17-2 in four minutes to complete the period and thus turn to +15 (86-101).
Enough to take shelter, the Irving-Simmons-Durant trio having joined the bench since the break. Just enough time to allow Julian Champagnie (15 points) to stretch his legs and accompany the Sixers to a quiet success, 127-108.
With the victory far from its bases, the 20 points and 3 assists in just 14 minutes for Tyrese Maxey, and the Harden-Embiid pair on the bench, Philly could not have hoped for a better start to its preseason.
brooklyn

/

108
Shots
Bounces
Players
Minimum
Shots
3 points
LF
O
D
T
pd
party
Int
bp
CT
+/-
Points
Rating
K. Durant
19
4/8
1/4
4/4
0
4
4
4
1
1
3
1
+3
13
16
N.Claxton
14
6/6
0/0
0/0
3
1
4
2
1
0
1
1
+1
12
18
J.Harris
15
2/7
2/7
0/0
0
1
1
1
2
0
1
0
+4
6
2
K.Irving
19
4/8
1/3
0/0
0
4
4
4
3
3
2
1
+3
9
15
B. Simmons
19
3/6
0/0
0/2
1
3
4
5
0
1
2
0
-10
6
9
Mr Morris
9
2/3
2/2
0/0
0
2
2
0
1
1
2
0
-7
6
6
R.O'Neale
17
3/5
2/4
3/3
0
2
2
0
2
0
1
0
-8
11
10
R. Gray
3
0/1
0/1
0/0
0
0
0
0
0
0
0
0
-7
0
-1
Y.Watanabe
16
3/5
1/2
3/4
0
4
4
0
0
0
1
0
-4
10
10
D.Duke Jr.
17
0/2
0/1
1/2
0
2
2
2
3
0
4
0
-18
1
-2
K. Edwards
15
1/3
1/3
0/0
0
3
3
1
0
1
2
1
-10
3
5
D.Sharpe
19
1/3
0/1
4/9
2
2
4
0
4
1
1
1
-11
6
4
P.Mills
10
1/4
1/3
1/1
0
1
1
1
0
0
0
0
+1
4
3
E.Sumner
15
4/6
0/0
4/4
0
3
3
2
2
1
2
0
-5
12
14
C.Thomas
18
1/6
0/0
5/5
2
2
4
1
0
0
2
0
-8
7
5
C.Chiozza
11
0/1
0/1
0/0
0
1
1
2
2
0
3
0
-16
0
-1
A.Williams
5
1/4
0/1
0/0
0
0
0
0
0
0
0
0
-3
2
-1
36/78
11/33
25/34
8
35
43
25
21
9
27
5
108
112
philadelphia

/

127
Shots
Bounces
Players
Minimum
Shots
3 points
LF
O
D
T
pd
party
Int
bp
CT
+/-
Points
Rating
T.Harris
16
3/7
1/3
2/2
1
3
4
4
2
1
2
0
-2
9
12
P. Reed
20
3/4
0/0
4/4
3
2
5
0
3
3
1
1
-4
10
17
T. Maxey
14
6/8
2/4
6/6
0
1
1
3
0
1
1
0
+4
20
22
Mr. Thybulle
19
1/4
1/3
0/0
0
1
1
0
3
3
2
0
+4
3
2
D.Melton
17
2/10
1/7
0/0
0
3
3
0
1
3
3
1
-7
5
1
Mr Foster Jr.
7
1/6
0/2
0/0
2
1
3
0
1
0
1
0
+2
2
-1
G.Niang
15
3/8
2/5
0/0
1
4
5
1
1
2
0
0
0
8
11
Mr Harrell
12
3/5
0/0
4/4
4
1
5
3
6
0
0
0
+13
10
16
C. Bassey
14
2/4
0/0
0/0
5
4
9
2
2
1
1
1
+13
4
14
S.Milton
18
1/6
0/1
2/2
0
3
3
2
0
0
1
0
-2
4
3
F.Korkmaz
19
6/12
2/4
1/1
1
1
2
4
1
1
0
0
+14
15
16
I.Joe
17
3/8
3/6
0/0
0
2
2
2
1
0
0
0
+17
9
8
C.Brown Jr.
14
1/5
0/1
0/0
2
1
3
0
2
1
1
0
+9
2
1
T.Queen
5
2/5
0/1
0/0
0
1
1
1
0
2
3
0
0
4
2
J.Springer
16
2/6
0/0
3/4
0
2
2
1
2
0
0
2
+17
7
7
J. Champagnie
18
5/10
3/7
2/2
3
4
7
3
0
2
0
0
+17
15
22
44/108
15/44
24/25
22
34
56
26
25
20
16
5
127
153