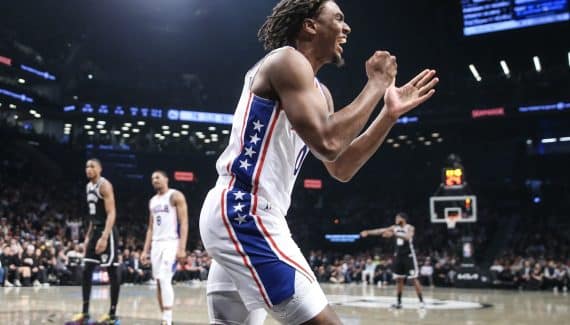 In a meeting marked by several questionable refereeing decisions such as the expulsions of James Harden and Nic Claxton, the Sixers and the Nets fought a battle until the last seconds in this rocking game of the series. In the end, Philadelphia won out, thanks to a Tyrese Maxey heroic in the final minutes. The latter thus scored 10 points in the "clutch time", allowing his team to now lead 3-0 in the series. Suffice to say that the Sixers have one foot and four toes in the conference semifinals.
"My mindset has always been the same: to win and do whatever it takes to win" soberly declares Tyrese Maxey. "Tonight, when our point guard, who is our leader, got kicked out, I took on that role and helped us do what we usually do and win the game.".
As in Game 2, the young fullback finished as his team's top scorer with 25 points at 10/17 in shooting including 5/8 from 3-pointers! A boss performance in an away playoff game, which allows Doc Rivers' men to kill almost all suspense on this series.
"Sometimes he gets lost in the crowd, with James and Joël" explains PJ Tucker. "But he doesn't need much to get going. He gets a layup, then a foul, he takes his two free throws, and then he can take control of a game. He's so young he doesn't even realize he's that strong.".
Once again, the Sixers were able to count on Tyrese Maxey, and that is perhaps what makes the difference compared to other seasons. If Embiid and Harden are slowed down, even muzzled, Doc Rivers can count on a 3rd leading attacker, capable of taking risks in attack and punishing the defenses. "He made the right choices, whether it was his 3-point shot or attacking the basket" congratulated James Harden. "He just played freely. That's what he's been doing all year.".
Tyrese Maxey
Percentage
Bounces
Season
Crew
GM
Minimum
Shots
3 points
LF
Off
Def
Early
pd
party
Int
bp
CT
Points
2020-21
PHL
61
15
46.2
30.1
87.1
0.2
1.5
1.7
2.0
1.3
0.4
0.7
0.2
8.0
2021-22
PHL
75
35
48.5
42.7
86.6
0.4
2.9
3.2
4.3
2.1
0.7
1.2
0.4
17.5
2022-23
PHL
60
34
48.1
43.4
84.5
0.4
2.6
2.9
3.5
2.2
0.8
1.3
0.1
20.3
Total
196
29
47.9
41.4
85.8
0.3
2.4
2.7
3.3
1.9
0.7
1.1
0.3
15.4
How to read the stats? MJ = matches played; Min = Minutes; Shots = Shots made / Shots attempted; 3pts = 3-points / 3-points attempted; LF = free throws made / free throws attempted; Off = offensive rebound; Def= defensive rebound; Tot = Total bounces; Pd = assists; Fte: Personal fouls; Int = Intercepts; Bp = Lost bullets; Ct: Counters; Points = Points.