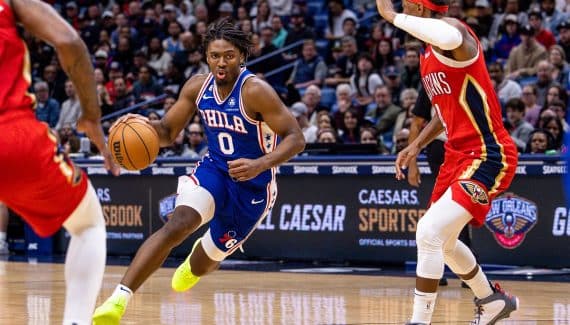 Before the game against the Pelicans, Doc Rivers was asked about the return of Tyrese Maxey, 18 games and six weeks after his last outing against the Bucks and his foot injury. The coach was already announcing the difficulties to come for the rear.
"If he can be the same player who was 20 points at the break, at the time of his injury, that's fine with me", had he explained for theInquire. "Everyone comes back in a different way. It's difficult for outsiders, because carrying the ball is the hardest part. You can't train at the speed with which you play. We want him to be aggressive, not to think too much. Let him be himself. »
The first period was complicated with 2 points at 1/4 to shoot. In second, it was better with 7 points at 3/6 shooting. We add the two halves and it gives a meeting with 9 points and 4/10 to shoot in 18 minutes. What conclusions does he draw from this return?
"It was the first time that I replayed at such a high level", highlights Maxey for Sixers Wire. "I felt better as the game progressed. It was nice to be on the court with my teammates. »
Rivers makes the same analysis as his player: complicated beginnings then better. But we had to go through it. "I think he got better throughout the game. We used it for 18 minutes and we could see that it was rusty at the start. It affected things, but the only way to get him back was to throw him out like we did. »
Will he still be in uniform this Saturday evening, against the Thunder? " I do not know yet "Rivers replies.
Tyrese Maxey
Percentage
Bounces
Season
Team
GM
Minimum
Shots
3 points
LF
Off
Def
Early
pd
party
Int
bp
CT
Points
2020-21
PHL
61
15
46.2
30.1
87.1
0.2
1.5
1.7
2.0
1.3
0.4
0.7
0.2
8.0
2021-22
PHL
75
35
48.5
42.7
86.6
0.4
2.9
3.2
4.3
2.1
0.7
1.2
0.4
17.5
2022-23
PHL
15
36
46.2
42.2
73.8
0.4
3.1
3.5
4.4
2.3
1.0
2.0
0.3
22.9
Total
151
27
47.6
40.1
84.5
0.3
2.3
2.6
3.4
1.8
0.6
1.1
0.3
14.2