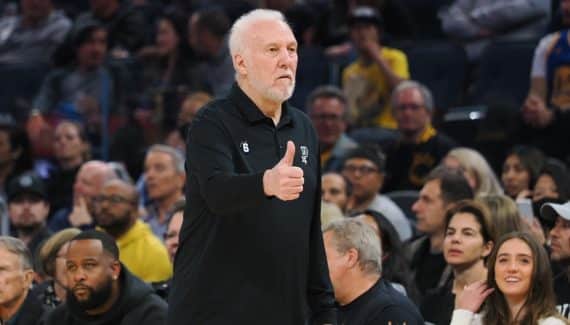 Already deprived of Doug McDermott, Josh Richardson, Jeremy Sochan and Jakob Poeltl for the match against the Pelicans, San Antonio also had to do without his coach, Gregg Popovich. Now 73 years old, the most successful coach in history has indeed suffered a minor medical intervention visibly preventing him from being on the bench with his players.
He thus held his pre-match conference as usual, with the difference that he remained standing. "Coach Pop" then gave the keys to the truck to his first assistant, Brett Brown, who could not prevent the 10th straight loss of the Spurs, penultimate in the Western Conference.
While waiting to be fully recovered, it is still Brett Brown who will coach the next match against Phoenix. Gregg Popovich is expected for the "shock of the dunces" against Houston this Thursday.
Shots
Bounces
Players
GM
Minimum
Shots
3 points
LF
Off
Def
Early
pd
bp
Int
CT
party
Points
Devin Vasell
17
32.5
46.4
42.3
79.6
0.2
4.0
4.2
3.6
1.5
0.8
0.4
1.6
20.6
Keldon Johnson
20
32.1
39.3
36.0
74.2
1.0
4.1
5.1
3.2
2.4
1.0
0.1
1.8
20.3
Jakob Poeltl
20
27.2
64.0
0.0
51.8
3.9
6.0
9.9
3.5
2.4
0.9
1.0
2.3
12.9
Tre Jones
21
30.1
41.7
32.1
90.9
0.7
2.7
3.4
7.0
2.1
1.5
0.1
2.0
12.3
Doug Mcdermott
20
20.7
47.3
40.6
62.5
0.3
1.6
1.9
1.5
1.0
0.1
0.2
1.7
10.3
Josh Richardson
17
22.9
40.4
36.3
84.4
0.4
1.8
2.2
3.0
1.7
0.7
0.1
1.8
10.2
Zach Collins
12
18.8
53.2
37.0
72.7
1.7
3.6
5.3
2.5
1.9
0.8
1.2
3.2
8.3
Jeremy Sochan
20
24.8
47.3
18.2
55.0
1.3
2.8
4.1
2.0
1.6
1.0
0.5
2.6
8.1
Blake Wesley
2
11.7
66.7
66.7
50.0
0.5
0.5
1.0
2.0
1.0
0.0
0.0
1.5
8.0
Keita Bates-diop
20
16.7
51.3
28.0
82.1
1.3
1.6
2.9
0.7
0.8
0.7
0.2
0.6
7.6
Joshua Primo
4
23.3
34.6
25.0
77.8
0.5
2.8
3.3
4.5
2.8
0.3
0.5
2.0
7.0
Romeo Langford
11
18.6
44.6
18.8
60.0
1.8
1.0
2.8
0.8
0.9
0.6
0.4
1.6
5.4
Charles Bassey
12
14.5
63.4
33.3
57.1
1.8
3.8
5.7
1.6
1.5
0.4
1.0
2.3
5.2
Malaki Branham
9
15.9
34.0
25.0
75.0
0.2
1.2
1.4
1.7
0.8
0.2
0.0
1.0
5.0
Isaiah Roby
17
13.0
45.7
37.9
44.4
0.4
2.2
2.6
1.3
0.5
0.4
0.4
1.4
4.9
Gorgui Dieng
10
10.3
43.8
30.4
75.0
0.9
1.8
2.7
1.8
0.8
0.1
0.5
1.7
3.8
Jordan Hall
9
9.1
32.1
20.0
77.8
0.3
1.0
1.3
1.2
0.8
0.1
0.0
0.7
3.1
Dominick Barlow
3
7.4
33.3
0.0
100.0
0.7
0.3
1.0
1.0
0.0
0.3
0.0
1.0
2.7
Alize Johnson
1
6.9
100.0
0.0
0.0
1.0
2.0
3.0
0.0
0.0
0.0
0.0
0.0
2.0