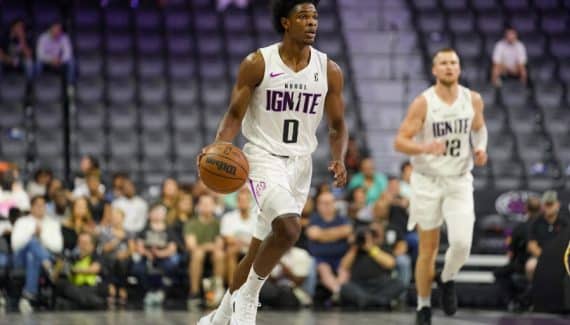 Last week, when his return to the boards was imminent, after more than a month of absence due to a broken nose, he assured that he had absolutely no intention of ending his season prematurely.
A week, three matches and two "game-winner" later, we can consider without too much doubt that Scooter Henderson was sincere, and that he lacked the pitch.
Against the Ontario Clippers on December 27, then against the Birmingham Squadron (the team affiliated with the Pelicans) this Sunday, the American point guard, whom all observers of the 2023 Draft unanimously consider to be the second choice behind Victor Wembanyama next June, has effectively offered the victory to his team on a final decisive.
In the first game, the outcome of which was decided by the famous "Elam Ending" with a target score, as in the All-Star Game in recent years, Henderson rose on a mid-range shot on a dribble exit , an exercise he has already mastered with his eyes closed, to approach his own to a point of the target score. In the next match, it was on an "and-one" after an authoritative drive towards the circle that the native of Georgia made the difference, four seconds from the end of the match.
His "highlights" of the two meetings: