Basketball News
Trolled by the DJ of the Sacramento hall, Russell Westbrook hits rock bottom | NBA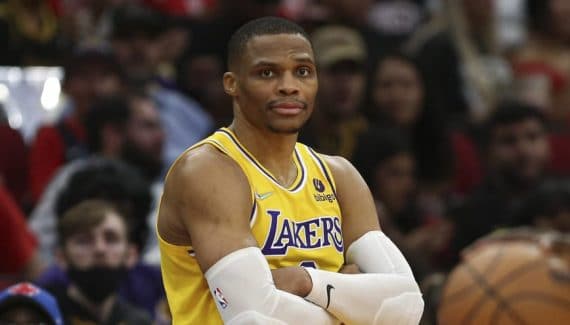 Out of five straight losses, the Kings needed a win. The reception of the Lakers, intimate enemies in this Californian derby, was therefore timely.
Despite an 11th game (of the last 12) at 30 points or more for LeBron James (34 points, 7 rebounds, 6 assists), a good Malik Monk (22 points) and a career-high 19 points from rookie Austin Reaves, the Lakers failed to keep pace with the Kings in the second half. Cashing 40 points in the 3rd quarter, and 70 points in the paint, Los Angeles was far too permissive to hope for anything.
"We did not defend against anyone", complained Frank Vogel. "We have respect for this team. They haven't made it to the playoffs in recent years, but they have plenty of young talent and plenty of ammunition up front. They can beat us if we don't play at our level. We're going to have to play better than that to beat them. »
At the center of the debacle, it was Russell Westbrook who again shone with his mediocrity. In the midst of a crisis of address, the star point guard of the Lakers chained brick on brick to end his evening with 8 points, 12 rebounds and 6 assists, but with an atrocious 2/14 on shots including a 3-point bubble (0/ 5).
And the Sacramento venue DJ had a blast, sending not-so-subliminal messages to the former Thunder MVP throughout the night with snippets of "Cold As Ice" from Foreigner and downright from "Ice, Ice Baby" from Vanilla Ice on Russell Westbrook's last (failed) attempt…
20% on shots in the last three matches
" It's funny ", reacted Russell Westbrook with a smile. "I hope they've been playing those clips for the past fourteen seasons too (note: referring to Sacramento's non-playoff seasons). But it's fun, it's cute. (…) Who are you saying that to ? I can't take a fucking shot! »
While it seemed to be better in December for Russell Westbrook, averaging 18 points, 8 rebounds and 8 assists, all on 48% shooting success, the point guard has again fallen back into his ways since the new year. . It's very simple, in five games in 2022, he still has not reached 50% success.
"Any player is inevitably frustrated when he is in a bad patch, it's natural", adds LeBron James.
Remaining on an 8/40 on shots (20% success) in his last three games, Russell Westbrook is well aware that he must react. But he keeps his spirits up. As an old driver of the circuit, he has seen others…
"I try to look at it all in a positive way. I see it like this: since I've been in the League, the fans, the halls, the jokes, whatever comes my way, I take it as a compliment. Because if I hadn't done anything in this League, nobody would pay attention to me, nobody would care about what I do and how I do it. If people continue to be interested in what I do, when I do it and how I do it, that means that I'm bound to do things well. So I will continue to hold my head high and keep my "why not?" mentality. and continue to use this sport to achieve other things. It's that simple. »
Russell Westbrook
Percentage
Rebounds
Season
Team
MJ
Minimum
Shots
3pts
LF
Off
Def
Early
Pd
Fte
Int
Bp
Ct
Pts
2008-09
OKAY
82
33
39.8
27.1
81.5
2.2
2.7
4.9
5.3
2.3
1.3
3.3
0.2
15.3
2009-10
OKAY
82
34
41.8
22.1
78.0
1.7
3.2
4.9
8.0
2.5
1.3
3.3
0.4
16.1
2010-11
OKAY
82
35
44.2
33.0
84.2
1.5
3.2
4.6
8.2
2.5
1.9
3.9
0.4
21.9
2011-12
OKAY
66
35
45.7
31.6
82.3
1.5
3.1
4.6
5.5
2.2
1.7
3.6
0.3
23.6
2012-13
OKAY
82
35
43.8
32.3
80.0
1.4
3.9
5.2
7.4
2.3
1.8
3.3
0.3
23.2
2013-14
OKAY
46
31
43.7
31.8
82.6
1.2
4.5
5.7
6.9
2.3
1.9
3.9
0.2
21.8
2014-15
OKAY
67
34
42.6
29.9
83.5
1.9
5.4
7.3
8.6
2.8
2.1
4.4
0.2
28.2
2015-16
OKAY
80
34
45.4
29.6
81.2
1.8
6.0
7.8
10.4
2.5
2.0
4.3
0.3
23.5
2016-17

★

OKAY
81
35
42.5
34.3
84.5
1.7
9.0
10.7
10.4
2.4
1.6
5.4
0.4
31.6
2017-18
OKAY
80
36
44.9
29.8
73.7
1.9
8.2
10.1
10.3
2.5
1.8
4.8
0.3
25.4
2018-19
OKAY
73
36
42.8
29.0
65.6
1.5
9.6
11.1
10.7
3.4
2.0
4.5
0.5
23.0
2019-20
HOU
57
36
47.2
25.8
76.3
1.8
6.2
7.9
7.0
3.5
1.6
4.5
0.4
27.3
2020-21
WAS
65
36
43.9
31.5
65.6
1.7
9.9
11.5
11.7
2.9
1.4
4.8
0.4
22.2
2021-22
LAL
41
35
44.4
29.8
65.3
1.4
6.7
8.1
8.2
3.1
1.1
4.5
0.3
19.0
Total
984
35
43.8
30.5
78.6
1.7
5.8
7.4
8.5
2.6
1.7
4.1
0.3
23.0