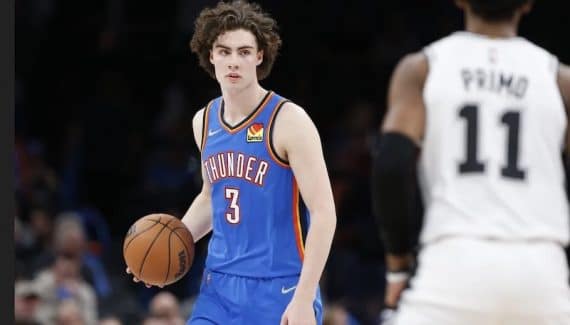 Evening dusting off the NBA record books. While DeMar DeRozan took care of erasing Wilt Chamberlain, Josh Giddey paid the luxury of joining Oscar Robertson. With 17 points (8/18), 10 rebounds and 10 assists against Spurs, he posted his third straight triple-double. The Thunder player thus becomes the first rookie to do so since the "Big O" in 1961.
" I think he played a very good game again tonight. ", can salute his coach, Mark Daigneaultconsidering that his triple-double is purely " incidental to his way of playing ".
The Thunder coach believes his 19-year-old prospect has a flair for grabbing rebounds. " Which is important for the backs, especially when you lack size. He also knows how to do it on the offensive rebound. He has a good vision of the game. He is playing with a good tempo at the moment. He scores one or two layups per game where he gets past his defender and is able to reach the circle. Adding it all up, the stats follow."
His rookie is starting to get used to such numerical reports. It was already his 4th career triple-double. Even if this trend is becoming commonplace, it is already as much as former glories of the league like Tim Duncan, Karl Malone or Tracy McGrady.
" Of course it's cool to see your name in these kinds of categories alongside big names"appreciates the native of Melbourne. "Anytime you're mentioned with them is a good thing, but as I always say, it's always about the team. A victory tonight would have been great."
But the Thunder couldn't resist Keldon Johnson, Jakob Poeltl and another young triple-double specialist, Dejounte Murray. OKC thus lost its sixth game in seven games and suffered its 40th defeat of the year.
" That's why the match in New York (note: where he had shone and compiled a second triple-double in a row) was so special. We got a big away win while being understaffed. The more we win, the happier I will be", Finishes the rookie with dense hair.
Josh Giddey
Percentage
Bounces
Season
Team
GM
Minimum
Shots
3 points
LF
Off
Def
Early
pd
party
Int
bp
CT
Points
2021-22
OKAY
52
31
41.8
26.7
70.5
1.8
6.0
7.7
6.3
1.6
0.9
3.2
0.4
12.4
Total
52
31
41.8
26.7
70.5
1.8
6.0
7.7
6.3
1.6
0.9
3.2
0.4
12.4