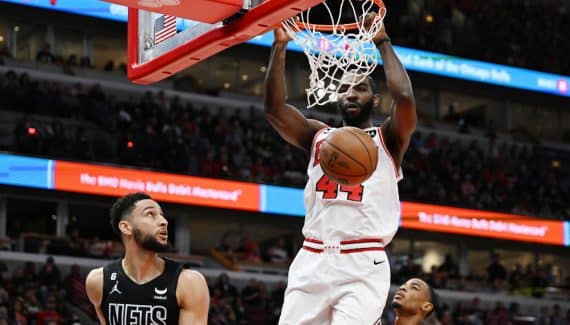 The end of the match against the Cavaliers had left its mark on patrick williams. The Bulls player blamed himself for being trapped by Donovan Mitchell, who had thwarted the vigilance of the referees to leave the free throw line before his ball touched the circle.
Result, a rebound taken on the head of Williams and a basket to send the Cavaliers and the Bulls into overtime. The result is known: the rear of Cleveland ends with 71 points and Chicago bows.
"This last match left a bitter taste in the mouth", recognizes the interior of the Bulls for NBC Sports. "Not only for the 71 points, but also for me, personally. I should have taken the rebound. It was my fault. But I don't want to dwell on it too much and lose the opportunity to win the next game. »

Against the Nets, Patrick Williams had the best response by scoring his best game of the season with 22 points and 7 rebounds. From the first quarter, he wanted to put behind him the disappointment of the defeat against the Cavaliers, with 12 points.
"Patrick wants to do better"confirms Billy Donovan for the Chicago Sun Times. "He is looking for ways to improve. He played against Kevin Durant and he had a lot to do to make life difficult for him, while being aggressive offensively. We need him on both sides of the pitch. »
Irregular, he is too often dominated by his mind
Since Durant finished the game with 44 points at 15/22 shooting, Williams couldn't do much on the Nets winger. But as no one ever really has the solution against the double NBA champion, it is better to focus on the positive sides of his meeting.
Even if the big question with the 4th choice of the Draft 2020 remains that of regularity, of his mind which does not always seem steel.
"He will have to find the solution and our job is to provide him with the elements to help him. But it has to come from him." announces his coach. "I think that sometimes hurt his performance. Whether it's because it's going too fast for him or because he doesn't do the right reading, he makes a mistake, then he dwells on what has just happened. The next moment, he is less aggressive and withdraws. »
A bit like the Bulls team as a whole this season, Patrick Williams shows too punctually that, focused and aggressive, he can be an excellent element. He has just had a good outing against the Nets, the team in form at the moment, and now it is absolutely necessary to confirm.
"It doesn't matter who the opponent is, it's always a plus for confidence," he confides. "Everyone always wants to play well, and when they do, it's nice. But this match will have no impact on the next one. The next one, we still have to demonstrate that we can do it again. »
patrick williams
Percentage
Bounces
Season
Team
GM
Minimum
Shots
3 points
LF
Off
Def
Early
pd
party
Int
bp
CT
Points
2020-21
CHI
71
28
48.3
39.1
72.8
0.9
3.7
4.6
1.4
1.8
0.9
1.4
0.7
9.2
2021-22
CHI
17
25
52.9
51.7
73.2
1.0
3.1
4.1
0.9
1.7
0.5
0.9
0.5
9.0
2022-23
CHI
37
28
45.4
40.0
91.4
1.0
3.1
4.0
1.3
2.0
0.6
1.4
0.9
9.5
Total
125
28
47.9
40.8
76.1
1.0
3.4
4.4
1.3
1.8
0.8
1.3
0.7
9.3