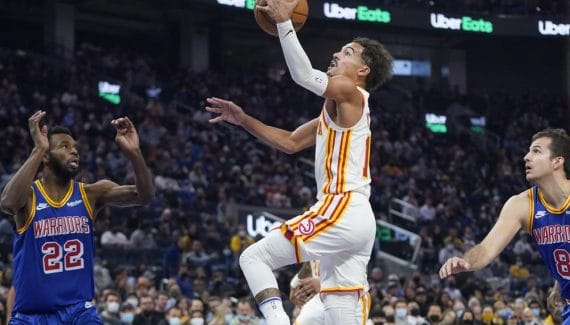 The enormous performance of Stephen Curry, author of 50 points and 10 assists in the victory of Golden State against Atlanta, should not forget that of the Hawks. As we know, the euphoria of last summer has subsided and this fourth defeat in a row proves it again.
Last season's Eastern Conference finalists are even on six losses in seven games. Nate McMillan thus saw his troops take the water in the third quarter (lost 41-20) against the Warriors.
"I can't explain it", regrets the coach, faced with the lack of intensity of his players in defense after the break, at AJC. "We shouldn't lack a sense of urgency. We're talking about making a good start to the match and ending well. We do not end the meetings well. We really had some absences in this second half. "
As was the case in the fourth quarter against Phoenix and also Utah, or in the third against Brooklyn … The Hawks have won only 4 games out of 11 so far and are in 12th place in the Eastern Conference. The franchise could sound the alarm, but Trae Young prefers to remain patient.
"We've been there before", recalls the All-Star playmaker. "We were in a much worse position. We are in the rough and we played big teams. The season is long and there are teams that win five games in a row, others that lose them. We must not get carried away because, last year, we were at 14-20 and we finished in fifth place in the East. We still have a long way to go and time for that. "
With trips to Utah and Denver and then receiving the Bucks by the weekend, the Hawks have a tough schedule for the next few days.
Without reaction or victory, the situation could then be even more problematic. "Everyone must react, from the coaching staff to the last player on the bench, we must do better", concludes Trae Young.
Shots
Rebounds
Players
MJ
Min
Shots
3pts
LF
Off
Def
Early
Pd
Bp
Int
Ct
Fte
Pts
Trae young
29
34.2
46.0
37.7
89.1
0.8
3.2
4.0
9.3
4.1
1.0
0.1
1.7
27.3
John collins
31
32.6
55.7
41.8
79.5
1.8
6.1
7.9
2.1
1.2
0.7
1.2
3.1
17.5
Cam Reddish
27
23.2
41.9
38.7
89.7
0.7
1.9
2.6
1.1
1.2
1.0
0.3
1.4
12.2
Bogdan Bogdanovic
22
27.9
42.2
36.3
78.3
0.3
3.2
3.5
2.4
0.9
0.7
0.2
1.9
11.5
Clint Capela
29
29.8
57.5
0.0
49.3
4.0
8.8
12.8
1.4
0.6
0.9
1.6
2.3
11.5
De'andre Hunter
11
27.8
45.0
39.5
40.0
0.4
2.4
2.7
0.6
1.3
0.6
0.3
2.9
10.8
Kevin huerter
28
27.6
46.2
38.0
85.7
0.4
2.9
3.3
2.7
1.3
0.4
0.2
1.9
10.5
Onyeka Okongwu
3
22.2
70.6
0.0
100.0
2.0
3.7
5.7
1.3
1.3
0.7
2.0
4.0
10.3
Danilo Gallinari
26
21.8
41.5
41.8
92.3
0.5
3.4
4.0
1.3
0.5
0.5
0.2
1.4
9.6
Lou williams
24
13.6
39.3
34.1
81.2
0.3
1.2
1.5
1.2
1.0
0.6
0.1
0.9
6.6
Timothe Luwawu-cabarrot
22
12.6
36.7
36.5
90.9
0.2
1.2
1.4
0.6
0.3
0.3
0.1
1.3
4.0
Gorgui Dieng
26
9.0
44.4
36.4
76.2
0.9
2.3
3.2
0.7
0.5
0.3
0.3
1.4
3.2
Delon wright
29
15.9
39.8
39.3
78.9
0.8
2.1
2.9
2.3
0.7
0.7
0.2
0.6
3.2
Skylar Mays
9
6.9
58.8
40.0
100.0
0.4
1.1
1.6
0.4
0.4
0.1
0.0
0.2
3.1
Jalen johnson
9
3.8
42.9
40.0
66.7
0.0
0.7
0.7
0.1
0.0
0.0
0.0
0.2
2.0
Wesley iwundu
1
23.2
20.0
0.0
0.0
2.0
3.0
5.0
0.0
1.0
0.0
0.0
2.0
2.0
Lance Stephenson
2
16.8
14.3
0.0
50.0
0.5
4.0
4.5
2.5
0.5
0.0
0.0
2.5
1.5
Solomon hill
13
10.7
15.0
15.4
0.0
0.5
1.3
1.8
0.9
0.1
0.3
0.2
1.2
0.6
Sharife Cooper
8
3.8
16.7
0.0
0.0
0.0
0.4
0.4
0.6
0.5
0.0
0.0
0.1
0.5