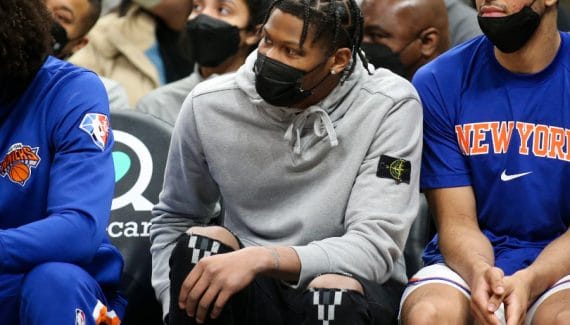 Cam Reddish was warned: on his arrival in New York, after his desired departure from Atlanta, Tom Thibodeau had made him no promises. Two weeks later, the player has played little in his new colors and the situation is clear.
Reddish, who has only 15 total minutes with the Knicks, is not part of the coach's plans at this time.
"We talked about all that. We love him and we appreciate his talent."begins the coach for the New York Post. "The season is long. We knew that we had transferred a player who would not be in the rotation because we cannot add him without removing someone. There may be injuries, so you have to be patient. "
Thibodeau therefore clings to his rotation of ten players. And only transfers like those mentioned from Kemba Walker, Evan Fournier or Alec Burks will be able to change his mind.
Especially since in a few weeks, after the All-Star Game no doubt, it will be necessary to make room for Derrick Rose, operated on his right ankle in the last days of 2021 and replaced by Quentin Grimes since.
Cam Reddish
Percentage
Bounces
Season
Team
GM
Minimum
Shots
3 points
LF
Off
Def
Early
pd
party
Int
bp
CT
Points
2019-20
ATL
58
27
38.4
33.2
80.2
0.6
3.1
3.7
1.5
2.3
1.1
1.7
0.5
10.5
2020-21
ATL
26
29
36.5
26.2
81.7
0.9
3.2
4.0
1.4
2.6
1.3
1.3
0.4
11.2
2021-22 *
All Teams
36
23
40.2
37.6
90.1
0.6
1.9
2.4
1.1
1.3
1.0
1.3
0.3
11.5
2021-22 *
ATL
34
23
40.2
37.9
90.0
0.6
1.9
2.5
1.1
1.3
1.0
1.3
0.3
11.9
2021-22 *
NYK
2
8
37.5
25.0
100.0
0.0
2.0
2.0
0.0
0.0
0.0
0.5
0.5
4.0
Total
120
26
38.5
32.8
83.4
0.6
2.8
3.4
1.3
2.0
1.1
1.5
0.4
11.0