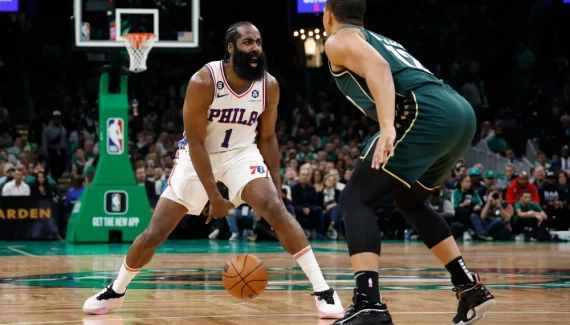 With a loss and 126 points against Boston, the Sixers' season opener is obviously not ideal. But as a great old man, who has seen others during his career, PJ Tucker is not alarmed.
"Let's be honest, nobody wins the title the first game of the season"recalls the 2021 champion at the Philly Inquirer. "We have a new team, we are still learning, we will find solutions. There are still too many games to play to worry about the first one. I love this period, we will grow the hard way, with victories and defeats. The objective is to build a high-performance team for the end of the season. »
While waiting to see what face the Sixers will show in a few weeks and in the coming months, the one shown in Boston is full of inaccuracies. Both in attack and in defence.
"We have a long way to go"recognizes Joel Embiid for NBC Sports. "Defensively, we weren't good. Offensively, I find that the ball has not moved enough. It was static and we fell back into our bad habits. They defended well on the pick-and-roll, but we can't let the ball sit still. »
A lack of communication and benchmarks
By naivety and lack of accuracy, Doc Rivers' troops lost 14 balloons, which were used extensively by the Celtics afterwards. With those extra possessions, Jayson Tatum and company scored 22 points.
"Our ball losses led to baskets. When they took Embiid back to the circle, no one cut or it was too late. So it lacks movement"indeed regrets the Philadelphia coach. "Honestly, a lot of these lost balls are my fault," estimates Joel Embiid, author of six ball losses. "I wasn't really in the game, and some passes were nasty. »
On the other side of the field, the Sixers left the Celtics boulevards on certain penetrations, sometimes even on simple throw-ins. The 2022 finalists shot at 56% success.
"We were beaten on the dribbles, way too much, and it hurt us a lot"remarks the former Celtics and Clippers coach. "Then the next player helps out and that's an open shot. We did not control the ball carrier and that explains a lot of the other mistakes made. »
With PJ Tucker, De'Anthony Melton or even Danuel House Jr., the Philadelphia franchise has nevertheless strengthened in terms of good defenders this summer. Without forgetting Joel Embiid as libero. But there again, the agreement is imperfect and that explains the errors.
"We lacked communication", see the pivot. "Especially if we play with this formation and I have to defend against Al Horford, who spread the game into the corners, as was the case at the end of the match. I can't really help then. We need to communicate better, be on the same wavelength. »