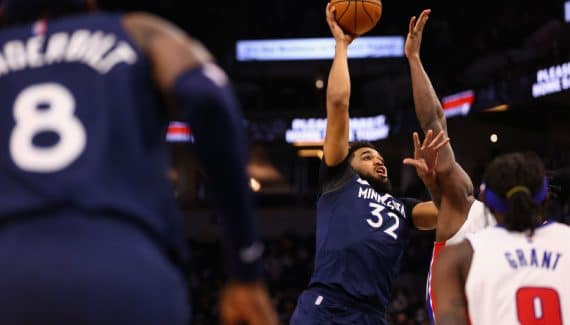 The Wolves, however, had all the trouble in the world to get rid of eye-catching Pistons. Detroit was even in the lead after the first quarter (24-26) and at halftime (55-56).
It was thanks in particular to Malik Beasley that Chris Finch's troops began to take a little lead at the end of the third quarter. It then took a big streak from Jaden McDaniels, with a 3-pointer followed by a huge counter and then another 3-pointer for the gap to increase to +13 (101-88).
Killian Hayes and Saddiq Bey, however, still spun a few cold sweats in Minnesota, but the Pistons ultimately never managed to really scare these Wolves.
WHAT YOU MUST REMEMBER
– A real crossover for three quarters. The two teams failed to leave each other for 36 minutes, resulting in 7 draws and 17 lead changes. So before Minnesota manages to make some differences to repel this very young Detroit team for good.
– Killian Hayes finally aggressive. Even if he had fairly well distributed the game at the start of the match, the Frenchman still scared us, in particular by being countered twice and by trying too complicated passes. His passage in the fourth quarter, however, was very different. Attacking the paint down the left side, he found confidence, stringing together left-handed or right-handed finishes, or serves for Saddiq Bey. He even slammed a big dunk and scored his 10 points in the final period, with 8 assists throughout the game.
– Anthony Edwards, confidence despite everything. The sophomore is a specimen. Clumsy all match, he weighed differently and he showed above all that he never doubted in the "money-time" to nip in the bud any idea of ​​opposing return. An attempt to post on Isaiah Stewart who offers him two shots, then the ultimate 3-pointer.
TOPS/FLOPS
✅ Worst Russell/Towns. By his address, Malik Beasley was invaluable but it was the D'Angelo Russell – Karl-Anthony Towns duo who really drove Wolves all game. The first at the launch of actions, with his vista, the second by his undermining work, attacking the intervals again and again.
✅ Saddiq Bey. In the absence of Cade Cunningham, shot in the hip, he was the main offensive facilitator for the Pistons. 24 points, 8 rebounds and 3 assists for him.
⛔ Jerami Grant. Conversely, and even if he returns from injury, we necessarily expect much more from Jerami Grant without Cade Cunningham. His 10 points at 3/11 in shooting are not caught up by his 5 assists as the winger seems out of rhythm, and forced too much (unsuccessfully) in this meeting.
THE FOLLOWING
Minnesota (28-25): trip to the Kings tomorrow night
Detroit (12-41): trip to the Mavericks tomorrow night
Hornets

/

86
Shots
Bounces
Players
Minimum
Shots
3 points
LF
O
D
T
pd
party
Int
bp
CT
+/-
Points
Rating

G. Hayward

22
0/7
0/2
0/0
1
2
3
2
2
0
0
0
-15
0
-2

Mr Bridges

33
6/14
1/6
2/3
1
4
5
5
3
0
4
4
-12
15
16

Mr. Plumlee

24
2/5
0/0
2/4
3
7
10
1
0
2
2
1
-8
6
13

L.Ball

22
5/11
2/6
0/0
0
6
6
3
3
0
1
0
-12
12
14

T. Rozier

32
6/12
3/5
1/2
1
5
6
1
2
0
5
0
-12
16
11

P. J. Washington

19
4/8
3/6
0/0
1
3
4
1
4
0
1
0
-12
11
11

C. Martin

35
3/7
0/1
2/2
1
4
5
2
1
1
4
0
-8
8
8

N. Richards

12
0/1
0/0
1/2
1
1
2
1
2
0
0
0
+4
1
2

I.Smith

12
4/6
0/1
0/0
1
2
3
4
0
1
1
0
+4
8
13

K. Oubre Jr.

29
3/15
1/9
2/3
2
4
6
3
2
0
1
0
-19
9
4

J.Bouknight

0
0/0
0/0
0/0
0
0
0
0
0
0
0
0
0
0
0
Total
33/86
10/36
10/16
12
38
50
23
19
4
19
5
86
Heat

/

104
Shots
Bounces
Players
Minimum
Shots
3 points
LF
O
D
T
pd
party
Int
bp
CT
+/-
Points
Rating

P.J. Tucker

24
2/4
1/3
0/0
0
5
5
2
2
0
0
0
+12
5
10

J. Butler

29
10/13
0/1
7/7
2
4
6
4
1
0
2
1
+19
27
33

B.Adebayo

28
7/21
0/0
6/7
3
9
12
3
1
3
3
2
+17
20
22

K.Lowry

31
3/6
3/5
0/0
1
1
2
6
3
4
0
0
+11
9
18

D.Robinson

27
1/9
1/7
0/0
0
3
3
4
3
0
1
1
+7
3
2

C. Martin

24
4/10
0/2
0/0
2
6
8
3
0
1
0
0
+6
8
14

D.Dedmon

17
2/6
0/0
2/2
3
6
9
1
4
1
2
1
+8
6
12

O.Yurtseven

3
0/0
0/0
0/0
0
0
0
0
0
0
0
0
-7
0
0

G.Vincent

24
2/8
1/5
2/2
0
0
0
1
2
0
0
0
+1
7
2

T. Herro

29
7/13
5/8
0/0
0
4
4
2
1
3
3
1
+23
19
20

K.Guy

3
0/1
0/1
0/0
0
0
0
1
0
2
1
0
-7
0
1
Total
38/91
11/32
17/18
11
38
49
27
17
14
12
6
104