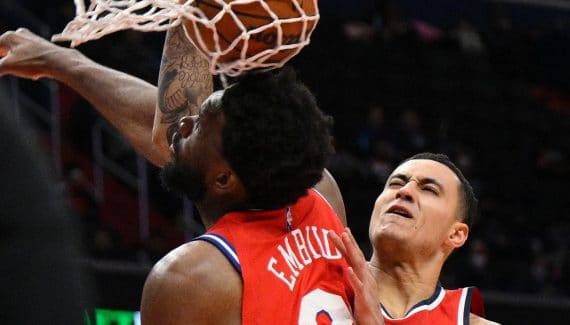 The Wizards got off to a flying start, with an 11-2 from the start and a perfect 5/5 on shots! Doc Rivers has seen enough… He stops the game after 40 seconds! The Sixers then put the ball back inside, on Joel Embiid who put his team back on track with 11 points in 10 minutes.
Faced with a Bradley Beal who sinks Seth Curry for a layup too easy for 2 of his 11 points in the 1st quarter, concluded at the buzzer by Thomas Bryant (38-29), the Sixers are condemned to chase after the score in the 1st half. . The Wizards hit hard with a huge hammer blow from Kyle Kuzma on Mount Embiid!
The Wizards are generally more skilful but Philadelphia manages to arrive at the halfway point with a deficit of 6 lengths (61-55). A lesser evil for Embiid (16 points, 6 rebounds) and his family, especially since the Cameroonian pivot puts on a serious layer in the 3rd quarter, with 14 points to reach his thirties.
But with four players to the dozen or more, and a scathing 20-7, the troop of the capital flies away definitively. Behind 15 points and 16 rebounds from Kyle Kuzma, and 18 points and 7 rebounds from Montrezl Harrell, Washington won at home and pocketed a 4th success in its last 5 games (117-98).
WHAT YOU MUST REMEMBER
– A fatal 20-7. At -8 at the start of the last quarter, and an Embiid at 30 points, the Sixers were in ambush in the federal capital. But the Wizards did more than hold the house. They iNFLicted a slap on their evening visitors, in the form of a 20-7 which dismissed Philly for good (at -21 with 3 minutes remaining)…
– Dominant but too lonely Joel Embiid. The only Sixer to float in the first quarter, with 11 points in 10 minutes, including 7 on throws, Joel Embiid did not do anything wrong, literally clearing Daniel Gafford out of his way, en route to the circle. Author of 14 points in the 3rd quarter to reach his thirties before the last act, he was up to it. But he was far too lonely to keep up…
TOPS/FLOPS
✅ Joel Embid. At more than 30 points on average since the new year, the Philadelphia star pivot held his average tonight, and this, in three quarters! Unfortunately for him, he didn't get the necessary support to hold on in the home straight (only 2 points for him)…
✅ Kyle Kuzma. Author of the dunk of the match on the truffle of Joel Embiid, Kyle Kuzma was solid from start to finish, with a double-double at 15 points and 16 rebounds, but also 4 assists and 3 blocks. He is in line with his big month of January in progress, at 25 points and 12 rebounds on average.
✅ Show Harrell. The "power poward" of the Wizards played its role perfectly against Philly. With his 18 points and 7 rebounds in 21 minutes off the bench, Harrell did Harrell. Inexhaustible energy, dunks and tonicity under the panels.
⛔ Tobias Harris. Embiid's lieutenant failed in DC Tobias Harris blew hot and cold in terms of address from afar on his last outings, it was confirmed tonight. The veteran winger unscrewed, neither more nor less, with 7 points at 3/11 on shots. A frustrating evening ended with 6 faults…
⛔ Furkan Korkmaz. With 6 points, 5 rebounds and 5 assists, he played well in his team's game. But at 3/10 on shots including 0/5 from 3-point, Furkan Korkmaz had a nightmarish evening in offensive success, like this fussy passage in force whistled against him in the first half.
THE FOLLOWING
Philadelphia (25-18): reception of the Magic on the night of Wednesday to Thursday.
Washington (23-21): reception of the Nets on the night of Wednesday to Thursday.
Wizards

/

117
Shots
Bounces
Players
Minimum
Shots
3 points
LF
O
D
T
pd
party
Int
bp
CT
+/-
Points
Rating

K. Kuzma

29
6/13
1/3
2/4
1
15
16
4
1
1
1
3
+19
15
29

D.Gafford

8
2/2
0/0
1/2
0
0
0
0
4
0
1
1
+9
5
4

S. Dinwiddie

27
1/5
1/5
4/5
0
3
3
7
1
1
2
0
+7
7
11

B.Beal

33
5/12
1/3
2/3
1
4
5
6
0
0
2
1
+20
13
15

K. Caldwell-Pope

29
6/15
2/6
0/0
0
3
3
1
1
2
0
0
+20
14
11

A. Gill

3
0/0
0/0
0/0
0
0
0
0
1
0
1
0
-2
0
-1

R. Hachimura

16
3/6
1/2
4/4
0
5
5
0
1
1
1
0
+2
11
13

C.Kispert

30
3/8
2/4
3/3
1
1
2
2
2
1
1
0
+10
11
10

D.Avdija

3
1/1
0/0
0/0
0
0
0
0
0
1
0
0
-2
2
3

Mr Harrell

21
6/9
0/2
6/7
3
4
7
1
4
0
1
0
+9
18
21

T.Bryant

16
6/11
1/4
2/4
3
2
5
1
2
0
0
1
+3
15
15

R.Neto

23
3/5
0/1
0/0
0
2
2
3
1
0
1
0
+2
6
8

A.Holiday

3
0/0
0/0
0/0
0
1
1
0
0
0
1
0
-2
0
0
Total
42/87
9/30
24/32
9
40
49
25
18
7
12
6
117
76ers

/

98
Shots
Bounces
Players
Minimum
Shots
3 points
LF
O
D
T
pd
party
Int
bp
CT
+/-
Points
Rating

T.Harris

25
3/11
1/2
0/0
1
0
1
1
6
0
1
0
-12
7
0

J. Embiid

29
10/20
3/4
9/10
2
6
8
1
4
0
4
0
-16
32
26

T.Maxey

33
5/10
0/1
8/9
0
4
4
3
1
1
0
0
-28
18
20

S.Curry

32
4/9
0/2
0/0
0
2
2
5
1
1
2
2
-19
8
11

F.Korkmaz

28
3/10
0/5
0/0
0
5
5
5
3
2
1
0
-12
6
10

G.Niang

24
2/4
2/4
1/1
1
3
4
2
3
0
0
0
-11
7
11

P.Reed

4
0/1
0/0
0/2
0
1
1
0
0
0
0
0
0
0
-2

A.Drummond

15
1/2
0/0
0/0
1
6
7
1
5
3
2
0
-5
2
10

C. Bassey

4
2/2
0/0
0/0
1
0
1
0
0
0
0
0
+2
4
5

I.Joe

18
3/8
1/6
1/1
0
0
0
0
2
2
0
0
-1
8
5

Mr. Powell

4
0/2
0/1
0/0
0
0
0
1
0
0
0
0
+2
0
-1

C.Brown Jr.

23
2/7
0/1
2/2
4
5
9
0
1
0
2
1
+5
6
9
Total
35/86
7/26
21/25
10
32
42
19
26
9
12
3
98