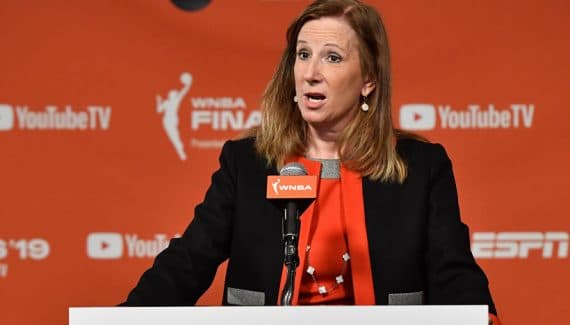 Founded in 1996, the WNBA is still extremely dependent on the NBA economically. Since her appointment as commissioner in 2019, Cathy Engelbert has been working to emancipate the women's league, which still loses $ 10 million per season, from its big male sister.
It first went through a new collective agreement which drastically increased salaries and travel conditions, in order to attract the best players in a sustainable way and ensure true continuity.
It now goes through a round table with investors, in order to recover "fresh money" for the development of the league. Concretely, the WNBA was currently owned half by the 30 NBA teams and half by the 12 WNBA teams. Now, a few private investors have taken parts of the pie, up to 75 million dollars in total, without anyone knowing what the exact percentage is concerned.
Who took out the checkbook ? Brands like Nike, but also individual investors like Condoleezza Rice, Laurene Powell Jobs (the widow of Steve Jobs), Pau Gasol, Michael Dell (the founder of Dell) and his wife Susan, Joe and Clara Tsai (the owners of the Nets and of the New York Liberty), or even Swin Cash.
The goal ? An independent financial environment
Cathy Engelbert's goal with this money is clear: "attract more fans". For this, the priority of the commissioner is therefore to develop the exposure of the league, in competition with many other sports.
After agreements with Google, ABC/ESPN, Amazon Prime and even Twitter in recent years to broadcast as many games as possible, the WNBA intends to prioritize the marketing and improvement of its digital products, in particular its website. , its application and its "League pass", which allows fans to watch matches that are not broadcast on local antennas or on national channels.
The goal is, in the long term, to create a financial environment independent of the NBA, even if it is not won as recalled by Liz Cambage on Twitter. Two days ago, the Australian thus joked about this league where a coach (Becky Hammon) can earn four times more than his players and where she must pay for her upgrade on planes herself to avoid finding herself in seats too small in economy class…
"People are emotional. People tweet things" replied Cathy Engelbert. "We all want the best travel conditions for our players. But the reason the men's league is there is because they get these big valuations. They get the media rights to their resources. "