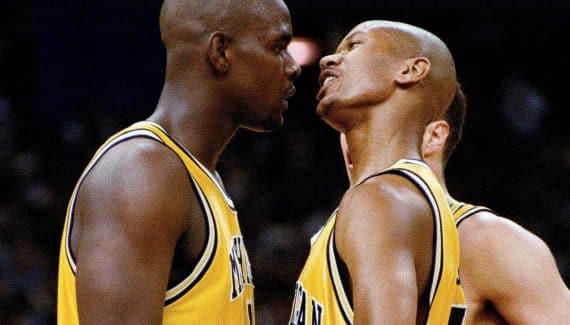 On April 5, 1993, Michigan faced North Carolina in the college grand final. This evening should crown several superb seasons from the "Fab Five", already a finalist in 1992 and still considered today as the five major exclusively composed of the most talented freshmen in history.
After a controlled first half since they will count up to ten points in advance, the Michigan players see the Tar Heels come back. The end of the meeting is tense. Led by one point with 20 seconds remaining, the teammates of Chris Webber and Jalen Rose foul. Pat Sullivan makes the first free throw, but misses the second. Rebound from within, his 11th.
73-71. No more time-outs for Michigan. This is where the game rocks.
A walk, a bad choice, a phantom time-out
"Everyone in the team knew the action that needed to be taken," remembers Jalen Rose. "Coach Steve Fisher had drawn it again during the last time-out, two minutes from the end. Chris had to rebound from a missed shot, give me the ball. I was then trying to get a 3-pt after a pick-and-roll. If I got caught, then I gave it to Chris to take the shot. If a defender was there then he gave Jimmy King or Rob Pelinka (note: future agent of Kobe and GM of the Lakers) in the corners. That was our action. »
Nothing is going to happen like that… The future number 1 of the Draft certainly takes the rebound, and is already making the gesture to request a time-out. Finally, he changes his mind. He wants to make the pass to Rose, as planned, but George Lynch, placed on the pass line, dissuades him and provokes a walk… not whistled!
The referees having seen nothing, Chris Webber began his race in the axis, before deflecting towards his bench. By doing this, he will get stuck…
"When we played them at the start of the season, Derrick Phelps and I pressed a few times," says George Lynch. "Many times they used to take a time-out to end the action. We tried to create doubt. »
Jalen Rose: "We all knew it"
Taken together, Chris Webber will indeed choose the time-out solution. Only Michigan no longer has one. It is therefore a technical fault: two free throws and possession to follow for North Carolina!
"We all knew it – at least those who were on the ground"insists Jalen Rose. "We talked about it when we used our last time-out. »
North Carolina does not miss its two attempts. Then Michigan is forced to foul. Two new free throws, two new successes. It's over: 77-71. One of the finest teams in NCAA history will go untitled and one of the finest talents of the 1990s and 2000s forever scarred by this mistake.
Even though his father wrote "Timeout" on his license plate, Chris Webber will always refuse to talk about it. Even for the documentary "30 for 30" on ESPN and a tangle with Jalen Rose, against a backdrop of financial scandal, will also tarnish this superb formation from Michigan, this legendary "Fab Five".
Article originally published on March 1, 2018