Basketball News
The Thunder make the pass of three against the lifeless Nuggets | NBA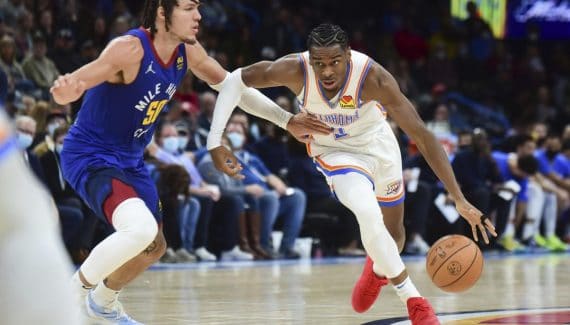 Since the historic rouste received against the Grizzlies, the Thunder have been keen to prove their worth. Last night against Denver, the young Oklahoma City troop won a third game in a row (108-94), and a fifth victory in 8 games since the humiliation in Memphis.
This success is largely due to the superb performance of Shai Gilgeous-Alexander (27 points, 12 rebounds, 11 assists) who saw triple, but also to the collective of the Thunder who held firm from start to finish, forcing Mike Malone to sanction his holders much too "soft" for his taste.
Darius Bazley (17 points, 11 rebounds) but also Jeremiah Robinson-Earl (14 points, 9 rebounds) and Lu Dort (15 points) also made a difference when the Nuggets could only count on four players at 10 points or more, including the reigning MVP, Nikola Jokic with a small 13 points and 9 rebounds. Largely insufficient …
WHAT YOU MUST REMEMBER
– The triple double of SGA. It was his teammates who put the chip in his ear. Shai Gilgeous-Alexander just had to go for a final rebound to secure his second career triple double. With 27 points, 12 assists and 11 rebounds, the young leader of the Thunder had the first triple double at home since 2018-19, and a certain Russell Westbrook. "I can't keep track of the stats when I'm playing", justified SGA. "I'm just trying to win and make the best decision with every possession, on either side of the pitch, and come what may. "
– Mark Daigneault's paying choice. Except for five games in a row at the beginning of November, he was having a hard time on his position as starting winger. So Mark Daigneault decided: Darius Bazley was going to come off the bench. The electroshock worked perfectly because, in the three games that he started as a substitute, Bazley has (as if by chance) regained all his bite. Better, the Thunder does not lose anymore!
– Mike Malone not happy after his holders. With the cancellation of their game in Brooklyn, the Nuggets had not played since December 17, in Atlanta. Overwhelmed in the first quarter (28-18), then again in the third (28-14), Denver did attempt a comeback in the final period, but it was thanks to his second knives. Because Mike Malone was after his holders, who really did not set a good example: "As a coach, what really matters to me is when you play correctly, when you fight on the pitch. We did not get that from our incumbents. "
TOPS / FLOPS
✅ Shai Gilgeous-Alexander. At 25 points, 5 assists and 3 rebounds in December, Shai Gilgeous-Alexander is building up the pressure. His triple double face in Denver last night only confirmed a trend that has been emerging for several weeks already. At 10/24 on shots including 0/7 at 3-points, the young Canadian left some points on the way.
✅ Darius bazley. Put on the bench for three meetings, Bazley finds color. Yesterday evening, with 17 points and 11 rebounds, he chained a third game in a row at 10 points or more, after having notably signed 10 points, 7 rebounds and 4 blocks in the big victory against Memphis in the previous meeting of OKAY.
⛔Nikola Jokic. At 13 points, 7 rebounds and 3 assists, it is an understatement to say that we did not recognize the reigning MVP. Very shy offensively with only 9 attempts in all, Nikola Jokic did not seem on his plate against the Thunder. While he did a nice dunk after a huge sprint on the fast play, the Joker didn't weigh in on the match as usual. Maybe the cut cut him off.
⛔Will barton. In line with these last two outings, 5/18 cumulative shots, Will Barton once again took the leaf off shots with a tiny 3/11 for 7 points, 5 rebounds and 2 assists. Like Jokic, Barton was recalled to the bench for the entire last quarter, a penalty from coach Malone.
THE FOLLOWING
Denver (15-15) : reception of the Hornets during the night from Thursday to Friday (3:00 am).
Oklahoma City (11-19) : game in Phoenix, on the night of Thursday to Friday (3:00 am).
108
Thunder

/

108
Shots
Rebounds
Players
Min
Shots
3pts
LF
O
D
T
Pd
Fte
Int
Bp
Ct
+/-
Pts
Eval

J. Robinson-Earl

33
5/11
1/3
3/4
5
4
9
1
2
1
1
0
+21
14
17

L. Dort

35
5/13
4/10
1/1
2
4
6
1
4
0
4
0
+21
15
10

D. Favors

20
5/8
0/0
0/0
1
5
6
2
2
1
0
0
+15
10
16

S. Gilgeous-Alexander

37
10/24
0/7
7/7
1
10
11
12
4
1
1
1
+19
27
37

J. Giddey

34
5/11
1/5
3/4
0
5
5
3
1
2
1
1
+8
14
17

D. Bazley

28
7/11
1/3
2/3
4
7
11
1
1
0
0
2
-1
17
26

I. Roby

2
0/1
0/0
0/0
0
2
2
0
1
0
0
0
+2
0
1

K. Williams

16
1/3
0/1
0/0
0
2
2
1
4
1
0
0
-9
2
4

A. Pokusevski

12
0/2
0/1
0/0
0
1
1
0
3
1
3
0
-9
0
-3

T. Mann

16
3/9
1/4
0/0
2
2
4
0
3
0
0
0
-2
7
5

T. Jerome

7
1/1
0/0
0/0
0
3
3
1
0
0
1
0
+5
2
5
Total
42/94
8/34
16/19
15
45
60
22
25
7
11
4
94
Nuggets

/

94
Shots
Rebounds
Players
Min
Shots
3pts
LF
O
D
T
Pd
Fte
Int
Bp
Ct
+/-
Pts
Eval

J. Green

22
2/5
1/3
2/4
0
2
2
1
2
0
1
0
-8
7
4

A. Gordon

25
5/11
1/4
1/3
0
4
4
2
0
1
1
0
-16
12
10

W. Barton

21
3/11
1/5
0/0
2
3
5
2
2
1
1
0
-8
7
6

N. Jokic

25
5/9
1/4
2/2
0
7
7
3
0
0
3
2
-15
13
18

Mr. Morris

25
3/5
1/1
3/3
0
2
2
5
0
0
0
0
-14
10
15

J. Green

22
1/4
1/3
0/0
1
6
7
0
3
3
0
0
0
3
10

Z. Nnaji

9
0/4
0/2
0/2
0
0
0
0
0
0
0
0
-8
0
-6

P. Cornelie

2
0/1
0/0
0/0
0
0
0
0
0
1
0
0
+1
0
0

V. Cancar

17
2/5
1/3
4/6
0
4
4
0
0
0
2
1
+2
9
7

F. Campazzo

27
3/9
2/7
1/2
0
2
2
6
4
0
1
2
-6
9
11

B. Hyland

13
2/7
1/5
0/0
0
1
1
0
2
1
1
0
-6
5
1

A. Rivers

23
4/8
2/4
2/4
0
1
1
2
2
0
0
0
+2
12
9

D. Reed

10
3/5
1/3
0/0
1
3
4
0
3
0
1
0
+6
7
8
Total
33/84
13/44
15/26
4
35
39
21
18
7
11
5