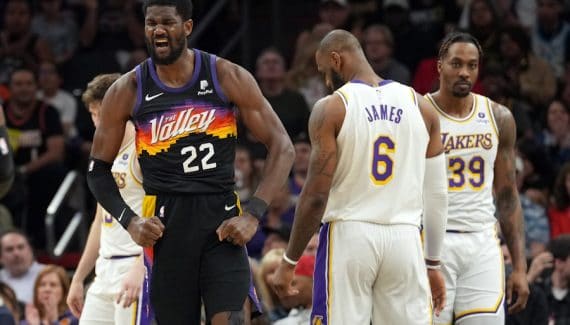 With four defeats in their last nine outings, the Suns are no longer as dominant as at the start of the season. Logical when you play without Chris Paul, and Devin Booker has missed several matches. But the reception of the Lakers offered the perfect opportunity to redo the icing for Phoenix who had just bitten the dust at home against Toronto.
A quarter will have been enough for Devin Booker and Deandre Ayton to make the difference. With 48 points scored, the Suns simply set an offensive record in the first quarter, before doing the same in the first half with 79 points. In the end, the Suns won without the slightest worry (140-111) behind a balanced effort and 7 players with 10 points or more.
Opposite, the only ray of sunshine for the pale Lakers: a new "accomplishment" for LeBron James who becomes the only player in the history of the League to reach the mythical milestone of 30,000 points, 10,000 rebounds and 10,000 assists in career.
WHAT YOU MUST REMEMBER
– The Suns make the difference in the first quarter. If the Lakers seemed to have taken the game by the right end with an initial 6-2, the Suns quickly called them to order with a 14-0 which will launch them on their best first quarter of the season. Facing the Gruyere defense of the Lakers, Phoenix will pass 48 points to a very good 20/33 on shots (61%) including 7/12 from 3-pointers (58%) with 14 assists and no lost ball, while the Lakers will only be able to score 22 points at 8/23 (35%) including 1/10 at 3-points (10%), with 7 stray balls and only 2 assists… A real demonstration that will launch the Suns lone rider for the whole evening.
– Deandre Ayton had come back up. Author of a small game with 16 points and 7 rebounds in the defeat against Toronto, Deandre Ayton sent a message to his coach, Monty Williams, in the evening to tell him that he would be ready to dominate the Lakers, to all the more so when they play without a real interior. The Suns pivot assumed his words with a game with 23 points and 16 rebounds, all at a very effective 11/14 on shots.
– Another record for LeBron. It was at the start of the 2nd quarter that LeBron James reached a new milestone, which he alone managed to reach and surpass: that of 30,000 points, 10,000 rebounds and 10,000 career assists. As a symbol, it was on a pass for a 3-pointer from Carmelo Anthony, one of his Draft comrades (2003) that he achieved this statistical feat. A feat of which he is not yet fully aware: "I have no words when things like this happen to me. I automatically think of my birthplace of Akron and my childhood. To the dreams I had of playing in this League, at the highest level. To be alone in a statistical category is cool but I can't really make sense of it. "
TOPS/FLOPS
✅ Devin Booker. The Suns star guard didn't appreciate Anthony Davis' pre-game comment, explaining that Phoenix was lucky to go through to the playoffs against the Lakers last year after his injury. Suddenly, he answered him on the boards with a boss match. 30 points, 10 assists and 4 steals later, Devin Booker could smile postgame: "Instead of raising the debate, you make a comment like that… I heard it but it didn't particularly motivate us, it was going to happen no matter what. It's just fun. "
✅ Deandre Ayton. The pivot of Phoenix wanted to redeem himself from a small match against Toronto, and he had sent a message to his coach to this effect. With his double-double to 23 points and 16 rebounds, Deandre Ayton easily dominated the interior sector, nonexistent, of the Lakers.
✅ LeBron James. At 31 points, 7 rebounds and 6 assists, LeBron James continues individual performances failing to be able to carry his team to victories. At 10/20 on shots, he didn't pull the rope too much. It must be said that in this match played from the start, the King was at least able to rest the whole last quarter…
⛔ Russell Westbrook. Punching ball for Lakers fans this season, Russell Westbrook has apparently lost his legendary desire to shine. Last night, he seemed very off with only 13 points on the clock, and twice as many stray balls (4) as assists (2). At least he didn't water…
THE FOLLOWING
LA Lakers (29-38): reception of the Raptors on the night of Monday to Tuesday.
phoenix (54-14): trip to New Orleans overnight from Tuesday to Wednesday.
Suns

/

140
Shots
Bounces
Players
Minimum
Shots
3 points
LF
O
D
T
pd
party
Int
bp
CT
+/-
Points
Rating

J.Crowder

28
4/10
3/8
0/0
1
4
5
1
2
2
1
2
+34
11
14

Mr Bridges

29
8/13
1/2
1/1
4
2
6
3
1
+25
18
23

D.Ayton

27
11/14
0/1
1/1
5
11
16
2
1
1
+35
23
39

C.Payne

24
4/10
1/3
0/0
4
4
11
1
+35
9
18

D.Booker

32
12/25
4/10
2/2
2
2
10
4
4
2
+38
30
31

I. Wainright

12
0/1
0/1
1/2
2
1
1
-2

T.Craig

20
5/8
1/3
0/0
2
6
8
4
2
1
-5
11
15

J. McGee

10
4/4
0/0
2/2
2
2
1
4
1
+5
10
14

B.Biyombo

11
1/2
0/0
1/2
1
2
3
4
1
1
-11
3
4

E.Payton

8
3/3
0/0
0/0
1
1
-3
6
6

A.Holiday

24
4/9
1/3
3/3
1
3
4
5
2
4
1
-6
12
19

L.Shamet

15
2/3
1/2
1/1
1
1
2
-2
6
8
Total
58/102
12/33
12/14
14
37
51
36
24
12
9
5
140
Lakers

/

111
Shots
Bounces
Players
Minimum
Shots
3 points
LF
O
D
T
pd
party
Int
bp
CT
+/-
Points
Rating

S. Johnson

11
0/2
0/1
2/2
3
3
1
2
-20
2
4

L.James

30
10/20
5/11
6/7
7
7
6
4
1
-16
31
30

R.Westbrook

29
5/10
0/2
3/4
1
1
2
2
1
4
-6
13
7

Mr. Monk

27
5/10
2/4
1/1
2
2
4
4
1
1
3
-35
13
14

A.Reaves

25
2/4
1/2
5/6
4
4
1
1
-32
10
11

C.Anthony

18
6/11
4/7
2/4
1
1
1
2
-15
18
13

W.Gabriel

12
1/3
0/0
3/5
2
1
3
2
1
1
5
5

K.Bazemore

6
0/2
0/2
0/0
1
1
+7
-1

D.Howard

17
1/1
0/0
0/0
2
3
5
2
2
-11
2
9

A.Bradley

25
3/5
3/3
0/0
1
1
2
1
-5
9
7

W.Ellington

9
2/3
1/2
0/0
2
2
1
1
1
1
+4
5
7

T. Horton-Tucker

22
1/8
0/4
1/2
2
2
3
1
3
1
-21
3
-2

DJ Augustine

9
0/2
0/2
0/0
3
3
2
1
+5
2
Total
36/81
16/40
23/31
7
30
37
24
14
4
19
2
111