Basketball News
The Sixers now determined to trade Tobias Harris with Ben Simmons? | NBA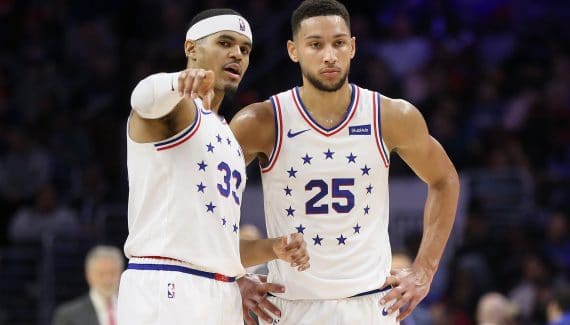 The closer the trade deadline, the more chances Ben Simmons have of leaving Philadelphia. The hottest track in recent times leads to Atlanta, the conference finalists being very disappointing this season (12th place in the East with 17 wins for 22 losses) with a defense still as permissive.
As John Collins gets more and more frustrated, so maybe there is some common ground to be found…
According to Marc Spears and Brian Windhorst, from ESPN, the Sixers have however changed their offer, now offering Tobias Harris in the company of Ben Simmons. Except that this is not necessarily to the taste of Atlanta, who would be interested in Ben Simmons, the Australian being able to bring back a defensive balance alongside Trae Young, but not really by the winger, especially since there has people on 3/4 positions in Georgia with John Collins, but also Cam Reddish, Danilo Gallinari, Bogdan Bogdanovic or De'Andre Hunter.
Above all, the duo Ben Simmons – Tobias Harris weighs very heavy on the financial plan. Between them, it is more than 190 million dollars (guaranteed) until 2025!
For Philadelphia, mounting a trade to get an All-Star that helps the team in the short term is still just as tough as ever, and it's going to take Daryl Morey to be pretty darn ingenious to get there in the coming weeks.
Tobias Harris
Percentage
Rebounds
Season
Team
MJ
Min
Shots
3pts
LF
Off
Def
Early
Pd
Fte
Int
Bp
Ct
Pts
2011-12
MIL
42
11
46.7
26.1
81.5
0.7
1.7
2.4
0.5
1.1
0.3
0.7
0.2
5.0
2012-13 *
All Teams
55
24
45.5
31.5
75.2
1.3
3.9
5.2
1.3
2.2
0.6
1.2
0.8
11.0
2012-13 *
MIL
28
12
46.1
33.3
88.5
0.6
1.4
2.0
0.5
1.1
0.3
0.6
0.3
4.9
2012-13 *
ENT
27
36
45.3
31.0
72.1
2.1
6.4
8.5
2.1
3.3
0.9
1.8
1.4
17.3
2013-14
ENT
61
30
46.4
25.4
80.7
1.4
5.5
7.0
1.3
2.3
0.7
1.3
0.4
14.6
2014-15
ENT
68
35
46.6
36.4
78.8
1.1
5.3
6.3
1.8
2.0
1.0
1.7
0.5
17.1
2015-16 *
All Teams
76
33
46.9
33.5
83.1
1.3
5.5
6.7
2.2
2.0
0.9
1.4
0.5
14.7
2015-16 *
ENT
49
33
46.4
31.1
78.4
1.5
5.5
7.0
2.0
1.9
1.0
1.6
0.6
13.7
2015-16 *
DET
27
34
47.7
37.5
91.1
0.9
5.3
6.2
2.6
2.3
0.7
1.1
0.4
16.6
2016-17
DET
82
31
48.0
34.6
84.1
0.8
4.3
5.1
1.7
1.6
0.7
1.2
0.5
16.1
2017-18 *
All Teams
80
33
46.0
41.1
82.9
0.7
4.7
5.5
2.4
2.1
0.9
1.3
0.4
18.6
2017-18 *
DET
48
33
45.1
40.9
84.6
0.8
4.3
5.1
2.0
1.9
0.7
1.1
0.3
18.1
2017-18 *
LAKE
32
35
47.3
41.4
80.0
0.7
5.3
6.0
3.1
2.3
1.2
1.7
0.6
19.3
2018-19 *
All Teams
82
35
48.7
39.7
86.6
0.8
7.0
7.9
2.8
2.2
0.6
1.8
0.5
20.1
2018-19 *
LAKE
55
35
49.6
43.4
87.7
0.7
7.2
7.9
2.7
2.2
0.7
2.0
0.4
21.0
2018-19 *
PHL
27
35
46.9
32.6
84.1
1.2
6.7
7.9
2.9
2.3
0.4
1.6
0.5
18.2
2019-20
PHL
72
34
47.1
36.7
80.6
1.0
5.9
6.9
3.2
2.3
0.7
1.4
0.6
19.6
2020-21
PHL
62
33
51.2
39.4
89.2
1.0
5.8
6.8
3.6
1.9
0.9
1.7
0.8
19.5
2021-22
PHL
29
35
45.9
29.9
85.6
1.2
6.5
7.7
3.9
2.0
0.5
1.7
0.6
18.6
Total
709
31
47.4
36.4
82.9
1.0
5.2
6.2
2.2
2.0
0.7
1.4
0.5
16.4