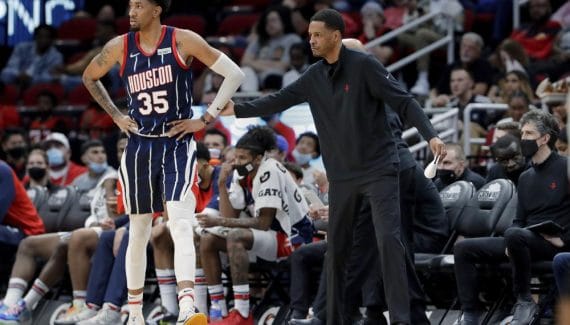 It has been several encounters that Stephen Silas regrets the lack of energy of his troops. He had said it after the Wolves setback and did not change his speech after the new loss to the Sixers, as his players were outnumbered by a Joel Embiid on his 31st.
But isn't it normal when you play for the second time in two days?
"We had no legs, no real energy", notes the coach at the Houston Chronicle. "This is probably explained by the game the day before. Despite this back-to-back, you have to play. We often talk about the "rookie wall" or other, in any case, we are in the hard. "
The "rookie wall" is the feeling of fatigue that young players, in their first year, feel after a few months of competition, faced with a fierce pace to which they are not used.
So, would the young Rockets have heavy legs, they who have already passed mid-season, with 42 games played? "I don't believe in the 'rookie wall'", assures his side Jalen Green. "You have to play, whether it's a good day or a bad day. We will have ups and downs. "
18 matches in one month
Yet, with such a young group, it wouldn't be surprising if the bodies were so tired. After all, Jalen Green, Alperen Sengun and Josh Christopher are in their first season when Kevin Porter Jr. has only played a semi-full season (50 appearances in 2019/2020, 25 the next) so far, not to mention that this is only Jae'Sean Tate's second year in the league. Finally, even a Christian Wood, 26 years old and in the league since 2015, has only one exercise with more than 42 games played, in 2019/20, in the legs …
In addition, for a month, no team has spent more time on the floors than the Rockets. Between December 10 and January 10, they played 18 times!
"It was a hell of a tunnel", relates Stephen Silas. "We did six back-to-backs in 30 days. We're exhausted. As I said, a few matches ago, the concern is not a lack of effort, but a lack of energy. This was again the case against the Sixers. We tried I think, but we don't have enough energy. "
The Houston players will still have to wait to recover a bit, since they will be leaving for a "road trip" between Wednesday January 12 and January 21, five away matches in nine days. It is only then, with the return to Texas and a less demanding end of January, that the Texans will finally be able to breathe.
Shots
Rebounds
Players
MJ
Min
Shots
3pts
LF
Off
Def
Early
Pd
Bp
Int
Ct
Fte
Pts
Christian wood
38
30.6
47.8
34.5
60.9
1.9
8.2
10.1
2.1
1.8
0.7
0.9
2.3
17.2
Jalen green
26
30.2
39.8
32.1
81.8
0.3
2.7
3.0
2.2
2.4
0.6
0.2
1.5
15.3
Eric Gordon
35
29.1
48.9
43.6
73.7
0.2
1.5
1.7
3.4
2.3
0.6
0.5
1.0
14.4
Jae'sean Tate
39
27.3
49.4
29.8
69.7
1.8
4.1
5.8
3.1
1.8
0.9
0.6
3.6
12.5
Kevin Porter, Jr.
25
29.8
36.1
33.3
60.5
0.8
3.4
4.3
5.8
3.8
1.3
0.4
2.6
12.4
Garrison mathews
24
28.8
42.4
37.5
81.5
0.5
3.0
3.6
0.8
0.7
0.7
0.5
3.1
12.0
Alperen Sengun
35
18.4
50.0
30.8
70.3
1.7
3.1
4.8
2.6
1.9
0.9
0.9
3.1
9.0
Daniel Theis
23
23.5
46.4
26.8
69.4
1.3
4.0
5.3
0.8
1.3
0.4
0.7
2.4
8.6
Kj Martin
38
18.8
52.3
31.3
64.1
1.1
2.7
3.7
1.3
0.6
0.4
0.5
1.2
8.2
Armoni brooks
33
18.2
36.7
31.7
88.9
0.3
1.7
2.0
1.4
0.6
0.6
0.2
1.6
7.2
Josh Christopher
33
15.8
46.2
33.8
81.8
0.7
1.3
2.0
1.7
1.5
0.8
0.1
1.2
6.9
David nwaba
32
14.4
47.5
28.6
68.9
0.9
3.1
4.0
0.8
0.5
0.7
0.5
1.3
5.4
Dj Augustin
30
15.0
41.2
40.5
88.2
0.2
0.9
1.1
2.3
1.3
0.3
0.0
0.5
5.4
Danuel House
16
14.5
33.8
29.4
89.5
0.2
2.4
2.7
1.2
1.1
0.3
0.3
1.0
4.8
Trevelin Queen
8
8.6
44.8
36.4
100.0
0.6
1.1
1.8
0.4
0.9
0.6
0.0
0.8
4.6
Daishen nix
7
8.9
66.7
42.9
50.0
0.1
1.3
1.4
1.3
1.1
0.9
0.0
0.4
4.0
Usman Garuba
14
7.2
34.8
16.7
50.0
0.5
1.7
2.2
0.6
0.2
0.4
0.4
0.6
1.4