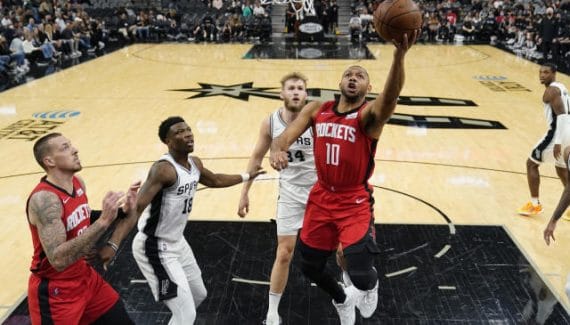 If the Spurs did not have all their vital forces because of the quarantines, and back from a long seven-game "road trip" on the East Coast, the Rockets did go for it, this away victory. A success that ends a series of three consecutive defeats. A moment of respite for Houston, in a new season of "reconstruction", on 11 losses in their last 13 games all the same.
Even after leading by 12 points in the last quarter, Houston actually had to fight to the end as Dejounte Murray chained the miraculous 3-pointers to cling to a last hope. But Kevin Porter Jr. and the Rockets ended up winning (128-124) after a good Texas-style shootout.
A thundering Eric Gordon
"It was an effort of the whole group"appreciated Stephen Silas in the Houston Chronicle. "It was not only the starters, the substitutes also participated well [à cette victoire]. And then, we mixed up our rotations a bit, giving minutes to JT [Jae'Sean Tate] and in Jalen [Green] before bringing back the incumbents. We had a lot of players who stuck to our principles and played hard when we needed to, although in the end there were a few mistakes. We held on. I hope we will learn from this."
In addition to the solid double-double of Christian Wood (23 points, 11 rebounds), the Rockets were able to count on an excellent Eric Gordon, the other veteran of the group. Rather discreet in the first half, with 4 shots attempted for 11 points, he woke up at the end of the 3rd quarter with a burst of 10 points in the last minute and 14 seconds of the period. And a penetration basket to start the last quarter with a bang. With 31 points at 9/10 on shots including 6/7 on 3-pointers and 7/10 on throws, Eric Gordon was extremely clean!
"He was incredible"assures his coach. "To score 31 points on 10 shots is very impressive. Whenever we needed a shot, he was there. Or when we needed penetration, he made that great pass to C-Wood for the baseline dunk. Eric was as good as ever, he was determined."
A Seattle Duel
With a new career high of 32 points, plus 10 rebounds and 11 assists for the triple double, Dejounte Murray gave his Texas neighbors a hard time until the last minute.
In his fratricidal duel against Kevin Porter Jr., like him from Seattle, Dejounte Murray will still end up with 19 points scored in the last quarter alone. Opposite, KPJ was not outdone, with two important 3-pointers in the "clutch" as well, for 12 of his 18 points scored in the last quarter.
"I want to take on this new leadership role fully, I want to be the best I can be and make my teammates the best I can be," reacted the Rocket. "I tried to put them in a good position. I didn't shoot a lot, I think I finished at ten shots. I was not aggressive enough at the start of the match. I knew I had to get more aggressive in the second half. And in the last quarter, it was time to play and I was in rhythm. I've always wanted to take those shots in the important moments. I was confident and took the shots."
Shots
Bounces
Players
GM
Minimum
Shots
3 points
LF
Off
Def
Early
pd
bp
Int
CT
party
Points
Christian Wood
39
30.8
47.7
34.1
61.2
1.8
8.2
10.0
2.1
1.7
0.7
0.9
2.3
17.1
Jalen Green
27
30.2
40.2
32.2
81.8
0.3
2.7
3.0
2.1
2.6
0.6
0.2
1.4
15.2
Eric Gordon
35
29.1
48.9
43.6
73.7
0.2
1.5
1.7
3.4
2.3
0.6
0.5
1.0
14.4
Jae'sean Tate
40
27.3
49.1
29.9
69.7
1.7
4.0
5.7
3.0
1.8
0.8
0.6
3.6
12.4
Kevin Porter, Jr.
26
29.7
35.7
32.2
60.9
0.8
3.5
4.3
5.8
3.8
1.3
0.3
2.5
12.2
Garrison Mathews
25
28.5
41.8
37.0
79.7
0.6
3.0
3.6
0.9
0.7
0.7
0.4
3.1
11.7
Alperen Sengun
35
18.4
50.0
30.8
70.3
1.7
3.1
4.8
2.6
1.9
0.9
0.9
3.1
9.0
Daniel Theis
24
23.4
46.8
28.9
68.4
1.3
4.0
5.2
0.8
1.2
0.5
0.7
2.4
8.8
Kj Martin
39
18.9
52.7
32.9
65.2
1.0
2.7
3.7
1.3
0.7
0.4
0.5
1.2
8.2
Armoni Brooks
33
18.2
36.7
31.7
88.9
0.3
1.7
2.0
1.4
0.6
0.6
0.2
1.6
7.2
Josh Christopher
34
16.0
45.4
34.7
80.0
0.6
1.3
2.0
1.7
1.5
0.9
0.1
1.1
7.1
David Nwaba
33
14.2
47.5
28.6
70.2
0.9
3.0
3.9
0.8
0.5
0.7
0.5
1.2
5.4
Dj Augustine
31
15.0
40.2
39.5
88.2
0.2
0.9
1.1
2.3
1.3
0.3
0.0
0.5
5.2
Daniel House
16
14.5
33.8
29.4
89.5
0.2
2.4
2.7
1.2
1.1
0.3
0.3
1.0
4.8
Trevelin Queen
8
8.6
44.8
36.4
100.0
0.6
1.1
1.8
0.4
0.9
0.6
0.0
0.8
4.6
Daishen Nix
8
8.4
65.0
42.9
33.3
0.1
1.1
1.2
1.2
1.1
0.9
0.0
0.4
3.8
Usman Garuba
15
7.0
33.3
15.4
50.0
0.6
1.7
2.3
0.5
0.2
0.5
0.4
0.6
1.3