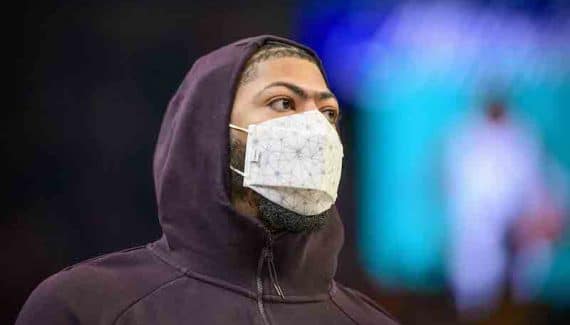 In addition to the victory against the Jazz, Lakers fans have a second reason to be smiling today: the return of Anthony Davis is becoming clearer. Frank Vogel has indeed given reassuring news from the inside, on the sidelines since mid-December due to a sprained ligament in his left knee.
" Everything appeared normal during the MRI and medical check-up, so he was cleared to resume his preparation on the pitch with contact. This does not mean that we will have a return date. There's still some fitness and ramp-up work to be done. ", described the coach of the Lakers.
Good news for the Californians who were aiming for a return of their All-Star for the end of January precisely. "AD" has missed the last 14 meetings of his team, which resulted in a record of six wins and eight losses.
If optimism is in order with him, it is much less the case with Kendrick Nunn who has still not put on his new jersey because of a failing knee. His coach said he had experienced a " setback " in his rehabilitation and that his knee had " incorrectly answered to the increased workload.
" Bone bruises are a tricky thing, his return date is delayed. He puts aside his workload until it calms down ", detailed Frank Vogel. CBS Sports imagines so a return to the end of February…
As for the third and last absentee, Carmelo Anthony, whose back pain deprived him of the last three matches, his return is imminent. Note that the Lakers welcome the Pacers on Wednesday before a series of six trips to the East (Orlando, Miami, Brooklyn, Philadelphia, Charlotte and Atlanta).
Shots
Bounces
Players
GM
Minimum
Shots
3 points
LF
Off
Def
Early
pd
bp
Int
CT
party
Points
lebron james
31
36.7
51.9
36.2
76.7
1.1
6.4
7.5
6.5
3.2
1.6
1.2
2.3
28.9
Anthony Davis
27
35.4
52.1
17.9
72.7
2.7
7.1
9.9
2.9
2.2
1.2
2.0
2.3
23.3
Russell Westbrook
43
35.3
43.8
29.1
66.2
1.4
6.7
8.1
8.0
4.3
1.1
0.3
3.1
18.7
carmelo anthony
41
27.0
42.7
38.9
80.2
0.8
3.3
4.1
1.0
0.8
0.8
0.8
2.3
13.2
Malik Monk
38
26.0
47.3
40.6
85.1
0.5
2.5
3.0
2.3
1.3
0.7
0.5
1.6
12.1
Talen Horton-tucker
27
27.4
40.5
24.1
81.0
0.7
3.1
3.9
2.6
1.6
1.0
0.4
2.8
10.6
isaiah thomas
4
25.2
30.8
22.7
72.7
0.2
1.8
2.0
1.5
1.2
0.0
0.5
3.0
9.2
Sekou Doumbouya
2
8.2
62.5
50.0
75.0
1.0
2.0
3.0
0.0
1.0
1.5
1.0
0.5
7.0
Avery Bradley
35
23.7
42.3
38.5
100.0
0.5
2.0
2.5
0.9
0.5
0.9
0.2
1.8
6.7
Austin Reaves
24
20.9
51.5
37.9
86.2
0.4
2.0
2.4
1.0
0.6
0.3
0.1
1.6
6.4
Wayne Ellington
30
20.1
39.9
38.3
80.0
0.2
1.4
1.6
0.7
0.5
0.5
0.1
1.0
6.4
Stanley Johnson
9
20.4
45.9
27.3
90.0
0.3
2.0
2.3
1.1
0.4
0.9
0.3
3.4
5.4
Dwight Howard
33
14.9
62.9
66.7
60.6
1.8
3.6
5.4
0.6
0.8
0.7
0.6
1.9
5.4
Deandre Jordan
29
13.0
67.4
0.0
58.8
1.6
4.0
5.5
0.4
0.7
0.3
0.9
1.7
4.3
Kent Bazemore
25
16.7
33.0
35.1
76.9
0.3
1.7
2.0
0.9
0.4
0.8
0.2
2.1
4.0
Trevor Ariza
9
18.1
52.2
50.0
50.0
0.4
2.9
3.3
1.4
0.2
0.4
0.1
0.6
3.9
Rajon Rondo
18
16.1
32.4
26.7
50.0
0.6
2.2
2.7
3.7
1.9
0.7
0.3
1.4
3.1
mason jones
2
4.4
25.0
0.0
50.0
0.5
0.5
1.0
0.0
0.5
0.5
0.0
0.5
2.5
jemerrio jones
2
7.4
66.7
0.0
0.0
1.0
0.5
1.5
0.0
0.0
0.5
0.0
1.0
2.0
Darren Collison
3
12.4
28.6
0.0
0.0
0.0
1.3
1.3
0.7
0.3
0.3
0.0
1.7
1.3
Chaundee Brown
2
10.3
14.3
0.0
0.0
0.0
1.0
1.0
0.0
0.5
0.0
0.0
0.0
1.0
Jay Huff
4
5.1
0.0
0.0
0.0
0.2
0.8
1.0
0.2
0.2
0.2
0.2
0.2
0.0