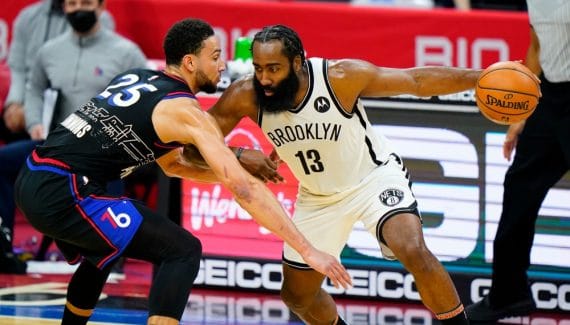 The Sixers and Nets have indeed been in contact about a possible trade. It was January 11 according to ESPN. A classic phone call to better prepare for the "trade deadline", mainly to discuss the players of each camp, and Daryl Morey, the president of the Sixers, took the opportunity to find out about the James Harden case.
" What about James? he asked Sean Marks. His response: No". A form of "Don't even think about it" or "Untransferable".
According to ESPN, it was the only contact there was between the two camps, and despite its brevity, the message got through: the Sixers are interested in James Harden, and the Nets are not sellers.
James Harden is looking for an agent…
Four weeks later, the crisis is brewing at the Nets with eight straight losses, and rumors that pollute the life of the group. In each match, Steve Nash is obliged to answer questions on the subject, while James Harden, before being injured, explained that his frustration, visible on the field, was only due to the bad results and the fact that the Nets are unable to field their best squad.
But according to ESPN, James Harden and his adviser are looking for an agent to help him. For several seasons, the leader has no agent.
For him, it is useless to take an agent since he has always asked for the maximum during his contract extensions. Except this time there are a lot of options. He can extend to the Nets next summer. He can extend and then be transferred via a "sign-and-trade" if he really wants to leave. And finally, he can be transferred by Thursday.
If he's determined to stay at the Nets, no agent needed. It extends in July at the most. Like Kevin Durant last year. But is this his number one wish?
James Harden
Percentage
Bounces
Season
Team
GM
Minimum
Shots
3 points
LF
Off
Def
Early
pd
party
Int
bp
CT
Points
2009-10
OKAY
76
23
40.3
37.5
80.8
0.6
2.6
3.2
1.8
2.6
1.1
1.4
0.3
9.9
2010-11
OKAY
82
27
43.6
34.9
84.3
0.5
2.6
3.1
2.2
2.5
1.1
1.3
0.3
12.2
2011-12
OKAY
62
31
49.1
39.0
84.6
0.5
3.6
4.1
3.7
2.4
1.0
2.2
0.2
16.8
2012-13
HOO
78
38
43.8
36.8
85.1
0.8
4.1
4.9
5.8
2.3
1.8
3.8
0.5
25.9
2013-14
HOO
73
38
45.6
36.6
86.6
0.8
3.9
4.7
6.1
2.4
1.6
3.6
0.4
25.4
2014-15
HOO
81
37
44.0
37.5
86.8
0.9
4.7
5.7
7.0
2.6
1.9
4.0
0.7
27.4
2015-16
HOO
82
38
43.9
35.9
86.0
0.8
5.3
6.1
7.5
2.8
1.7
4.6
0.6
29.0
2016-17
HOO
81
36
44.0
34.7
84.7
1.2
7.0
8.1
11.2
2.7
1.5
5.7
0.5
29.1
2017-18

★

HOO
72
35
44.9
36.7
85.8
0.6
4.8
5.4
8.8
2.4
1.8
4.4
0.7
30.4
2018-19
HOO
78
37
44.2
36.8
87.9
0.9
5.8
6.6
7.5
3.1
2.0
5.0
0.7
36.1
2019-20
HOO
68
37
44.4
35.5
86.5
1.0
5.5
6.6
7.5
3.3
1.8
4.5
0.9
34.3
2020-21 *
All Teams
44
37
46.6
36.2
86.1
0.8
7.1
7.9
10.8
2.3
1.2
4.0
0.8
24.6
2020-21 *
BRK
36
37
47.1
36.6
85.6
0.8
7.7
8.5
10.9
2.4
1.3
4.0
0.8
24.6
2020-21 *
HOO
8
36
44.4
34.7
88.3
0.6
4.5
5.1
10.4
1.8
0.9
4.3
0.8
24.8
2021-22
BRK
44
37
41.4
33.2
86.9
1.0
7.0
8.0
10.2
2.4
1.3
4.8
0.7
22.5
Total
921
35
44.3
36.2
85.9
0.8
4.8
5.6
6.7
2.6
1.6
3.8
0.6
25.0