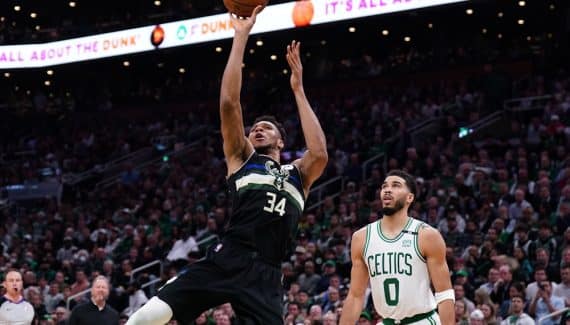 MVP and NBA champion, Giannis Antetokounmpo has a few points in common with Dirk Nowitzki, and in particular that of having been drafted when he landed in the second division. Like the majority of European players, the strong winger of the Bucks therefore did not know the NCAA, and that is part of his regrets.
"I really think about it a lot. You see all these college players coming into the league, they talk about their experience, the fun they've had, and the difference in environment for them." replies Giannis. "I came to the NBA when I was 18. I didn't have the opportunity to be surrounded by classmates: doing weight training in the morning, going to class, then going to practice and seeing all the fans at the game. I did not have the chance to experience this. I got here immediately. I definitely wanted to go to college and have that experience. »
Had he been approached? "When I was 15, I was 'strongly approached' by Old Dominion. It was my only offer" he reveals.
And if he had to do it again, for which university would he have liked to play? "Without a doubt Duke. I like Duke because of the players who have come out of this program. You see a lot of players who don't fit the mold, and I think I'm one of them. I'm 2m10m and I can dribble, pass and get into the paint. We see players like that coming out of this program: Zion Williamson, Jabari Parker, Jayson Tatum and Brandon Ingram. Not only are they very good at basketball, but it's also a very good school academically. »