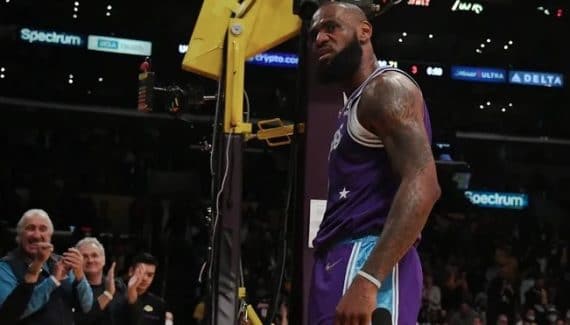 At the end of the meetingLeBron James refers to the NBA Jam video game and its mythical formula " He's on fire! A week after his 56-point performance against the Warriors, the Lakers player caught fire again last night against the Wizards. With a new game at 50 points, he becomes only the 6th player in history to do so well in two games in a row at home.
There's no stopping LeBron right now.

In the Lakers' win, James posted his 14th career 50-point game, tying Rick Barry for 6th in NBA history.

LeBron is also the 6th ever with 50+ Pts in consecutive home games, and the only one to do it after turning 30. pic.twitter.com/03RXfi15sl

— ESPN Stats & Info (@ESPNStatsInfo) March 12, 2022
The last to have done the same with the Lakers? Kobe Bryant in March 2007, during his crazy four game streak in a row to 50 points or more (two at home, then two others away). Against Washington, LeBron James says he wanted stay in this area the longest time possible ".
Under the eyes of his mother, his " greatest source of inspiration ", he reached this stage in the third quarter with 19 points, including 12 consecutive registered for his team.
Award-winning shot in first intention in transition, super-powerful dunk in counter-attack, long "hangtime" to finish in the circle with one hand, complicated and contested "fadeaway"… The "King" varied the pleasures but kept a phenomenal efficiency in shooting: 18/25 including 6/9 from 3-pointers and even 8/8 from free throws, supplemented by 7 rebounds and 6 assists.
" It was a general team effort ", however, assures the best scorer in the league, tied with Joel Embiid and Giannis Antetokounmpo (29.7 points), highlighting the big third quarter of the Lakers (37-23), one of the best this season. " I feel really good"he confides. "I work daily. Even on non-game days, I still think about the game. I watch the games, the one between the Nets and the Sixers of course, and so many others. […] I am preparing to help this team win as much as possible."
The superstar also says in mind the demand of the local public, " loyalty to the Lakers. They know when you play good basketball and when you play bad basketball. They have the right to have the reaction they want. They've seen so many great teams, so many great individual performances, so many great things in this room, in the history of this franchise. As a member of this organization, I feel that I have to offer them memorable evenings too."
Mission accomplished again tonight.
LeBron James
Percentage
Bounces
Season
Team
GM
Minimum
Shots
3 points
LF
Off
Def
Early
pd
party
Int
bp
CT
Points
2003-04
KEY
79
40
41.7
29.0
75.4
1.3
4.2
5.5
5.9
1.9
1.7
3.5
0.7
20.9
2004-05
KEY
80
42
47.2
35.1
75.0
1.4
6.0
7.4
7.2
1.8
2.2
3.3
0.7
27.2
2005-06
KEY
79
43
48.0
33.5
73.8
1.0
6.1
7.0
6.6
2.3
1.6
3.3
0.8
31.4
2006-07
KEY
78
41
47.6
31.9
69.8
1.1
5.7
6.7
6.0
2.2
1.6
3.2
0.7
27.3
2007-08
KEY
75
40
48.4
31.5
71.2
1.8
6.1
7.9
7.2
2.2
1.8
3.4
1.1
30.0
2008-09

★

KEY
81
38
48.9
34.4
78.0
1.3
6.3
7.6
7.3
1.7
1.7
3.0
1.2
28.4
2009-10

★

KEY
76
39
50.3
33.3
76.7
0.9
6.4
7.3
8.6
1.6
1.6
3.4
1.0
29.7
2010-11
MIA
79
39
51.1
33.0
75.9
1.0
6.5
7.5
7.0
2.1
1.6
3.6
0.6
26.7
2011-12

★

MIA
62
38
53.1
36.2
77.1
1.5
6.4
7.9
6.2
1.6
1.9
3.4
0.8
27.2
2012-13

★

MIA
76
38
56.5
40.6
75.3
1.3
6.8
8.0
7.3
1.5
1.7
3.0
0.9
26.8
2013-14
MIA
77
38
56.7
37.9
75.0
1.1
5.9
6.9
6.3
1.6
1.6
3.5
0.3
27.1
2014-15
KEY
69
36
48.8
35.4
71.0
0.7
5.3
6.0
7.4
2.0
1.6
3.9
0.7
25.3
2015-16
KEY
76
36
52.0
30.9
73.1
1.5
6.0
7.4
6.8
1.9
1.4
3.3
0.6
25.3
2016-17
KEY
74
38
54.8
36.3
67.4
1.3
7.3
8.6
8.7
1.8
1.2
4.1
0.6
26.4
2017-18
KEY
82
37
54.2
36.7
73.1
1.2
7.5
8.7
9.1
1.7
1.4
4.2
0.9
27.5
2018-19
ALL
55
35
51.0
33.9
66.5
1.0
7.4
8.5
8.3
1.7
1.3
3.6
0.6
27.4
2019-20
ALL
67
35
49.3
34.8
69.3
1.0
6.9
7.8
10.2
1.8
1.2
3.9
0.5
25.3
2020-21
ALL
45
33
51.3
36.5
69.8
0.6
7.0
7.7
7.8
1.6
1.1
3.7
0.6
25.0
2021-22
ALL
47
37
51.7
34.8
76.2
1.1
7.1
8.2
6.3
2.1
1.5
3.4
1.0
29.3
Total
1357
38
50.4
34.5
73.4
1.2
6.3
7.5
7.4
1.8
1.6
3.5
0.8
27.1