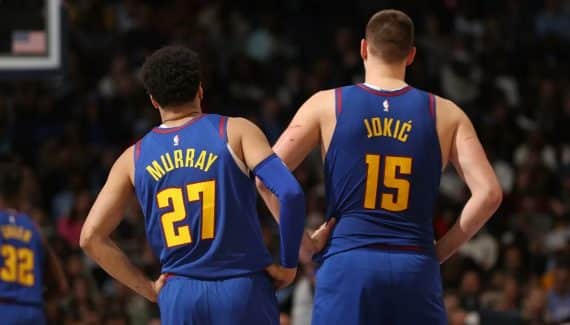 Nikola Jokic scored the first triple-double in NBA Finals history with over 30 points and 20 rebounds. Even crazier, as Jamal Murray also managed a triple-double with more than 30 points, the two friends became the first teammates with a triple-double with more than 30 points each. And we're not talking about the Finals, or even the playoffs, we're talking about the whole history of the NBA, regular season and postseason included…
For Mike Malone, this Game 3 was like this "by far the duo's best performance in seven years together".
"To have Jamal Murray and Nikola Jokic achieve what they did tonight, in a game that we had to win, to regain control and home advantage in the series, it was special to watch" explains the coach.
True to form, Nikola Jokic assured him that his triple-double did not mean much to him. "To be honest, I don't care, it's just a stat" he blurted. It's true, but this "double triple-double" of the two friends illustrates quite well their influence on the meeting.
Constantly on the move, Jamal Murray thus put mad pressure on the Florida defense, Mike Malone being proud to have "felt the presence" of his point guard throughout the match on the floor. His two-man game with Nikola Jokic is the foundation of the Nuggets' offensive system, and when the two-time MVP can serve his teammates on the move, as he did again tonight with Aaron Gordon or Christian Braun, everything lights up. for Denver.
The stat lines of the Murray/Jokic duo
Jamal Murray: 34 points at 12/22, 10 rebounds, 10 assists but 7 stray bullets
Nikola Jokic: 32 points at 12/21, 21 rebounds, 10 assists, 2 blocks