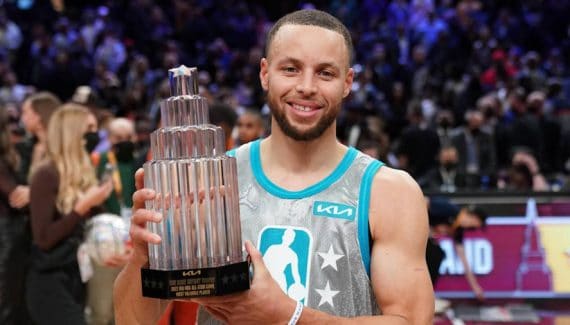 He didn't end up breaking the points record in an All-Star Game, but Stephen Curry had perhaps the craziest performance in history! MVP of the All-Star Game, the leader of the Warriors ends the meeting with… 50 points, and the craziest thing is that he takes advantage of the meeting to seize the 3-point record in a game: 16 on 27! Obviously, it will not count in the NBA record books, but never has a player scored so many 3-pointers in a game.
"I had to give it my all! I had to run a lot because there were two-man strikes" he says at the microphone of TNT. "It was a unique night, and I'm happy to have had a warm hand. "
Injured two years ago, he regretted not participating in the first "Elam Ending" experience. " It's huge, and in the locker room, there were discussions about the spirit of competition to have. It makes things so much better. During the first edition, there is this photo where we see everyone looking at the last possession. Tonight was different. There was such intensity in the 4th quarter. "
"I was like a kid in a toy store"
Very proud to bring the new Kobe Bryant trophy home, Curry was booed by the Cleveland public! He smiled at it, and he responded with this incredible performance. With a way of his own since several times, he made 3-points by watching the public or by returning to defense!
"The whole day has been an emotional lift" he answers. "There was the Top 75 of the best players in history. We had to put on the jacket, take the photos with captions, play the match knowing that it would be a great moment at halftime with the ceremony. I was like a kid in a toy store. We talked about it among ourselves in the corridors, about being there in the middle of legends. They paved the way for us, and it was crazy. That's what made me feel good, and that's what allowed me to succeed in this 3rd quarter. "
About "legend" and "players who paved the way for others", Grant Hill reminds him that he changed basketball. Is he aware of it?
"I have never thought about it as much as today" he acknowledges. "I looked at the list of players, and I appreciated the respect and recognition that comes with it. You never really have time to take a step back, there are so many young talents in the NBA and winning is so difficult. It's hard in the heat of the moment to think about it. "
Stephen Curry
Percentage
Bounces
Season
Team
GM
Minimum
Shots
3 points
LF
Off
Def
Early
pd
party
Int
bp
CT
Points
2009-10
GOS
80
36
46.2
43.7
88.5
0.6
3.9
4.5
5.9
3.2
1.9
3.0
0.2
17.5
2010-11
GOS
74
34
48.0
44.2
93.4
0.7
3.2
3.9
5.8
3.2
1.5
3.1
0.3
18.6
2011-12
GOS
26
28
49.0
45.5
80.9
0.6
2.8
3.4
5.3
2.4
1.5
2.5
0.3
14.7
2012-13
GOS
78
38
45.1
45.3
90.0
0.8
3.3
4.0
6.9
2.5
1.6
3.1
0.2
22.9
2013-14
GOS
78
37
47.1
42.4
88.5
0.6
3.7
4.3
8.5
2.5
1.6
3.8
0.2
24.0
2014-15

★

GOS
80
33
48.7
44.3
91.4
0.7
3.6
4.3
7.7
2.0
2.0
3.1
0.2
23.8
2015-16

★

GOS
79
34
50.4
45.4
90.7
0.9
4.6
5.4
6.7
2.0
2.1
3.3
0.2
30.1
2016-17
GOS
79
33
46.8
41.1
89.8
0.8
3.7
4.5
6.6
2.3
1.8
3.0
0.2
25.3
2017-18
GOS
51
32
49.5
42.3
92.1
0.7
4.4
5.1
6.1
2.2
1.6
3.0
0.2
26.4
2018-19
GOS
69
34
47.2
43.7
91.6
0.7
4.7
5.4
5.2
2.4
1.3
2.8
0.4
27.3
2019-20
GOS
5
28
40.2
24.5
100.0
0.8
4.4
5.2
6.6
2.2
1.0
3.2
0.4
20.8
2020-21
GOS
63
34
48.2
42.1
91.6
0.5
5.0
5.5
5.8
1.9
1.2
3.4
0.1
32.0
2021-22
GOS
54
35
42.8
37.9
91.9
0.6
4.7
5.3
6.3
2.1
1.4
3.3
0.4
25.8
Total
816
34
47.3
42.8
90.8
0.7
4.0
4.6
6.5
2.4
1.7
3.2
0.2
24.3