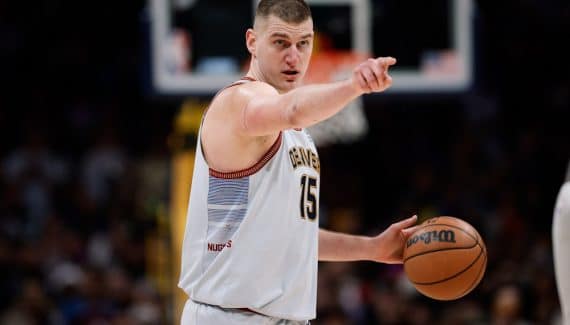 If Russell Westbrook democratized the triple-double in his Thunder era, with almost a copy at each of his outings, Nikola Jokic is he a starred chef! The Serbian pivot succeeds a little less often, but each time, it's an almost unprecedented statistical festival!
In this case, on Christmas night, Jokic signed his 83rd career triple-double, simply amassing 41 points, 15 rebounds and 15 assists, which makes him only the fourth player in history to reach these. Heights. He joins Oscar Robertson (1961 and 1962) and James Harden (2016) who also had 40 or more points, 15 or more rebounds and 15 or more assists.
"It was a crazy game, with lots of ups and downs for both teams. Big streaks for every team. Jamal had a hot hand late in the game, even though we missed a few shots. We should have made this match easier. »
Not really a fan of stats, Jokic didn't care to know that his points total was the highest for a triple-double achieved on Christmas Day. He prefers to focus on the current good form of the Nuggets, who are now four wins in a row, and seven in their last eight outings. Quietly, Denver has settled, alone, at the top of the Western Conference!
"We continue to fight. When one guy leaves, another comes to take his place. We have a lot of players who are able to bring when some are injured. I think we are four wins in a row, it shows that the team is doing well. Jokic analysis.
If the Nuggets maintain the same pace, it will be difficult to snatch his MVP trophy from his hands. Remember that no player has been crowned three years in a row since Larry Bird in the mid-80s.
Nikola Jokic
Percentage
Bounces
Season
Team
GM
Minimum
Shots
3 points
LF
Off
Def
Early
pd
party
Int
bp
CT
Points
2015-16
DEN
80
22
51.2
33.3
81.1
2.3
4.7
7.0
2.4
2.6
1.0
1.3
0.6
10.0
2016-17
DEN
73
28
57.8
32.4
82.5
2.9
6.9
9.8
4.9
2.9
0.8
2.3
0.8
16.7
2017-18
DEN
75
33
49.9
39.6
85.0
2.6
8.1
10.7
6.1
2.8
1.2
2.8
0.8
18.5
2018-19
DEN
80
31
51.1
30.7
82.1
2.9
8.0
10.8
7.3
2.9
1.4
3.1
0.7
20.1
2019-20
DEN
73
32
52.8
31.4
81.7
2.3
7.5
9.7
7.0
3.0
1.2
3.1
0.6
20.0
2020-21

★

DEN
72
35
56.6
38.8
86.8
2.9
8.0
10.8
8.3
2.7
1.3
3.1
0.7
26.4
2021-22

★

DEN
74
34
58.3
33.7
81.0
2.8
11.0
13.8
7.9
2.6
1.5
3.8
0.9
27.1
2022-23
DEN
28
33
61.5
32.8
79.1
2.2
8.7
10.9
9.3
2.8
1.5
3.6
0.6
24.9
Total
555
31
54.6
34.4
82.7
2.6
7.8
10.4
6.4
2.8
1.2
2.8
0.7
19.9