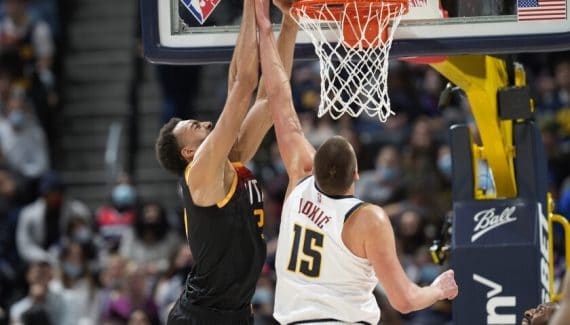 After five matches spent in solitary confinement, watching his teammates collapse from afar, Rudy Gobert made his big comeback tonight. Not a gift since it was in Denver, where it is always difficult to play physically, and against the 2021 MVP, Nikola Jokic.
The Frenchman, short of rhythm, needed a few minutes to enter the game, but on arrival, he signed a very big game with 18 points, 19 rebounds, 2 assists and 2 blocks. All 100% on shots with 7 baskets in 7 attempts, and a big victory for an opponent who remained on a 37-point victory against the Lakers.
" I feel very good. Every time we play in Denver, there comes a time when we're tired." recalls the French, author of a basket of 20 meters, just after the first half buzzer. "I was tired in the first and third quarters, but I feel good, better than usual in Denver. I am very happy to be back".
His duel with Nikola Jokic still marked the spirits. The opposition of styles makes it possible to have a great show with Rudy Gobert who makes the difference in defense and near the circle, while Nikola Jokic dominated him wide. But Rudy Gobert is progressing, year after year, and in addition to his big baseline dunk on the head of Nikola Jokic, we will remember this action from the 4th quarter.
Fighting for the rebound after a missed 3-pointer from Donovan Mitchell, Rudy Gobert takes the ball over Nikola Jokic's head. He is expected to come up to the circle, or take the ball out. But the Frenchman takes himself for Jokic, and he makes a blind pass for Royce O'Neale, alone under the basket.
A 22nd double-double in a row
What we also remember is the defense of Jazz in the 4th quarter, and the critics of the Frenchman were right on target. He had explained that his formation did not have the culture of the victory of the Suns and the Warriors, and that it was necessary to sacrifice more.
"We communicated this evening" acknowledges Donovan Mitchell. "We had recently played against the Nuggets, which allowed us to familiarize ourselves with them. Obviously Rudy's return is helpful, but we had each other's backs tonight. Our rotations were excellent. We knew we had to play well tonight. We didn't want to lose five times in a row. We weren't playing needed at the moment."
What does Gobert think, who finishes with a +/- of +36, proof of his enormous impact on the match?
"We know we can be that kind of team, and it's exciting to know that we have the possibility of reaching a higher level. But you have to do it every night" warns the Frenchman. "The season is long, and not everything will be perfect. We know that we are going to go through difficult sequences. But it's exciting to see what we can do. We must continue to rely on very good habits. Tonight, every guy was determined on defense. There were a few plays where Donovan physically defended, and he got the ball back. It's a collective effort and it's the team we want to be and we need to keep that spirit. "
Rudy Gobert
Percentage
Bounces
Season
Team
GM
Minimum
Shots
3 points
LF
Off
Def
Early
pd
party
Int
bp
CT
Points
2013-14
UTH
45
10
48.6
0.0
49.2
1.1
2.3
3.4
0.2
1.3
0.2
0.7
0.9
2.3
2014-15
UTH
82
26
60.4
0.0
62.3
3.2
6.2
9.5
1.3
2.1
0.8
1.4
2.3
8.4
2015-16
UTH
61
32
55.9
0.0
56.9
3.4
7.5
11.0
1.5
2.7
0.7
1.9
2.2
9.1
2016-17
UTH
81
34
66.1
0.0
65.3
3.9
8.9
12.8
1.2
3.0
0.6
1.8
2.6
14.0
2017-18
UTH
56
32
62.2
0.0
68.2
3.0
7.8
10.7
1.4
2.7
0.8
1.9
2.3
13.5
2018-19
UTH
81
32
66.9
0.0
63.6
3.8
9.0
12.9
2.0
2.9
0.8
1.6
2.3
15.9
2019-20
UTH
68
34
69.3
0.0
63.0
3.4
10.1
13.5
1.5
3.2
0.8
1.9
2.0
15.1
2020-21
UTH
71
31
67.5
0.0
62.3
3.4
10.1
13.5
1.3
2.3
0.6
1.7
2.7
14.3
2021-22
UTH
37
32
70.6
0.0
68.3
3.5
11.5
15.1
1.1
2.7
0.8
1.8
2.3
15.5
Total
582
30
65.0
0.0
63.4
3.3
8.2
11.5
1.3
2.6
0.7
1.6
2.2
12.3