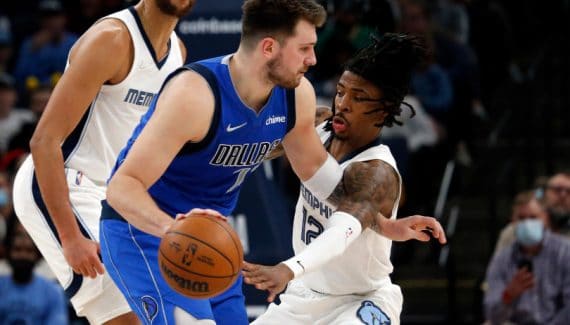 We know that Luka Doncic is a diesel, which revs up as the season progresses. This time, the long qualifying campaign for the Olympics, and then the Olympics themselves, may have accentuated the phenomenon, but the Slovenian seems to be finding his rhythm.
The former Real Madrid was indeed amused to dissect the defense of the Grizzlies all evening. It must be said that Memphis, which remained on 11 consecutive successes, clearly did not have its usual energy.
Always horribly clumsy from afar (0/6 and just 30% success over the season), Luka Doncic therefore relied on his low post technique and his support game when he entered the racket to knock out Memphis. He thus finished with 27 points (12/22), 12 rebounds and 10 assists, even if he also lost 6 balls.
It is already his 40th triple-double of his NBA career, while he is only in his fourth season, which places him in 11th place in history. In the history of the Mavericks, since 1980, there have also been only 80 triple-doubles. Half of them have therefore been made by "Luka Magic", over the past four seasons…
"It's nice to hear that, obviously, but basketball was different", he admits, before grumbling. "My 3-pointers are horrible, he really makes me work on that. "
But more than his triple-double and the way he dominated Memphis defensive covers, Luka Doncic showcased his team's defensive work, which left the Grizzlies just 30 points in the second half. An area in which he also seems more invested and solid this season.
"The key was our defense in the second half. In the first half we were a little soft but we came back from the locker room and got the job done. While their attack is very good. "
Luka Doncic
Percentage
Bounces
Season
Team
GM
Minimum
Shots
3 points
LF
Off
Def
Early
pd
party
Int
bp
CT
Points
2018-19
DAL
72
32
42.7
32.7
71.3
1.2
6.6
7.8
6.0
1.9
1.1
3.4
0.4
21.2
2019-20
DAL
61
34
46.3
31.6
75.8
1.3
8.1
9.4
8.8
2.5
1.0
4.3
0.2
28.8
2020-21
DAL
66
34
47.9
35.0
73.0
0.8
7.2
8.0
8.6
2.3
1.0
4.3
0.6
27.7
2021-22
DAL
26
35
43.5
31.0
71.9
0.7
7.7
8.4
8.9
2.4
1.2
4.7
0.4
24.7
Total
225
34
45.4
32.9
73.4
1.1
7.3
8.4
7.8
2.2
1.0
4.0
0.4
25.6