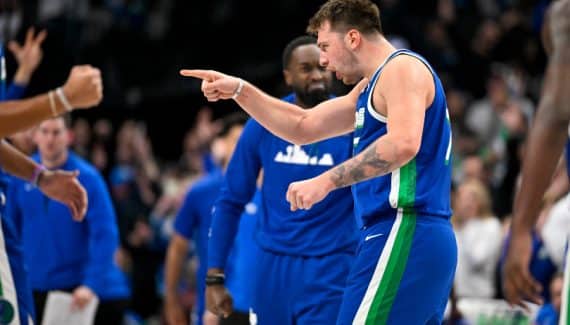 42 points (13/22), 13 rebounds and 10 assists. On a night that saw Joel Embiid and Jayson Tatum also surpass 40 points, Luka Doncic's stat line remains the most impressive.
Because the overall influence of the Slovenian on his Mavericks team is crazy. This triple-double with more than 40 points is his fourth of its kind in his career. Only five other players have achieved as many: Oscar Robertson (22), James Harden (16), Russell Westbrook (13), Wilt Chamberlain (7) and LeBron James (6).
"He's got 42 points, he's got a triple-double… It's just a little walk in the park for him" Jason Kidd had fun following the performance of his "franchise player" against Portland.
After two complicated last games, Luka Doncic explained that he felt much better physically against the Blazers. After one "good recovery day"he was thus able to use his physical advantage against Damian Lillard or Anfernee Simons to find shots near the circle or provoke free throws.
"We traded a good shot for a better shot. That's the confidence we need to have in every game."
But as Spencer Dinwiddie noted, the most important thing is that he above all made the right readings, punishing the double-takes at the end of the match to find his teammates, and in particular his sidekick from the "backcourt".
"They 'trapped' Luka and he's doing a phenomenal job, with the right reading, the right pass"explained Spencer Dinwiddie, author of three consecutive 3-point baskets in the "money-time" following shifts from his leader. "He found me and I was able to land a few shots."
It was Dorian Finney-Smith who sealed the deal, again following a two-man take on Luka Doncic, before the Mavericks circulated the ball to find the best placed shooter.
"It's the trust we have in each other"concluded Luka Doncic. "Reggie (Bullock) had an open shot in the last minute, but he saw that Doe-Doe (Finney-Smith) was even more open. We traded a good shot for a better shot. That's the confidence we need to have in every game. »
Luka Doncic
Percentage
Bounces
Season
Crew
GM
Minimum
Shots
3 points
LF
Off
Def
Early
pd
party
Int
bp
CT
Points
2018-19
DAL
72
32
42.7
32.7
71.3
1.2
6.6
7.8
6.0
1.9
1.1
3.4
0.4
21.2
2019-20
DAL
61
34
46.3
31.6
75.8
1.3
8.1
9.4
8.8
2.5
1.0
4.3
0.2
28.8
2020-21
DAL
66
34
47.9
35.0
73.0
0.8
7.2
8.0
8.6
2.3
1.0
4.3
0.6
27.7
2021-22
DAL
65
35
45.7
35.3
74.4
0.9
8.3
9.1
8.7
2.2
1.2
4.5
0.6
28.4
2022-23
DAL
11
37
48.8
29.0
73.6
0.8
7.5
8.3
7.9
3.3
2.0
3.4
0.6
33.6
Total
275
34
45.9
33.5
73.7
1.0
7.5
8.5
8.0
2.3
1.1
4.1
0.4
26.7