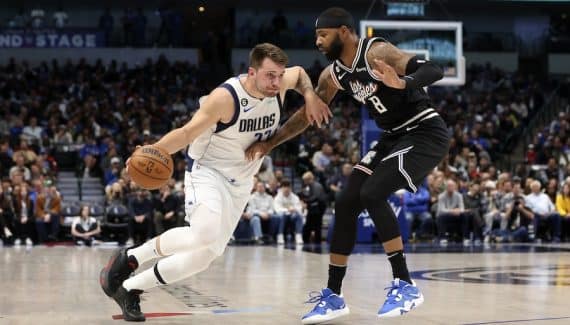 Despite good ball circulation, their possession ended up in a loose ball. After a failed transmission between Reggie Bullock and Dorian Finney-Smith, Luka Doncic inherited leather almost by chance. With 24 seconds about to end, the Slovenian swung a 3-point prayer which, despite an outstretched arm from Nicolas Batum, tied cleanly.
To the chagrin of the French, one of the heroes of the Clippers evening, who returned to his bench with a yellow smile. His opponent had just offered four points ahead of Dallas, with less than 30 seconds to play. This miracle shot thus served as the winning shot.
In the process, the Texan leader put his index finger on his mouth, as a sign of "Hush! ", looking in several directions, including that of the bench of his opponents who, despite 25 points behind in the meeting, did not let themselves be dismantled to come back. Then he took off his index finger to greet his audience.
" I wanted to celebrate but i didn't know what to do. I'm not gonna shush our fans so I don't know why I did this », smiles the hero of the evening. On that last shot itself, he says he was " kinda lucky. I shot with two seconds left on possession. It's back. There is a bit of luck but we take it. »
Happy for his shooters
Luck or not, this shot validated a new very good outing from him. Engine of the big start to his team's game, he finished with 35 points (11/22 on shots), 11 rebounds, 5 assists and 3 steals for 40 evaluation. On arrival, a seventh double-double this season and an 11th game, already, at 30 points or more.
This success, the Mavs also owe it to the good outings of a few lieutenants including Spencer Dinwiddie, as well as Dorian Finney-Smith and Reggie Bullock who both brought skill to 3-pointers (11/21 combined).
" It's crazy, I'm so happy for them. There's a lot of pressure on Reggie from some who claim he can't shoot. What he does on the pitch for us, the way he defends, doesn't often show up in the stats, but today he showed he's a great player. Doe Doe (Dorian Finney-Smith) too, but they are key players for us, that's for sure », greets the Slovenian.
The latter, who says he came out " very tired from last week's "back-to-back" (in Orlando then Washington), also hopes that his Mavs will learn the lessons of this match, narrowly won despite a 25-point lead. " We must learn not to waste such a gap and play the same way ", Claims the leader who could be put to rest for the reception of the Rockets next night.
Luka Doncic
Percentage
Bounces
Season
Crew
GM
Minimum
Shots
3 points
LF
Off
Def
Early
pd
party
Int
bp
CT
Points
2018-19
DAL
72
32
42.7
32.7
71.3
1.2
6.6
7.8
6.0
1.9
1.1
3.4
0.4
21.2
2019-20
DAL
61
34
46.3
31.6
75.8
1.3
8.1
9.4
8.8
2.5
1.0
4.3
0.2
28.8
2020-21
DAL
66
34
47.9
35.0
73.0
0.8
7.2
8.0
8.6
2.3
1.0
4.3
0.6
27.7
2021-22
DAL
65
35
45.7
35.3
74.4
0.9
8.3
9.1
8.7
2.2
1.2
4.5
0.6
28.4
2022-23
DAL
12
37
49.6
28.6
74.8
1.0
7.7
8.7
8.1
3.3
2.0
3.3
0.7
34.3
Total
276
34
45.9
33.5
73.8
1.0
7.5
8.6
8.0
2.3
1.1
4.1
0.4
26.7