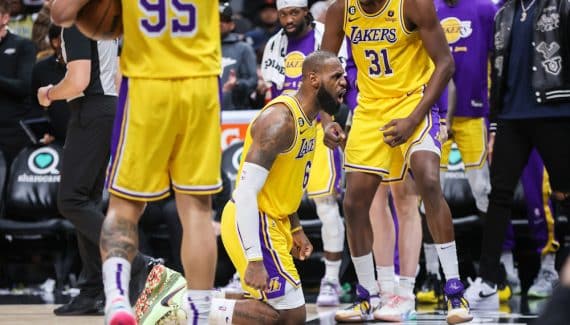 With one pass, LeBron James offered himself the most beautiful of birthday presents. On the evening of his 38th birthday, the quadruple MVP and quadruple NBA champion signs one of his best matches under the colors of the Lakers with 47 points, 10 rebounds and 9 assists! Above all, his performance allows the Lakers to win in Atlanta (130-121). Before the match, he had warned Dennis Schroder that he would pass the 40-point mark.
"I scored 30 points and it didn't work…I tried to get 40 points. It's math." quips LeBron at a press conference, proud to achieve such a feat under the eyes of his mother and his wife. "They were there even before I started this 20th season. They are my cornerstones for everything I do. It was very cool to have them in the front row, for my birthday and the holiday season. »
If LeBron misses the triple-double for a small pass, we will still remember that he multiplied to allow the Lakers their best "comeback" of the season. Led by 15 points, the Lakers have nibbled their delay to pass. And when Aaron Holiday, at 3-pointers, restored the advantage to the Hawks at the start of the 4th quarter, it was LeBron who answered him at 3-pointers. The Lakers will then keep the controls until the end with 16 points from LeBron in the 4th quarter alone.
The enthusiasm of a child
"This guy is nothing short of phenomenal and amazing" summarizes Darvin Ham. "But it's something I expect…I mean, I'm not blown away. It's just that I expect that from him."
A few days ago, LeBron had raised his voice on the level of his team, and he had reminded that he was there to win the title.
"I don't think anyone took it as an attack" assures the Lakers coach. "I rather think that they said to themselves that he was right, and that everyone had to pull in the same direction and give their all. »
At 38, LeBron seems stainless and he says so. "I feel better than when I was 18. I didn't know what I was going to become at 18… But I just knew that if I kept working and if I stayed true to the sport, I could become one of the greatest players in history. I have always believed in it".
What to afford eternal youth: " There are times when I'm on the pitch when I feel like a kid again. It's clear. »
LeBron James
Percentage
Bounces
Season
Team
GM
Minimum
Shots
3 points
LF
Off
Def
Early
pd
party
Int
bp
CT
Points
2003-04
KEY
79
40
41.7
29.0
75.4
1.3
4.2
5.5
5.9
1.9
1.7
3.5
0.7
20.9
2004-05
KEY
80
42
47.2
35.1
75.0
1.4
6.0
7.4
7.2
1.8
2.2
3.3
0.7
27.2
2005-06
KEY
79
43
48.0
33.5
73.8
1.0
6.1
7.0
6.6
2.3
1.6
3.3
0.8
31.4
2006-07
KEY
78
41
47.6
31.9
69.8
1.1
5.7
6.7
6.0
2.2
1.6
3.2
0.7
27.3
2007-08
KEY
75
40
48.4
31.5
71.2
1.8
6.1
7.9
7.2
2.2
1.8
3.4
1.1
30.0
2008-09

★

KEY
81
38
48.9
34.4
78.0
1.3
6.3
7.6
7.3
1.7
1.7
3.0
1.2
28.4
2009-10

★

KEY
76
39
50.3
33.3
76.7
0.9
6.4
7.3
8.6
1.6
1.6
3.4
1.0
29.7
2010-11
MIA
79
39
51.1
33.0
75.9
1.0
6.5
7.5
7.0
2.1
1.6
3.6
0.6
26.7
2011-12

★

MIA
62
38
53.1
36.2
77.1
1.5
6.4
7.9
6.2
1.6
1.9
3.4
0.8
27.2
2012-13

★

MIA
76
38
56.5
40.6
75.3
1.3
6.8
8.0
7.3
1.5
1.7
3.0
0.9
26.8
2013-14
MIA
77
38
56.7
37.9
75.0
1.1
5.9
6.9
6.3
1.6
1.6
3.5
0.3
27.1
2014-15
KEY
69
36
48.8
35.4
71.0
0.7
5.3
6.0
7.4
2.0
1.6
3.9
0.7
25.3
2015-16
KEY
76
36
52.0
30.9
73.1
1.5
6.0
7.4
6.8
1.9
1.4
3.3
0.6
25.3
2016-17
KEY
74
38
54.8
36.3
67.4
1.3
7.3
8.6
8.7
1.8
1.2
4.1
0.6
26.4
2017-18
KEY
82
37
54.2
36.7
73.1
1.2
7.5
8.7
9.1
1.7
1.4
4.2
0.9
27.5
2018-19
ALL
55
35
51.0
33.9
66.5
1.0
7.4
8.5
8.3
1.7
1.3
3.6
0.6
27.4
2019-20
ALL
67
35
49.3
34.8
69.3
1.0
6.9
7.8
10.2
1.8
1.2
3.9
0.5
25.3
2020-21
ALL
45
33
51.3
36.5
69.8
0.6
7.0
7.7
7.8
1.6
1.1
3.7
0.6
25.0
2021-22
ALL
56
37
52.4
35.9
75.6
1.1
7.1
8.2
6.2
2.2
1.3
3.5
1.1
30.3
2022-23
ALL
27
36
49.8
29.7
75.2
1.2
6.9
8.1
6.6
1.9
1.1
3.2
0.6
27.8
Total
1393
38
50.5
34.5
73.4
1.2
6.3
7.5
7.3
1.8
1.6
3.5
0.8
27.2