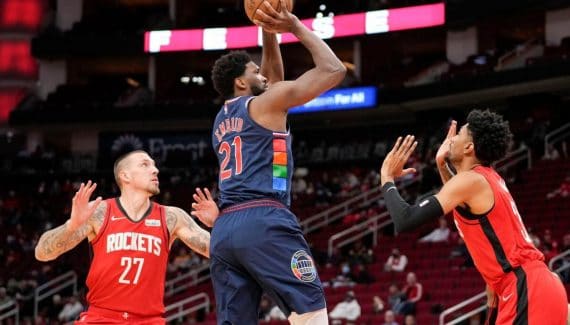 Seven games, seven wins for the Sixers, and the seventh game in a row at 30 or more points for Joel Embiid. Around him, the ringleaders disappeared, one by one, and that night even Seth Curry was not there. But the All-Star hub doesn't need anyone to weigh in on a game. Especially when it's the Rockets who are opposite …
From the first quarter, Joel Embiid broke his vis-à-vis, and poor Daniel Theis could not do anything. It's basket or fault. And from anywhere on the field since the Sixers pivot has become a real danger when he comes up the ball. He constantly attacks the defense.
"Joel really sets the tone for the whole team" underlines Doc Rivers. "In a game like that, with a lot of fewer players, against a struggling team, you can't relax, and I thought Joel was very serious from the start of the game. "
"I really wanted it to be folded in three quarters"
Joel Embiid is so serious that he signs a complete performance in just 26 minutes: 31 points, 8 rebounds and 6 assists. All this at 9 of 16 on shots with a perfect 13 of 13 on free throws.
Under his leadership, the Sixers planted 56 points in the racket, and scored 21 points after offensive rebounds. It is in power that Philly made the difference, and entry since Joel Embiid had already scored 17 points at the end of the first quarter.
"I really wanted it to be folded in three quarters" he continues. "For that, you have to set the tone for entry, get a good start, and create a gap. Every time, that's what I have to do. Even though we have a lot of absentees, I have to set the tone and be aggressive. "
Sixth scorer in the NBA, and best player of the month of December, Joel Embiid carries his team at arm's length, and confidence helping, he can afford the craziest gestures. Sometimes, he does too much, with a failed pass behind the head, and sometimes, it hits the mark like this complicated "fadeaway" with two defenders in front of him …
"I have set myself the standard of winning and being the best, or at least one of the best" he repeats. "What's good about all of this is that we win. And to win every night, I have to lead by example. "
Joel embiid
Percentage
Rebounds
Season
Team
MJ
Min
Shots
3pts
LF
Off
Def
Early
Pd
Fte
Int
Bp
Ct
Pts
2016-17
PHL
31
25
46.6
36.7
78.3
2.0
5.9
7.8
2.1
3.6
0.9
3.8
2.5
20.2
2017-18
PHL
63
30
48.3
30.8
76.9
2.3
8.7
11.0
3.2
3.3
0.6
3.7
1.8
22.9
2018-19
PHL
64
34
48.4
30.0
80.4
2.5
11.1
13.6
3.7
3.3
0.7
3.5
1.9
27.5
2019-20
PHL
51
30
47.7
33.1
80.7
2.8
8.9
11.6
3.0
3.4
0.9
3.1
1.3
23.0
2020-21
PHL
51
31
51.3
37.7
85.9
2.2
8.4
10.6
2.8
2.4
1.0
3.1
1.4
28.5
2021-22
PHL
27
33
47.5
38.9
80.5
1.9
8.9
10.7
4.3
2.5
1.2
2.9
1.4
26.8
Total
287
31
48.5
33.4
80.8
2.3
8.9
11.2
3.2
3.1
0.8
3.4
1.7
25.0