Basketball News
The MVP of the night | Gordon Hayward, the king of the feint | NBA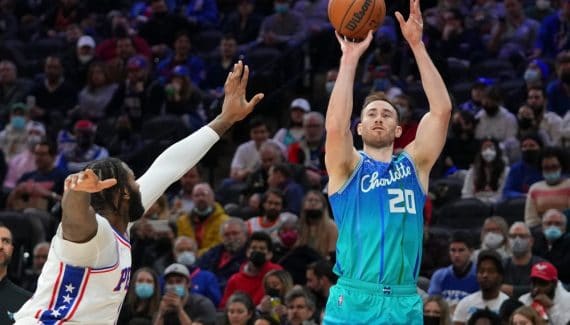 It was simply the longest losing streak between two franchises in the NBA. The Hornets remained on 16 losses in a row against the Sixers, whom they had not beaten since November 2016. More than five years of drought, which ended this night with this great success, 109-98, acquired in Philadelphia .
Discreet this season, Gordon Hayward pulled out all the stops with 30 points, 7 assists, 4 rebounds and 3 steals, but above all an impressive skill: 13 out of 16 on shots, including 4 out of 4 from 3-pointers. The former Jazz and Celtics winger started the game with a 9 of 9 on shots and at the break, he was already 22 points to allow the Hornets to take a 14-point lead.
"We said it on the video, but he kept doing it, and we kept jumping"
"I had a few easy shots and I put them in" Hayward replies modestly. In fact, the Charlotte winger gave defenders a lesson in basketball with his technique.
"These are the feints" explains Doc Rivers. "I can't say how many fakes he did, maybe eight, with guys jumping all over the place. We said so on the video, but he kept doing it, and we kept jumping. On a lot of his shots, we were getting closer to him, but you have to stay close to him. We knew the ball was going to come back to him on pass returns, but we jumped too much. »
Like a Carmelo Anthony or a DeMar DeRozan, Hayward has a perfect technique to shine at mid-range, and tonight the Sixers fell into the trap, always falling behind rotations.
But for Hayward, there is no need to dwell on his performance, what he remembers is victory.
" We talked about it before the game. We thought we wanted to end this series. It's a big win for us. But it's only a victory "He warns while his training has just beaten the Bucks twice, and therefore the Sixers.
Gordon Hayward
Percentage
Rebounds
Season
Team
MJ
Minimum
Shots
3pts
LF
Off
Def
Early
Pd
Fte
Int
Bp
Ct
Pts
2010-11
UTH
72
17
48.5
47.3
71.1
0.6
1.4
1.9
1.1
1.5
0.4
1.0
0.3
5.4
2011-12
UTH
66
31
45.6
34.6
83.2
0.9
2.6
3.5
3.1
1.6
0.8
1.7
0.6
11.9
2012-13
UTH
72
29
43.5
41.5
82.7
0.7
2.4
3.1
3.0
1.7
0.8
1.7
0.5
14.1
2013-14
UTH
77
36
41.3
30.4
81.6
0.8
4.3
5.1
5.2
2.0
1.4
2.8
0.5
16.2
2014-15
UTH
76
34
44.5
36.4
81.2
0.7
4.2
4.9
4.1
1.7
1.4
2.7
0.4
19.3
2015-16
UTH
80
36
43.3
34.9
82.4
0.8
4.2
5.0
3.7
2.3
1.2
2.5
0.3
19.7
2016-17
UTH
73
35
47.1
39.8
84.4
0.7
4.7
5.4
3.5
1.6
1.0
1.9
0.3
21.9
2017-18
BOS
1
5
50.0
0.0
0.0
0.0
1.0
1.0
0.0
1.0
0.0
0.0
0.0
2.0
2018-19
BOS
72
26
46.6
33.3
83.4
0.7
3.8
4.5
3.4
1.4
0.9
1.5
0.3
11.5
2019-20
BOS
52
34
50.0
38.3
85.5
1.1
5.6
6.7
4.1
1.9
0.7
1.9
0.4
17.5
2020-21
CHA
44
34
47.3
41.5
84.3
0.8
5.0
5.9
4.1
1.7
1.2
2.1
0.3
19.6
2021-22
CHA
40
33
46.1
37.8
85.9
0.8
4.0
4.8
3.7
1.7
0.9
1.7
0.5
17.0
Total
725
31
45.3
37.0
82.6
0.8
3.8
4.5
3.5
1.8
1.0
2.0
0.4
15.7