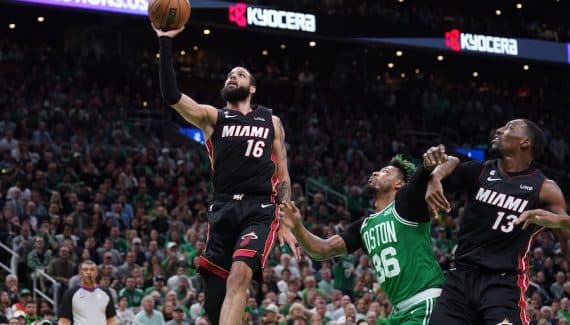 Even Kevin Love can't seem to get over it. He holds his hands on his head, looking incredulous, before letting out a big smile. On the floor, Caleb Martinthe man who has just replaced him in the Heat's five, is on fire.
Served in transition by Jimmy Butler, he has just sanctioned again, behind the 3-point line, a Celtics defense that is far too lax on him. And thus to offer 13 points in advance to his team, 11 minutes from the end of the meeting and a historic NBA final for Miami.
"Since the series against New York, I feel that I have been disrespected, compared to the way in which I have been defended"
" Since the series against New York, I feel that I have been disrespected, compared to the way in which I have been defended. I wanted to leave my mark on the series, being well aware that I had things to prove », thus formulates Caleb Martin at the end of the meeting.
He did more than demonstrate it last night. While Bam Adebayo or Gabe Vincent were more withdrawn offensively, he behaved like the perfect and necessary lieutenant of Jimmy Butler. He generally took advantage of the attention generated by the latter to punish in abundance in the corners or at mid-distance.
Result: a match with crazy efficiency, despite the difficulty of certain shots ("turnaround jumper", "fadeaway") finished with 26 points (11/16 on shots), 10 rebounds and 3 assists in 45 minutes of play.
He himself admits that he wanted to show in this series that he is more than just a " duty player. I can do whatever is asked of me, I can score, I can defend… But in the end, I am a competitor. When you have that will, good things happen. When you reach a certain stage, all the work done comes back. I have confidence in my work done this summer. »
A journalist pointed out to him that he often mentioned his college years, especially his last two years in Nevada, where he averaged 19 points, which testified to undeniable offensive qualities. Insufficient, however, to convince the franchises to draft him in 2019, at the end of his university career.
" It's fun. I have the feeling that this style of play never leaves you. (laugh) I knew it was coming at some point, it's a great feeling to have it happen during a Game 7 outdoors like this. It just shows what I'm capable of. I knew how they would defend on me, I wanted to take advantage of it », Continues the unexpected hero of the evening.
"You Can't Hide"
" As I said, it's very high level. You can't hide, you see if you're made for this kind of environment. I feel like I've been continually prepared for this moment ", Displays the former Hornets player, who intends to continue to " to feed from the leadership of Jimmy Butler and Bam Adebayo.
On this series, Caleb Martin has clearly been the Heat's X factor. And if Jimmy Butler was elected MVP of the Eastern Conference Finals, he can boast of having been the most effective player on the team with 19 points on average at 60% on shots, including 49% from afar!
So at the end of the meeting, he thinks of the " road traveled to get here, including the last two years… But above all, I have a funny feeling, because I realize, even if I'm happy and it's great to be here, that we has four more to win. That the work is not finished. »
Caleb Martin
Percentage
Bounces
Season
Crew
GM
Minimum
Shots
3 points
LF
Off
Def
Early
pd
party
Int
bp
CT
Points
2019-20
CHA
18
18
44.0
54.1
81.0
0.6
1.6
2.1
1.3
1.8
0.7
0.8
0.4
6.2
2020-21
CHA
53
15
37.5
24.8
64.1
0.6
2.1
2.7
1.3
1.2
0.7
0.6
0.2
5.0
2021-22
MIA
60
23
50.7
41.3
76.3
1.2
2.7
3.8
1.1
1.7
1.0
0.9
0.5
9.2
2022-23
MIA
71
29
46.4
35.6
80.5
1.2
3.6
4.9
1.7
2.0
1.0
1.1
0.4
9.6
Total
202
23
45.8
36.0
75.6
1.0
2.7
3.7
1.3
1.7
0.9
0.9
0.4
8.0
How to read the stats? MJ = matches played; Min = Minutes; Shots = Shots made / Shots attempted; 3pts = 3-points / 3-points attempted; LF = free throws made / free throws attempted; Off = offensive rebound; Def= defensive rebound; Tot = Total bounces; Pd = assists; Fte: Personal fouls; Int = Intercepts; Bp = Lost bullets; Ct: Counters; Points = Points.