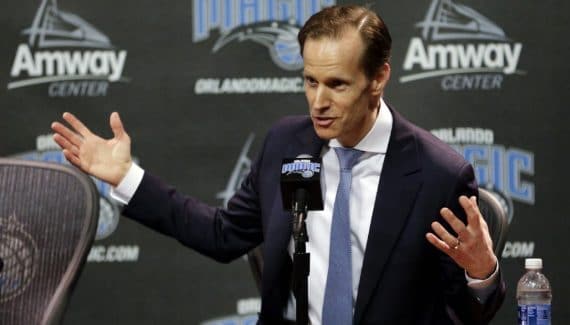 After having blown up its workforce last season, the Magic are stable with their leaders. ESPN indeed reports that the franchise intends to extend the contracts of its president, Jeff Weltman, and its GM, John Hammond, until the 2025/26 season. Magic boss Alex Martins started negotiations at the end of last season and recently finalized the terms of the new contracts.
It is recalled that the two men were recruited at the same time, in May 2017. With them, Orlando qualified for two years in a row in the playoffs (2019 and 2020), for two eliminations in the first round, after missing the finals since 2012 and the departure of Dwight Howard.
They decided to launch the reconstruction operation during last season by exchanging the three heads of the team: Nikola Vucevic, Aaron Gordon and Evan Fournier. They also made a change on the bench with the arrival of Jamahl Mosley this year, replacing Steve Clifford, in office since 2018.
The idea being to trust a generation of young players recovered in the Draft or via exchanges (Franz Wagner, Jalen Suggs, Cole Anthony, Wendell Carter Jr, Mo Bamba …), while waiting for the return of other seriously injured hopes. (Markelle Fultz and Jonathan Isaac).
With 7 wins for 34 losses, Orlando is currently the worst team in the league.
Shots
Rebounds
Players
MJ
Min
Shots
3pts
LF
Off
Def
Early
Pd
Bp
Int
Ct
Fte
Pts
Cole anthony
27
34.0
40.6
34.8
86.0
0.5
5.6
6.1
5.7
2.7
0.9
0.2
2.6
19.9
Franz Wagner
41
32.1
45.2
36.3
84.4
1.2
3.5
4.7
2.6
1.6
1.0
0.5
2.2
15.7
Wendell Carter, Jr.
37
29.3
48.9
33.1
72.3
2.2
8.1
10.3
2.7
1.6
0.7
0.6
2.8
13.1
Terrence Ross
33
26.3
41.6
30.6
87.6
0.4
2.4
2.8
2.2
1.5
0.6
0.2
1.4
12.8
Jalen Suggs
21
27.7
33.9
25.5
76.3
0.8
2.6
3.4
3.6
3.2
1.1
0.4
2.8
12.3
Gary harris
34
29.3
45.0
37.2
84.2
0.8
1.6
2.4
1.9
1.3
0.9
0.2
2.1
11.6
Mohamed bamba
32
28.1
44.8
33.3
76.7
2.2
6.2
8.4
1.5
1.3
0.8
2.1
2.5
10.1
Robin lopez
17
17.8
57.5
0.0
59.1
2.2
1.5
3.7
2.0
1.4
0.1
0.6
1.9
7.9
Rj hampton
37
19.6
39.0
37.8
60.3
0.4
2.5
2.9
2.5
1.4
0.6
0.2
1.5
7.4
Chuma okeke
30
23.0
35.2
23.4
86.7
0.7
3.7
4.3
1.4
0.9
1.3
0.4
1.4
7.2
Bj johnson
4
16.1
44.0
40.0
0.0
1.5
2.2
3.8
0.0
0.0
0.0
0.2
1.0
6.5
Moe Wagner
31
11.5
44.2
33.7
79.2
0.5
1.8
2.4
0.8
0.7
0.2
0.2
1.9
6.5
Hassani gravett
8
21.4
47.4
42.3
75.0
0.1
2.5
2.6
2.5
1.1
0.6
0.1
1.6
6.2
Admiral Schofield
10
15.6
52.8
29.4
0.0
0.2
2.7
2.9
0.9
0.8
0.1
0.3
2.1
4.3
Tim frazier
10
20.0
30.2
35.3
55.6
0.5
1.4
1.9
3.3
1.3
0.3
0.1
2.4
3.7
Mychal Mulder
15
13.0
29.9
28.3
100.0
0.1
1.3
1.4
0.2
0.5
0.3
0.1
0.8
3.7
Aleem ford
5
14.7
30.0
13.3
0.0
0.4
2.6
3.0
0.4
0.8
0.2
0.0
1.4
2.8
Freddie gillespie
9
13.2
40.9
0.0
42.9
1.4
2.6
4.0
0.6
0.6
0.3
1.0
2.0
2.3
Ignas Brazdeikis
16
9.0
28.6
18.2
83.3
0.4
0.9
1.4
0.5
0.3
0.2
0.1
1.0
2.1