Basketball News
The Lakers would see themselves imitating Tom Brady's Tampa Buccaneers | NBA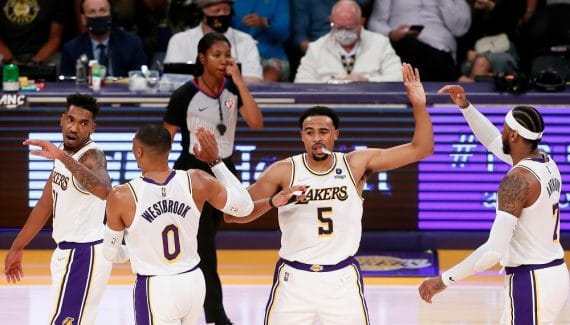 The mid-season has arrived in Los Angeles and the results (21 wins – 20 losses) are disappointing. The franchise has certainly been affected, like all the others, by the Covid-19, and the injuries, nevertheless the substance and the form remain very average at the Lakers. Fortunately, LeBron James or Malik Monk are there to save the day.
This team has not yet shown its real potential, or not over time, but it limits the damage with a 7th place in the West. The Lakers are counting on a late build, before the playoffs, like the Tampa Buccaneers did in the 2020/21 NFL season.
"The comparison is about starting slow, having recruits, a new system", explains Carmelo Anthony at ESPN. "The players are trying to find solutions, learning to evolve with LeBron James and Anthony Davis, and now with Russell Westbrook. It's an excellent comparison and we saw what happened with the Bucs. "
Last season, the Tampa Bay franchise actually had an XXL rookie with Tom Brady. After a sluggish start to the season, and 7 wins in 12 games, they had won the last four regular season meetings before heading to the final victory in Super Bowl LV against Kansas City in February 2021.
"What could be better than what the Bucs did last season? "
LeBron James had also mentioned the epic of Tom Brady and his teammates before the start of the season, during the mini-camp organized in Las Vegas in September 2021.
"It was a bit to prepare for what was to come", recalls Melo. "I'm not going to say that we were prepared for these difficult times, these mentally and emotionally complicated moments, but yes, these conversations took place. We may not think about it every day, but it is an analogy that can be used. What could be better than what the Bucs did last season? "
Wayne Ellington obviously likes the idea of ​​seeing the Lakers emulate the Buccaneers this summer. "They made a series at the right time and won everything afterwards. I always have that in mind, seeing how our season is developing. You have to remember that it can very quickly turn in the right direction for us. "
Shots
Rebounds
Players
MJ
Min
Shots
3pts
LF
Off
Def
Early
Pd
Bp
Int
Ct
Fte
Pts
lebron james
29
36.8
52.8
37.2
78.5
1.1
6.3
7.4
6.6
3.3
1.7
1.1
2.3
28.9
Anthony Davis
27
35.4
52.1
17.9
72.7
2.7
7.1
9.9
2.9
2.2
1.2
2.0
2.3
23.3
Russell Westbrook
41
35.4
44.4
29.8
65.3
1.4
6.7
8.1
8.2
4.5
1.1
0.3
3.1
19.0
carmelo anthony
41
27.0
42.7
38.9
80.2
0.8
3.3
4.1
1.0
0.8
0.8
0.8
2.3
13.2
Malik monk
36
26.0
47.2
39.6
84.4
0.4
2.4
2.9
2.2
1.3
0.7
0.5
1.5
12.0
Talen Horton-tucker
25
28.0
40.8
24.4
82.1
0.8
3.2
4.0
2.8
1.6
1.0
0.4
2.8
11.0
isaiah thomas
4
25.2
30.8
22.7
72.7
0.2
1.8
2.0
1.5
1.2
0.0
0.5
3.0
9.2
Sekou Doumbouya
2
8.2
62.5
50.0
75.0
1.0
2.0
3.0
0.0
1.0
1.5
1.0
0.5
7.0
Avery Bradley
33
23.8
43.1
39.7
100.0
0.5
2.0
2.5
0.8
0.5
0.9
0.2
1.8
6.9
Wayne Ellington
28
20.7
40.8
39.2
80.0
0.2
1.5
1.7
0.8
0.5
0.5
0.1
1.0
6.7
Austin Reaves
22
20.3
51.1
36.0
87.5
0.3
2.0
2.3
1.1
0.5
0.3
0.1
1.7
5.9
Stanley Johnson
7
22.6
43.3
22.2
90.0
0.4
2.3
2.7
1.3
0.4
1.1
0.4
4.0
5.6
Dwight Howard
31
14.7
60.6
75.0
61.7
1.7
3.7
5.4
0.6
0.8
0.7
0.6
1.9
5.1
Deandre Jordan
28
13.0
67.5
0.0
58.8
1.6
4.0
5.6
0.4
0.7
0.4
0.9
1.7
4.4
Kent Bazemore
24
17.0
32.7
33.3
76.9
0.3
1.7
2.0
0.9
0.3
0.8
0.2
2.1
3.9
Trevor Ariza
7
16.6
57.1
53.8
50.0
0.1
3.0
3.1
1.0
0.1
0.1
0.1
0.4
3.4
Rajon Rondo
18
16.1
32.4
26.7
50.0
0.6
2.2
2.7
3.7
1.9
0.7
0.3
1.4
3.1
mason jones
2
4.4
25.0
0.0
50.0
0.5
0.5
1.0
0.0
0.5
0.5
0.0
0.5
2.5
jemerrio jones
2
7.4
66.7
0.0
0.0
1.0
0.5
1.5
0.0
0.0
0.5
0.0
1.0
2.0
Darren Collison
3
12.4
28.6
0.0
0.0
0.0
1.3
1.3
0.7
0.3
0.3
0.0
1.7
1.3
Chaundee Brown
2
10.3
14.3
0.0
0.0
0.0
1.0
1.0
0.0
0.5
0.0
0.0
0.0
1.0
Jay Huff
4
5.1
0.0
0.0
0.0
0.2
0.8
1.0
0.2
0.2
0.2
0.2
0.2
0.0