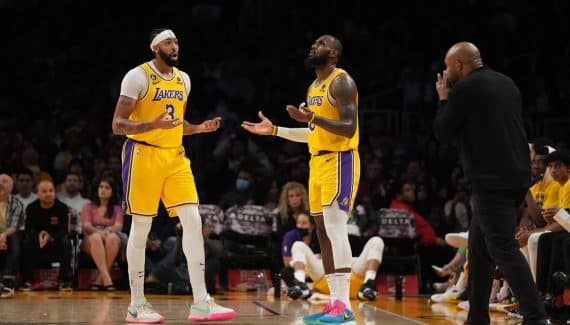 At the time of Anthony Davis' arrival at the Lakers, rumors explained that Kawhi Leonard, then free and just champion with Toronto, would join the interior and LeBron James to form a huge "Big Three". Eventually, the winger joined the Clippers as James and Davis won the title in 2020.
However, the idea of ​​recruiting a third (super)star to support the two champions has not disappeared. The proof: Russell Westbrook arrived in Los Angeles, without success. Then, without the 2017 MVP, the Lakers managed to reach the Conference Finals against Denver this spring.
And this summer, the leaders did not go looking for a big fish, preferring to keep their free players (Austin Reaves, Rui Hachimura, D'Angelo Russell, Jarred Vanderbilt), to then strengthen with Gabe Vincent, Taurean Prince, Cam Reddish and Jason Hayes.
"Our franchise is used to chasing stars and having the best talent in all areas," concedes Darvin Ham for The Sporting Tribune. "But as the game evolves, it's all about density and consistency. It's not just about winning now, but winning with durable parts. »
The Lakers want to play on continuity
Having a deep group with several players who can make a difference and who were already present last season, is therefore the choice made by Los Angeles to relieve Anthony Davis and LeBron James. A necessity when we remember that the first is often injured and that the second will start his 21st season and will be 39 years old in December.
"This will allow us to manage them much more efficiently," announces the Lakers coach. "We are not going to cut corners. We will work from the start to ensure continuity. If we start this process quickly, we can allow them not to have to bear too much at the start of the season. Last year, we had to overwork them at the start and during the season, because we had to move up the rankings. »
Finally, Darvin Ham believes that in addition to continuity, the Lakers will be able to rely on more liberated players in the 2023/2024 financial year. Because those who extended this summer were at the end of the contract, therefore necessarily focused on the negotiations to come. Now that the signatures have been affixed, the players will be able to be more focused on the field.
"Even if you are professional and you ignore it in your head, you obviously think of contractual situations, because it is something important. These are life-changing contracts. Now it's done, and the guys will be able to give free rein to their emotions. »
Shots
Bounces
Players
GM
Minimum
Shots
3 points
LF
Off
Def
Early
pd
bp
Int
CT
party
Points
lebron james
55
35.5
50.0
32.1
76.8
1.2
7.1
8.3
6.8
3.2
0.9
0.6
1.6
28.9
Anthony Davis
56
34.0
56.3
25.7
78.4
3.5
9.1
12.5
2.6
2.2
1.1
2.0
2.6
25.9
D'angelo Russell
17
30.9
48.4
41.4
73.5
0.4
2.5
2.9
6.1
2.3
0.6
0.5
1.4
17.4
Russell Westbrook
52
28.7
41.7
29.6
65.5
1.1
5.0
6.2
7.5
3.5
1.0
0.4
2.3
15.9
Austin Reaves
64
28.8
52.9
39.8
86.4
0.5
2.5
3.0
3.4
1.5
0.5
0.3
1.7
13.0
Dennis Schroder
66
30.1
41.5
32.9
85.7
0.3
2.2
2.5
4.5
1.7
0.8
0.2
2.2
12.6
Thomas Bryant
41
21.4
65.4
44.0
74.1
1.6
5.2
6.8
0.7
0.7
0.3
0.6
1.9
12.1
lonnie walker
56
23.2
44.8
36.5
85.8
0.3
1.7
1.9
1.1
0.8
0.5
0.3
1.3
11.7
Malik Beasley
26
23.9
39.2
35.3
61.9
0.3
3.0
3.3
1.2
1.2
0.8
0.0
1.2
11.1
Rui Hachimura
33
22.4
48.5
29.6
72.1
1.0
3.7
4.7
0.7
0.5
0.2
0.4
1.0
9.6
Jarred Vanderbilt
26
24.0
52.9
30.3
78.4
1.9
4.8
6.7
1.6
1.1
1.2
0.2
2.2
7.2
Troy Brown, Jr.
76
24.5
43.0
38.1
87.2
0.8
3.2
4.1
1.3
0.6
0.8
0.2
1.6
7.1
Kendrick Nunn
39
13.5
40.6
32.5
81.0
0.1
1.3
1.4
0.9
0.8
0.3
0.1
0.9
6.7
Patrick Beverly
45
26.9
40.2
34.8
78.0
0.5
2.6
3.1
2.6
0.9
0.9
0.6
2.8
6.4
Wenyen Gabriel
68
15.1
59.6
27.8
61.9
1.7
2.5
4.2
0.5
0.7
0.4
0.5
2.1
5.5
matt ryan
12
10.8
30.6
37.1
80.0
0.2
1.0
1.2
0.3
0.3
0.2
0.0
1.2
3.9
Mohammad Bamba
9
9.8
40.7
31.3
54.5
1.2
3.3
4.6
0.4
0.9
0.1
0.6
2.1
3.7
Max Christie
41
12.5
41.5
41.9
87.5
0.2
1.7
1.8
0.5
0.3
0.2
0.2
0.8
3.1
Juan Toscano Anderson
30
12.2
50.0
20.0
73.3
0.5
1.6
2.0
0.8
0.6
0.3
0.2
1.5
2.7
Damian Jones
22
8.0
54.1
0.0
75.0
0.8
1.7
2.5
0.2
0.4
0.1
0.5
0.8
2.5
Scotty Pippen, Jr.
6
5.3
33.3
33.3
55.6
0.3
0.3
0.7
0.3
0.3
0.3
0.2
0.5
2.3
cole swider
7
5.8
33.3
37.5
0.0
0.1
0.9
1.0
0.6
0.0
0.0
0.0
0.4
1.3
davon reed
8
3.4
75.0
50.0
25.0
0.1
0.4
0.5
0.5
0.0
0.3
0.0
0.4
1.0
Sterling Brown
4
6.1
0.0
0.0
0.0
0.8
1.3
2.0
0.5
0.0
0.8
0.0
1.0
0.0