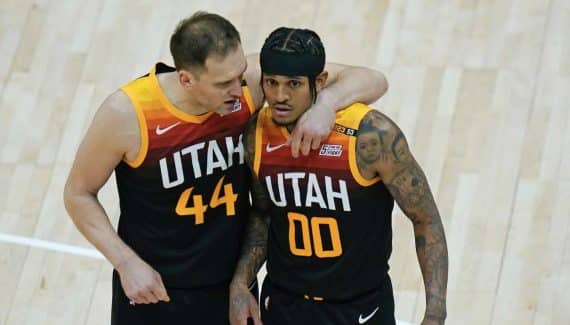 Salt Lake City's big sellout isn't over! After having already set up four exchanges in two months, the leaders of the Jazz are still ready to part with three veterans. They are Mike Conley Jr. Bojan Bogdanovic and Jordan Clarkson. Which means, roughly speaking, that Utah wants to resume without any major player from last season!
According to the Denver Post but also USA Today, a team would be cited more than the others, and it is the Lakers. 10 days ago, they already completed a trade with Utah for the arrival of Pat Beverley, but they decided to go back on the offensive after the transfer of Donovan Mitchell to the Cavaliers.
Like the Suns, the Lakers appreciate the profile of Bojan Bogdanovic, especially since he is in his last year of contract. The Lakers' objective remains the same: not to fill their beautiful envelope for 2023. The Croatian is a super striker, and he is the very type of player capable of dismissing the game to make room for LeBron James and Anthony Davis . On paper, the Lakers don't have that type of player.
Will the Lakers touch their Draft picks?
For Mike Conley and Jordan Clarkson, it's more vague. First because the leader costs much more with two years of contract, including a second year partially guaranteed up to 14 million dollars. And then, it's a bit the same profile as Pat Beverley with a rather defensive orientation.
As for Jordan Clarkson, he has a "player option", and can therefore extend for a year at the end of the season. His qualities as an attacker would do the greatest good off the bench, and he knows the house very well. Except that there again, it is the risk of sealing the envelope to recruit in 2023.
Anyway, the Lakers still have Russell Westbrook's contract to offer the Jazz, and knowing Danny Ainge, he will necessarily want (at a minimum) an unprotected first round draft in the "package". For the moment, the Lakers have managed to strengthen themselves without touching their first two draft rounds (2027 and 2029). Will they burn one to recover Bojan Bogdanovic, the most interesting target?
Player option : possibility for a player to activate (or not) the last year of his contract, in order to end his lease or become a "free agent" one year in advance.