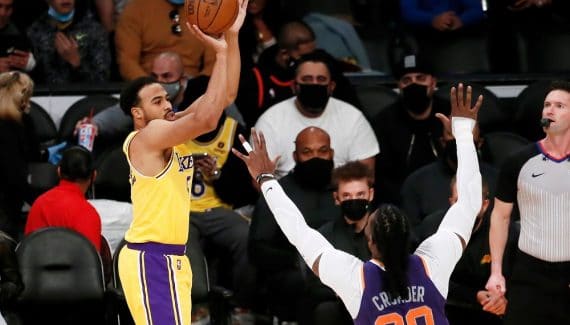 Nothing has changed yet in Los Angeles, but between the rumors around Frank Vogel, who would be on an ejection seat, and those concerning certain players, Kent Bazemore and DeAndre Jordan in particular, we feel that the leaders are looking for solutions.
Except that to mount transfers, the Lakers are trapped by the nature and level of their workforce contracts.
Because in addition to the huge salaries of LeBron James and Anthony Davis, who are untouchable anyway, we obviously find that of Russell Westbrook, then behind, we very quickly fall back to minimum one-year contracts: Carmelo Anthony, Trevor Ariza, Avery Bradley, Dwight Howard…
To summarize: Russell Westbrook has a huge salary, difficult to move because unattractive, and the others (except Kendrick Nunn, 5 million per year, but who has not yet played …) turn to only 2.6 million dollars. It is therefore not ideal for offering exchanges and this is where Talen Horton-Tucker can be very useful.
According to the Los Angeles Times, the Lakers are ready to part with it, to facilitate transactions. The leaders like the 21-year-old fullback, who is averaging 10.6 points this season, since they extended him last summer, but his three-year, $32 million contract (he can test the market in 2023) is undoubtedly the best asset for recovering one or more more useful "role players".
Talen Horton-Tucker
Percentage
Bounces
Season
Team
GM
Minimum
Shots
3 points
LF
Off
Def
Early
pd
party
Int
bp
CT
Points
2019-20
ALL
6
14
46.7
30.8
50.0
0.3
0.8
1.2
1.0
1.7
1.3
1.0
0.2
5.7
2020-21
ALL
65
20
45.8
28.2
77.5
0.4
2.2
2.6
2.8
2.0
1.0
1.6
0.3
9.0
2021-22
ALL
28
27
40.9
24.4
77.8
0.7
3.0
3.7
2.5
2.7
0.9
1.6
0.4
10.6
Total
99
22
44.2
26.9
77.0
0.5
2.4
2.8
2.6
2.2
1.0
1.6
0.3
9.3